Unless you've been driving the Rover on Mars, or living under a rock, you know that a good portion of Texas is suffering from Hurricane Harvey.  Watching the stream (forgive the pun) of people who refuse to leave their pets behind is heartwarming and heartbreaking. I feel like in this day and age, one shouldn't have to make such a choice.

Of course, there are still asshats who have tied their animals up, or left them in crates to die, but I've seen a good majority of people and organizations working to saving the animals.
Watching this all unfold on my TV and computer screen, I'm reminded of the Hurricanes of 2005 (Katrina, August 29th and Rita, October 26th). In fact, the Lake Charles area of Louisiana which was severely impacted in those two Hurricanes, is also being affected by Hurricane Harvey, and began evacuating 12 years to the day of Hurricane Katrina.
Let's Talk About Pet Adoption
Our sweet Delilah came to us from Lake Charles, Louisiana. She was in a high kill shelter, and I'm ever so grateful American Lab Rescue pulled her from there, and placed her in foster care, where she eventually found her way to our home, and more importantly, our hearts.  We can only guess her background story, but based on some of her behaviors, we are guessing she was either displaced because of either Katrina or Rita, or she was a result of a dog that was displaced from one of these Hurricanes.
Now more than ever, it's so important to shine a light on animal rescue.  There are millions of animals placed in rescue every year. Some, like Delilah, get lucky, but so many more don't.  I won't share those numbers here, because it breaks my heart to think about it.  My husband always tells me I can't save them all, but damn it, I sure want to!
I'm ever so grateful to all the rescue groups out there, that walk the walk, and talk the talk when it comes to animal rescue.
I Write To Save Lives
One way I can help these millions who are homeless is use this blog, and my words to shine the light on these precious beings. This year, I literally am shining my light for animal rescue.
While I was at the BlogPaws Conference in Myrtle Beach,  SC, I stopped by the Helen Woodward booth, and spoke with the ladies from Remember Me Thursday.
I've known about the Helen Woodward Animal Center from my friend, Jackie Bouchard.  Who has been volunteering there for as long as I've known her.
Remember Me Thursday is a global initiative that takes place on September 28th, 2017.  On that day, people and organizations from all over the world will literally light up social media in a campaign designed to encourage more people to adopt shelter pets.
You can help us spread the word, by snagging one of these virtual 'candles' and sharing it on your social media channels.
I love them. I love how they have dogs, cats, dogs and cats, rabbits.
If you check out their site, you can 'light a candle' in memory of one of your furry babies, and definitely grab a graphic and help me light up Social Media on September 28th!
The wonderful team at Remember Me Thursday was kind enough to provide us with a goodie box, full of items to help us spread the word about this great campaign.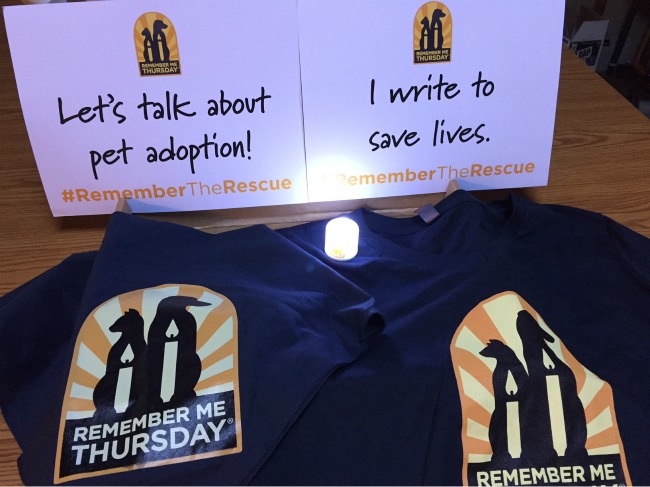 Besides the great posters, there is a bandana for Delilah, and a Tee-Shirt for me.
And of course, we'll be shining our light on September 28th! Will you join us?