Do you have a jealous dog?
When we first got Sampson, I was still discovering all the amazing dog websites available to me on the internet. I remember reading somewhere that dogs don't exhibit jealousy. I wish to hell I knew where that website was so I could tell they are full of dog doo.
When we come home from work, if one dog is getting loved on, the other one is popping us with their head, vying for their own piece of the pie.
When I go to bed at night, if a dog has already claimed the spot on the bed, the other one is doing one of two things.
I'm getting the stink-eye from their position on the floor. Or…
They insist on climbing on the bed with me and the other dog.
Case in point.
Friday night, Sampson grabbed the prime piece of real estate. Hubby was saying good night to him, and Delilah was standing there, throwing shade.
Finally, she decided she'd had enough of that and thought she'd just climb up on the bed.
Trouble is…there's not usually a lot of room, because Bubber loves to stretch out, and Delilah, who has calmed down considerably, is like a bull in a china shop.
She will climb up not the bed, whether there is room or not, and she doesn't care if she sits on someone's head. Thankfully, it's not usually MY head, but I have to be quick and put my hand where she's headed, or she will just sit on Sampson.
Friday night was one of those nights. She decided she was DEFINITELY getting on the bed.
Right where Bubber's head was…
I quickly put my hand in front of his face, and shifted her butt a titch forward, so she wouldn't sit directly on his head.
Hubby said, "He's got a big ole' shit eating grin on his face.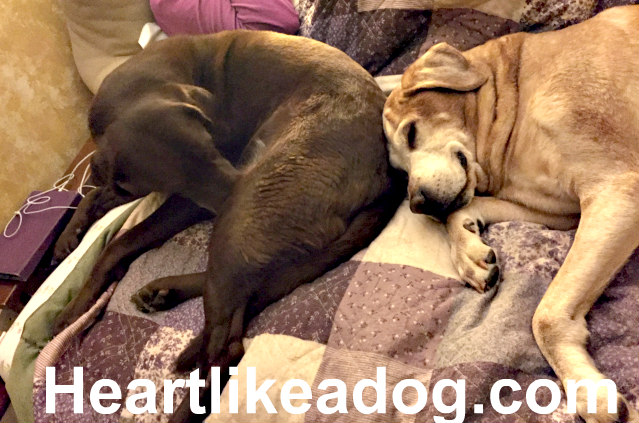 His grin stayed that way too, even when she was SUPER Close!
The sweet, funny, loving things dogs do that make us laugh or smile.