Welcome to this week's edition of Follow-Up Friday, the post where I highlight reader's comments, answer questions and generally just wrap up the week.
You Make Me Laugh – August 28, 2016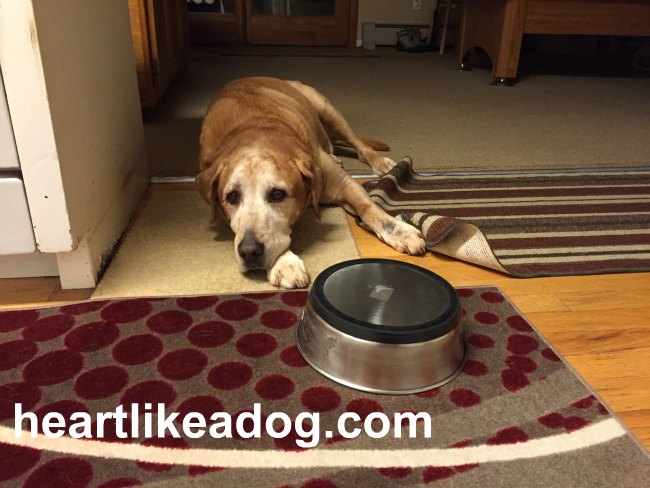 Taryn Tipton said, "The water bowl is in a very conspicuous spot in the kitchen so it is rarely empty. On the rare occasion it's empty Jimmy will stand and look at the bowl, look at me, look at the the bowl, as if to say "women, this bowl won't fill itself!" Remember, he is the Boss!"
LOL, yes he is the boss! Typically it is empty because of Delilah. For some reason she thinks it is her job to drink the entire bowl. 🙁
Sue said, "Like Emma, we have more than one in the house (we have 3) and my pups have me very well trained to check them at a glance every time I'm near them.  🙂"
Wow, you are trained well! We only have the one, but now you and Emma have me thinking about where I might be able to squeeze in another one. 😀
Callie, Shadow and Ducky's Mom said, "I do remember one time when I got all the way to work before remembering that I hadn't given the Golden Girls any water before I left – and hubby left before I did – so I had to run inside, clock in, and tell my supervisor what had happened. John laughed and said "go ahead, we'll see you when you get back.""
Nice boss! Mine would let me do that as well. The trouble is, if I forget I usually don't remember it until I'm home. 🙁 I usually wash their bowl out with the morning dishes and if I get distracted, I've been known to 'forget' what I was doing.  Good thing I flush the toilet before I leave. 😉
Jan said "The food and water bowls get scooted across the room until a human finally gets the message."
Isn't it funny how they each have their own ways of letting us know what they need?
Monika and Sam said, "Sam just softly huffs and puffs, then sighs and lays down. It takes me a couple seconds to figure out what he's really trying to say (i.e. "get snapping, lady!"). I always feel guilty once I realize it but a treat usually makes us both feel better. 😉"
Ha ha ha, sometimes Sampson just looks at it, but then there are times when he pops it around. Maybe it depends on how thirsty he is!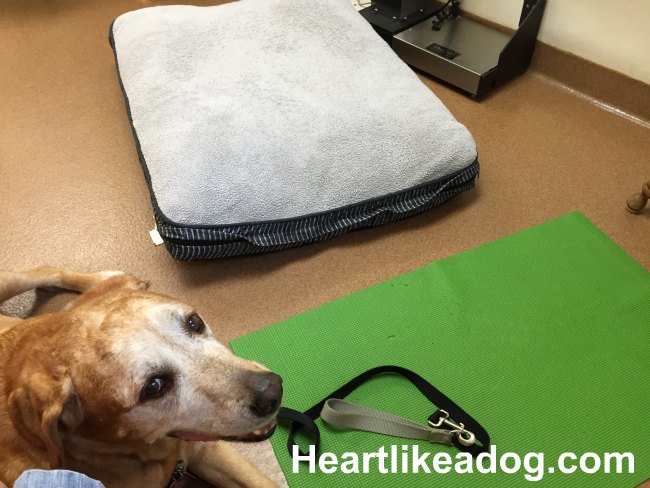 Taryn Tipton said, "I never leave them! Haven't had a dog-free vacation in nine years!"
We rarely leave them either! I only got away because Hubby could stay home with them.
Meagan Maher said, "The other week when we had to go away. We left Merlin at a boarding kennel. It was the first time he was away from me and i was teary when we dropped him off. 4 days later i picked him up and he was more excited to see the girls at reception than me lol."
LOL, Sampson was more excited to see his neighbor friend then he was to see me. 
Emma said, "The first days are the hardest for mom, but then she adjusts and it is alright. She hasn't left us really for a few years now which we love. She has left me home alone for like two days but her cousin comes to take me out and hang out with me and I don't mind. Emily sounds like a wonderful dog sitter and vet tech!"
It is hard on us moms to leave you guys. I'm super glad we thought of Emily because she was so awesome. She sent me pictures every morning and even told me (on the last day) that she was going to miss walking them. 
Jan K said, "It sounds like you found the perfect person and that at least makes it easier. My sister takes care of our kids if we both go away – she's the only person in the world other than hubby and I that Luke loves. We don't both go away often though. I worry no matter who they're left with anyway, I always feel like no one knows all of their special needs like I do!"
I think you hit that nail right on the head! I knew that they would be taken care of, I just knew it wouldn't be the way I would do it! LOL It is hard trusting someone else with your kids. 😀 I'm glad you have your sister.
Beth said, "I'm usually a wreck, too, but I only leave them with my parents or with Barley's reactive dog trainer, so I know they are in good hands! It definitely makes it easier to go away when you know someone who loves them almost like you do is taking care of them 🙂"
It's good to have someone you know and trust to care for them. AND also, that someone is with them all the time. I would hate to leave my guys overnight if there was no-one at the house with them.
Callie, Shadow and Ducky's Mom said, "I rely on the same pet sitters we've been using since 2006. I don't know that I can say I'm a wreck; but I do call or text Susan at least 3 different times to check on the girls. I know she's taking good care of them – I just call to be sure Ducky is behaving herself. LOL"
Well…yes….there is Ducky. BOL
There's No Dog, Like An Old Dog – Throwback Thursday
Meagan Mahler said, "Merlin will do all his tricks in his repertoire at once if he knows you have food. At dinnertime he immediately puts his paw up to high five me before i put his food in front of him. Whoever said dogs are dumb never had a dog that owned them."
Ha ha ha, this might be my favorite comment of the week, "Whoever said dogs are dumb never had a dog that owned them."
Jan K said, "That's Cricket! We tried clicker training and all she does is sit there looking cute, wagging her tail, and wondering why I don't just give her the damn treats. LOL"
Oh yes, you have a treat, I see the treat, therefore the treat belongs to me! I remember being so frustrated with Delilah because I wasn't using meat, I was using a vegetable! LOL Thankfully, she's adjusted to treats and it's much easier to work with her now.
Emma said, "Mom used Katie and I to teach Bailie some stuff. She learned much faster when we showed her how it is done!"
It's true! I had hopes that some of Sampson's awesome would rub off on Delilah and to a degree it has. She sees all the cute things he does that gets him attention and she does it too. Except I was hoping maybe she'd learn more of his nice house manners." 😀
Well that's it for me folks. Don't forget, tomorrow is the Pet Blogger Showcase! And if I don't 'see' you, have a great weekend.