In a post I wrote last year (you can read about it HERE), I shared we use a lot of throw rugs in our house. One of the uses I insist we need a rug for, is at snack time.
If you've ever given your dog a frozen KONG, you know, wherever your dog eats it, there's bound to be a messy wet spot. Because of this, I'm working hard to get the dogs to eat their treats on the throw rug. They're easy to clean, and you can simply drape them over a chair when not in use.
I tend to re-use the rugs and wash them once week. But I'm lazy that way. 🙂
As with everything with the Chocolate Lab, getting Delilah to do things MY way vs her way, is challenging. Most nights I have to redirect her at least once.
Before I hand out Kongs, I place the throw rugs out on the floor, that's usually when Delilah is dancing around and I can barely accomplish what I'm doing.
The other night, I put Delilah's rug down while Sampson was snoozing on the couch. Once Delilah started bouncing around, he sat up to see what all the hoopla was about. He watched as I put her rug down first, then his. Then he oh so carefully slid off the couch, and settled himself on his rug. All without being told to do that.
THAT made me smile. He's such a good boy!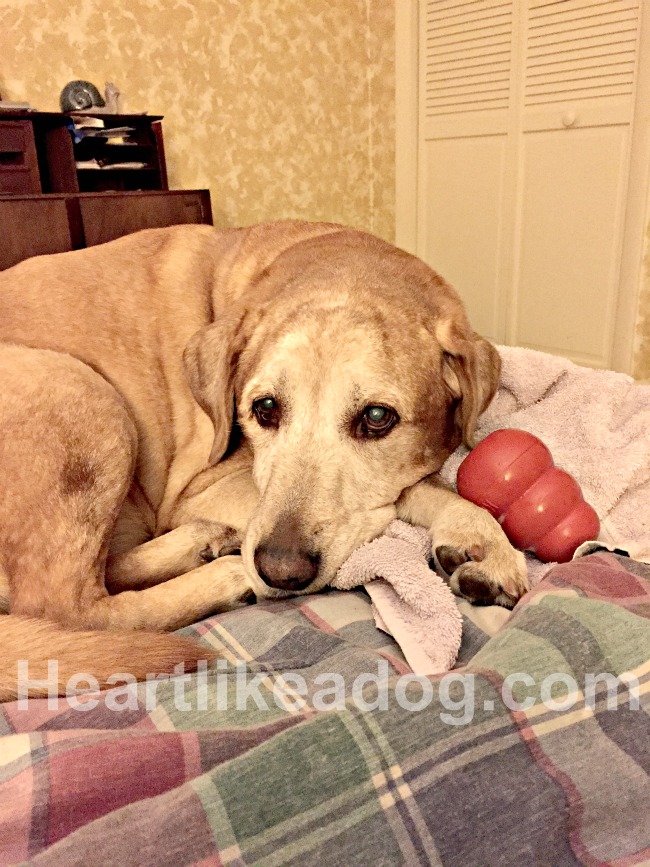 You CAN teach an old dog new tricks!
What did your pet do that made you smile this week?
You make me smile (or laugh), the sweet, funny, loving things my dogs do that make me laugh or smile.