Week Five in Kathleen Gage's challenge to post about community.
The last four weeks, I've been writing about the community of BlogPaws. Most of those posts have been centered around the sponsors of BlogPaws and the programs they support. But there is another aspect of blogging that truly needs to be mentioned, and that is the community of blogging itself. That community is made up of the bloggers, as well as you, the readers.
Specifically, I'm writing about the generosity of others, and their kindness and thoughtfulness.
Whether it's helping a fellow blogger out with technical issues, tips to help make blogging easier, ideas and tools that work for them, or passing along a resource or product they can't use. I have specific incidences of all of these, but today I want to mention two of my fellow bloggers.
In both cases, the blogger had just lost a beloved family member, but knowing how Sampson was struggling with his CCL issues, both reached out to offer products their pets had been using.
The first was Joy from My GBGV Life, Joy kindly sent me Katie's Dr. Buzzby's Toe grips. For those of you unfamiliar with Dr. Buzby, toe grips look like Perler Beads, except toe grips are a wee bit longer and fit over the toe nail, to help a dog with mobility issues have better footing.
When a dog's legs are unsteady, it can make walking challenging. The toe grips can really help give them a feeling of stability, and give them the confidence they need.
It was so kind of Joy to send these to me, and I'm not sure I ever thanked her properly, so Joy, thank you very much.
Then there is Ms. Bunny Allen.
A while back, Bunny put a post on Facebook about some socks she was using on Carma Poodale to help her with her arthritis.
Naturally I was intrigued, so when I had the opportunity to visit with Bunny and Carma in Myrtle Beach, I took it. Bunny told me all her tricks and was convinced that Carma felt better wearing the socks. Sadly, a short time after BlogPaws, Carma went to the Bridge, and in the midst of her grief, Bunny remembered that I was interested in the socks, and reached out, asking if I wanted Carma's socks for Sampson. Bunny assured me that Carma would want Sampson to have them, as she was such a loving and giving girl.
So, for the last week or so, Sampson has been wearing Carma's socks on his front legs.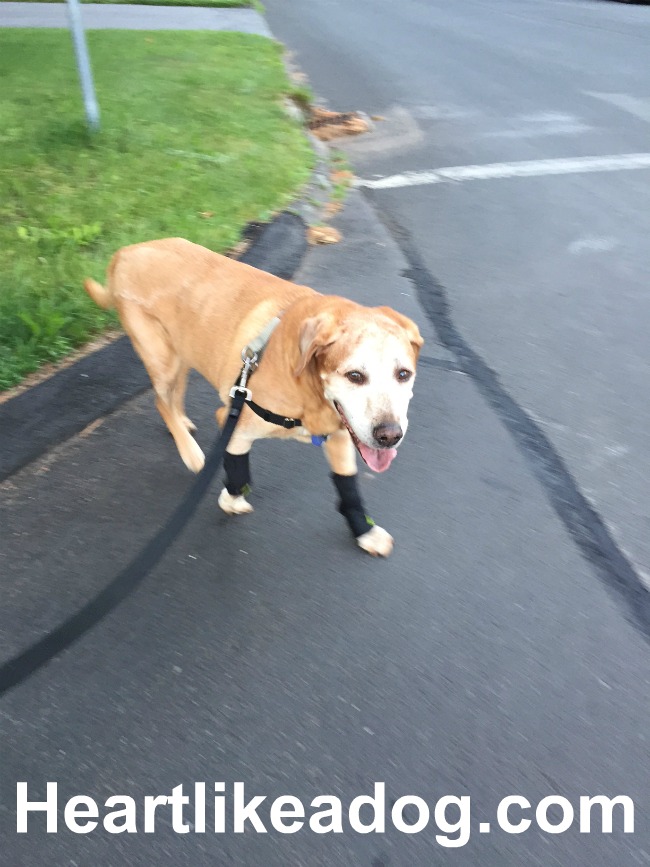 I'll probably do another post about the socks, but I want him to wear them for a while before I do.
Until then, I just want my friends to know how much we appreciate them, and thank them for their kindness. They truly help make Blogville a wonderful community!