Hey you guys, thanks for joining us this week.  We had a big week with our Treatibles post and then yesterday we posted on the Trick or Treat Giveaway hop.  If you haven't entered at this blog yet, please follow the link and do so.
Also, don't forget, you can enter at any of the participating blogs, so there are lots of chances to win, and some really great prizes.
A little announcement about the Linky Party.  After lots of deliberations, we've decided to end the Linky Party at this time.  We will still have a post on November 4th, and that post will be highlighting posts from the people who link up this week.  So please, add your links below and come back November 4th to see if you were highlighted.
Now on to this week's showcasers. Yeah, I just made that a word.
Can Treatibles CBD Oil Products Benefit Your Pet? Our Experience and Review by Jan at Wag 'N Woof Pets – It's interesting to me to see what benefits other people are seeing from the same products I'm using. We are specifically using Treatibles for Sampson's CCL injuries and his arthritis, while Jan discovered that Treatibles was helping Luke with his allergies!  To see her total review, head on over to her blog.
Like Cats and Dogs by Beth at Travels with Barley – My Uncle and Aunt had a cat and dog that loved each other. I can't tell you how many times I witnessed Jasper (cat) cleaning out Ginger's (dog) ears. Ginger would lie on the floor, Jasper would wrap himself around Ginger's head and just lick, lick, lick her ears. It was the cutest thing ever!  When Beth brought Rye into the home she shares with Barley (dog) and Soth (cat) little did she know that one of the sweetest friendships was about to develop. If cats and dogs can get along, why can't people?
10 Essential Tips for Teething – A Survival Guide for New Puppy Owners by Big Dog Mom at Big Dog Mom – Because really…puppy teeth hurt. And they can destroy things too.  I'll never forget how my perfect puppy, Sampson was caught chewing on the loveseat. I was in the kitchen, and I heard what I thought was water dropping in the living room. What is that sound, I thought? Walk into the living room only to find the puppy grabbing the footrest fabric with his teeth, giving it a good tug and then letting it go so it snapped back. Thwack! Yes, puppy's chew things, so if you are going to get through that teething stage, ya'll are going to need some help. Big Dog Mom's got you covered here.
Honorable Mention
Scratching Post Secrets Revealed by Mr. Jack at ChirpyCats – I couldn't help but highlight this. WHAT message would your pet leave for you or another pet if they could actually talk? Here's Delilah – Yo' Sampson…stop being so damn perfect. It's hard for a feisty gal like me to live up to expectations. Sampson – Dear Delilah, you know that the Mama will feed you two solids a day. She's done it every day for 10 years. You can stop worrying about it.
Hahaha, what would your pet say?
That's it for me folks, have a great weekend and don't forget to enter the Trick or Treat giveaway!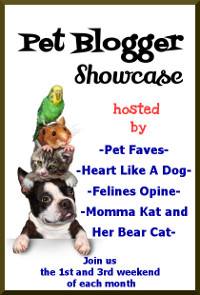 Welcome to the Pet Blogger Showcase! This is the place for you to show off your favorite family friendly pet related posts, find other great posts to read, show some love to other bloggers and maybe be featured on one of the host blogs!
Meet the Hosts Behind the Showcase
Pet Faves– Living the pet lover lifestyle
Heart Like A Dog– The good, the bad, and the Oh My God of living with dogs
Felines Opines– The world from a feline point of view
Momma Kat and Her Bear Cat– The humorous and touching tales of a formerly homeless, yet always extraordinary, feline and his Momma, who's just along for the ride.
About the Pet Blogger Showcase
Twice a month, On the 1st and 3rd Saturday of the month, you have the chance to link up one of your blog posts to the linky party link-up. Then visit 3 other blogs that joined the party and leave a meaningful comment. Feel free to share with your followers on Facebook, Pinterest, Twitter, etc. Then each week the hosts will feature their favorite 3 posts from the previous Linky Party on the new party post.
Pet Blogger Showcase Rules
Share a pet specific post, past or present, from your blog in the linky below (be sure to link to your post page and not your home page). Family friendly posts only. (We love reading about other topics and niches, but posts that are not pet related will be deleted this includes any posts that don't mention pets even if they are on a pet blog or if the post could pertain to pets.)
Spread the Love! Leave a quality comment(more than just a few words) on at least 3 other posts from the linky party. Tell them why you love their post, encourage them, share on social media.
Check back for the next linky party to see if you are featured on one of the hosts' blogs.
*Note: By adding your post to the linky party you are giving the hosts permission to use an image from your post if your post will be a featured post on their blog to help encourage people to click through to your post. The image may be used individually or as a collage.
That's it! No need to RSVP. No need to bring a covered dish. No need to add the linky to your post. No need to include a button. Just come join the party and PAWTY ON!