Does your dog walk when they poop? Sampson does not.  He simply squats, drops and then he's done. Delilah on the other hand, Delilah squats and while she's dropping, she sometimes walks.
We call her Delilah Shitwalker. 🙂
Before I leave for work in the morning, I let Delilah out to potty. Usually she runs out, tinkles and runs back in, but the other morning she tinkled and then she pooped.
I came out on the deck just to catch the grand finale.
See if you can figure out what happened by the diagram I made on this photo.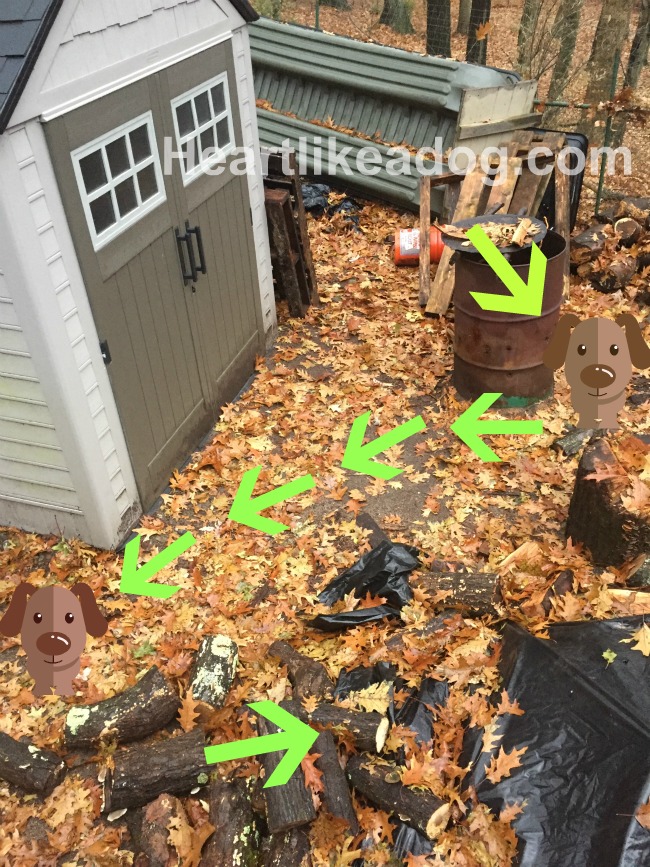 Did you guess?
She started over by the barrel (that's where Hubby burns leaves), then she walked on the front side of the barrel, then between the wood pile and the shed. When she had finished she was over by the wood pile.
She turned around, sniffed the poop and I'm not sure why, but decided she couldn't go back the way she'd come.
She tried going behind the woodpile and under the deck, decided that wasn't working. Then she thought she could go over the woodpile, but then decided that wasn't working either. She went back to under the deck, back to the woodpile, back to under the deck, before finally carefully walking OVER the woodpile.
And that made me laugh.
You make me laugh, or smile. The sweet, funny, loving things my dogs do that brings a smile to my face or a laugh to my lips.
What did your pet do that made you smile this week?
Comments
comments