I'm beaming from ear to ear over this little girl right here.
Yesterday we were taking our afternoon walk. We were hitting e-fence 'row.' It's a spot in our neighborhood where six houses in a row have dogs, and three of the dogs are on the e-fence. (Coincidently, all three of those dogs have come out of their yards after us, at least one.) As we started down the 'row,' I noticed the dog on the end house was in her yard, and one of the kids who live there was mowing the lawn. I say kid, but he's really a teenager, I'd guess in about the 15-year-old range.
Roxy started barking at us right away, which was unusual, but I think it had to do with the fact that her 'kid' was outside with her.
We were on the opposite side of the street, and Delilah was walking like a dream beside me, looking to me for treats and direction.
The young man had moved to the back of the house, to put the lawnmower away. We had just passed the driveway when Roxy started running along the front of the yard, and then it happened.
She broke the fence and started charging across the road at us.
I stopped and yelled, "HEY! GET BACK IN YOUR YARD."
She stopped and then, to my horror, Delilah caught me off guard with a little tug, and the leash came out of my hand and Delilah was a free dog.
Delilah is not a dog that tolerates a charging dog very well, she is fierce and unafraid and she took off after Roxy, who had the good sense to retreat.
The young man, hearing my shout, came around the corner of the house and called for Roxy. Delilah meanwhile, was still on a mission.
Just as she was ready to follow Roxy into her own yard, I called to her, "Delilah, come!"
And this dog, this dog that has had me chasing her through woods, knocking on doors because her leash got stuck on an air conditioning unit, sneaking her out of a neighbor's garage, going into yards because something was far more interesting than me.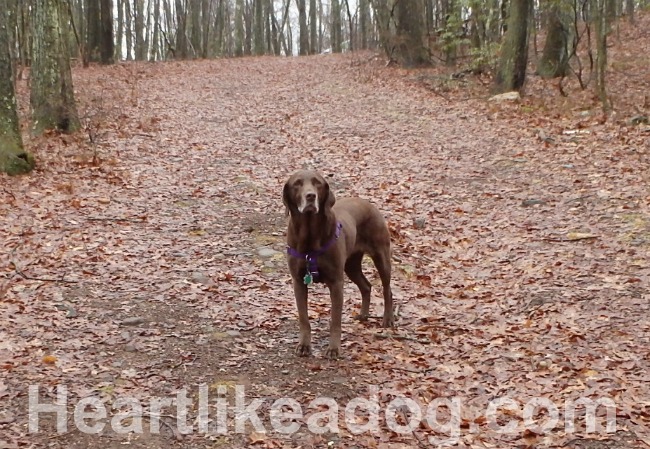 Yes, this dog, turned on a dime when I called her and came right back to me.
And THAT makes me smile.
You make me smile (or laugh), the sweet, funny, loving things my dogs do on a daily basis that makes me smile or laugh.
What did your pet do that made you smile this week?
Comments
comments