Today we're participating in the 4 Gifts for Pets blog hop, hosted by Jodi Chick from Kol's Notes, and Bryn Nowell from A Dog Walks into a Bar.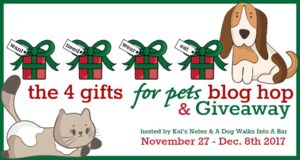 A bunch of fabulous bloggers are joining together to offer you a chance to win some fabulous prizes consisting of:
A CleverPet Electronic Dog Puzzle
PLUS 1 of 3 gift cards $200, *$100,  *$50 to the winner's choice of either Amazon, Etsy or PetSmart
I don't know about you, but I spend WAY too much money around this time of year, which is why the 4 Gifts concept really strikes a chord with me. If you've never heard of the 4 Gifts idea, here's the down and dirty. Instead of overindulging your children or in this case pets, this year choose one gift from each of the following four categories.
Want, Need, Wear, Eat/Read (for kids you would choose from the READ category).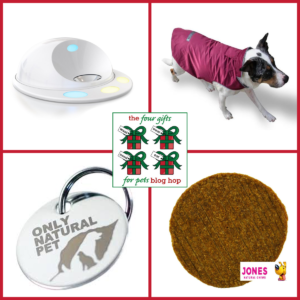 I thought it would be fun to turn this post over to Delilah and see what her answers would be. Hang on, it could get ruff.
WANT– I WANT the Clever Pet Hub from Clever Pets. For real. I mean first of all, I AM a clever pet, duh and secondly, the Mama doesn't walk me nearly enough. I'm bored, I mean really bored and this Pet Hub is the ultimate in puzzle games. I mean, not only can use the touch pad and have all the treats I want, but there is a light game too! I love lights, I could chase those things all day. **hint* Just don't tell your human there's a phone app to control the puzzle, they could really put a damper on your fun.
NEED – I NEED a tick tag from Only Natural Pets. Ticks were horrible in the northeast this year and the Mama picked more than one off me, and also off Sampson. Ticks are nasty, nasty insects and they leave marks on my sweet pink skin. Don't get me wrong, she uses a natural tick spray, but DOG! I'm here to tell you that Sampson and I HATE that spray. Someone, please give the Mama a kick in the pants for me and tell her to get me one of these right now!
WEAR – This is an easy one, last year Mama won a TeckelKlub coat from a contest at A Dog Walks into a Bar. Did she think of me? NO! NO, she got the coat for Sampson, and while yes, it's true a coat that fits me won't necessarily fit Sampson, her rationale was that Sampson's coat, while a bit big, would fit me. Well I'm putting my paw down, this dog is NOT having any of that!! Besides the size, Sampson's coat is a reddish color, and while I admit, he does look sharp in it, PURPLE is my color and I want my OWN TeckelKlub coat.
EAT/READ – She's going to let me choose EAT or READ and really, this is a no-brainer (no surprise there Mama no-brain. I choose EAT! I love to eat, and I'll eat just about anything, but right now, what I'm really craving is Jones Natural Chews Chicken Barkers. Honestly, the Mama was so excited to find Jones at our local feed store, and she picked up some chicken barkers. Then she put them in the pantry and every time she opens that door, either Sampson or I try to pull another one out. DAWG…that stuff is GOOD!! More Mama more, I want more Chicken Barkers.
Social Media Bonus – Every day of the contest, we'll be sharing a DAILY BONUS word or phrase on Facebook. Find the DAILY BONUS WORD, and come back to this post and claim FIVE extra entries.
 The 4 Gifts for Pets Giveaway hop is sponsored by CleverPet. All gift card prizes were funded by contributions from the participating bloggers. The opinions and ideas in this post are my own and are uninfluenced by any other person or business. The individual sponsors are responsible for their giveaway prizes including shipping.
Stuff I have to tell you – No purchase necessary. Giveaway is open to US and Canadian residents, except Quebec and where prohibited by law. Canadian winners will be required to answer a skill testing question. Canadian winners may be required to pay duty and/or taxes on shipments sent into Canada which are beyond the sponsors control and at the sole discretion of Canadian Customs. Giveaway w

ill run from November 27 through December 8, 2017 at 11:59pm PST. Winners will be randomly selected and notified via email. Winners will have 72 hours to claim their prizes; failure to do so will result in forfeiture of the prize. Facebook, Instagram, Twitter and Pinterest do not sponsor, administer, or endorse this promotion. Participants must read and agree to Gleam's Privacy Policy before entering and participating in this promotion.
Each participating blogger paid an entry fee which will be used to fund some prizes. Grand prize was provided by CleverPet.
Each of the images will bring you to another fabulous blog, where you'll get additional chances to win. Good luck!
Hosted by:
Kol's Notes and A Dog Walks Into a Bar
Joining in the fun is a team of fun and fabulous bloggers:
Comments
comments