Welcome to this week's Pet Blogger Showcase. I can't believe it's been two weeks already!  Can you believe it's already September? Here in the northeast, we've been have some decidedly Autumn-like weather. I'm not going to lie, I've been digging it.
I've also been digging these blog posts from the last PBS.
Sleeping with Dogs from Monika, Sam and Elsa at Tails Around the Ranch – Some people do, some people don't. Some think it's gross, others love it.  I love when one (or both) of my guys sleep with me, although many is the night that my ass is hanging out of the covers, or I'm twisted up like a pretzel, but I wouldn't have it any other way.  Where do you stand on the issue?
Every Great Dog Name Has a Story, What is Yours? by Stephanie at Big Dog Mom – I love hearing how people chose the name for their dogs. Stephanie believes a dog's name becomes the essence of who they are. I have to agree with that. My Sampson (despite not being spelled biblically) is my strength. Although I have to say, Delilah is NOT his weakness. 🙂 Has your dog become the essence of their name? I can think of a couple of dogs who have.
The Brew Dogs Hit Birmingham by Beth at Travels With Barley – First, I LOVE hearing about dog friendly places, and I love how Beth includes her dogs in everything she does. Second, I'm impressed as hell that she made the drive from her home to Alabama with two dogs, and by herself no less. Way to go Beth! Side note, Beth's post also gave me inspiration to have a conversation with my Vet, which I'll tell you about in a later post.
So, that's it for me, how did I do? Did you enjoy the same posts I did?
Finally, please, have a safe and peaceful holiday weekend.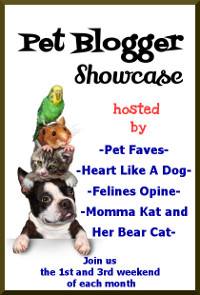 Welcome to the Pet Blogger Showcase! This is the place for you to show off your favorite family friendly pet related posts, find other great posts to read, show some love to other bloggers and maybe be featured on one of the host blogs!
Meet the Hosts Behind the Showcase
Pet Faves– Living the pet lover lifestyle
Heart Like A Dog– The good, the bad, and the Oh My God of living with dogs
Felines Opines– The world from a feline point of view
Momma Kat and Her Bear Cat– The humorous and touching tales of a formerly homeless, yet always extraordinary, feline and his Momma, who's just along for the ride.
About the Pet Blogger Showcase
Twice a month, On the 1st and 3rd Saturday of the month, you have the chance to link up one of your blog posts to the linky party link-up. Then visit 3 other blogs that joined the party and leave a meaningful comment. Feel free to share with your followers on Facebook, Pinterest, Twitter, etc. Then each week the hosts will feature their favorite 3 posts from the previous Linky Party on the new party post.
Pet Blogger Showcase Rules
Share a pet specific post

, past or present, from your blog in the linky below (be sure to link to your post page and not your home page). Family friendly posts only. (We love reading about other topics and niches, but posts that are not pet related will be deleted this includes any posts that don't mention pets even if they are on a pet blog or if the post could pertain to pets.)

Spread the Love!

Leave a quality comment(more than just a few words) on at least 3 other posts from the linky party

. Tell them why you love their post, encourage them, share on social media.

Check back for the next linky party

to see if you are featured on one of the hosts' blogs.
*Note: By adding your post to the linky party you are giving the hosts permission to use an image from your post if your post will be a featured post on their blog to help encourage people to click through to your post. The image may be used individually or as a collage.
That's it! No need to RSVP. No need to bring a covered dish. No need to add the linky to your post. No need to include a button. Just come join the party and PAWTY ON!
Comments
comments