I've fallen behind on blogging again. My goal to post three times per week didn't happen this week. I think it's been all those medical posts, they just exhaust me. Couple that with an increase in travel time with my new job, and some days, I just don't have the energy.
Thankfully, the amazing bloggers below have been able to stay in the game.  Check out picks for this week's showcase and let me know how I did.
8 Dog-Friendly Plants that Repel Bugs by Jan at Wag'N Woof Pets – Woof! If you have dogs (why do I say that? Why would you be reading this blog if you didn't have dogs?) you know that bugs bring all manner of threat and illness to your dogs. When dealing with the nasty insects (fleas, ticks, mosquitos, black flies) you need every weapon in your arsenal to defeat these pesky buggers. Why not landscape your yard, and protect your pets all at the same time. If you're looking to do just that, Jan's post will get you started. The bonus, the plants are all safe for your dog.
A Pet Groomer's Guide to Cleaning Dog Ears by Cathy at I Love My Chi – Long-eared or short-eared, it doesn't matter. If you have a dog, it's important to keep their ears clean.  Unless you have money to burn (are you looking to adopt a child? I'm older, but I promise I'll be a good kid and take care of you in your senior years; ask my dogs, they'll vouch for me.) Odds are you will need to clean your dog's ears yourself. How and how often are the tricky questions, but Cathy, a pet groomer has the answers. Plus, there's a video which shows you how to acclimate your dogs to ear cleaning, especially if they have concerns. There's also a nifty little tip for a natural solution to assist in keeping those ears clean!
Big Dog Mom's Most Glaring Weakness Revealed and it Will Surprise You by Big Dog Mom at Big Dog Mom – Here's the surprise to me.  Her weakness isn't for big dogs!  Alright, I take that back. Of course she has a weakness for big dogs, she HAS big dogs! I actually found her weakness a little on the funny side, because she does something very similar to something I do. (And it's not the big dog thing again!) But that's all I'm going to tell you, but after you read her post, you can guess in the comments. 🙂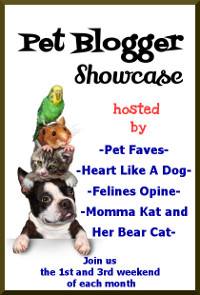 Welcome to the Pet Blogger Showcase! This is the place for you to show off your favorite family friendly pet related posts, find other great posts to read, show some love to other bloggers and maybe be featured on one of the host blogs!
Meet the Hosts Behind the Showcase
Pet Faves– Living the pet lover lifestyle
Heart Like A Dog– The good, the bad, and the Oh My God of living with dogs
Felines Opines– The world from a feline point of view
Momma Kat and Her Bear Cat– The humorous and touching tales of a formerly homeless, yet always extraordinary, feline and his Momma, who's just along for the ride.
About the Pet Blogger Showcase
Twice a month, On the 1st and 3rd Saturday of the month, you have the chance to link up one of your blog posts to the linky party link-up. Then visit 3 other blogs that joined the party and leave a meaningful comment. Feel free to share with your followers on Facebook, Pinterest, Twitter, etc. Then each week the hosts will feature their favorite 3 posts from the previous Linky Party on the new party post.
Pet Blogger Showcase Rules
Share a pet specific post

, past or present, from your blog in the linky below (be sure to link to your post page and not your home page). Family friendly posts only. (We love reading about other topics and niches, but posts that are not pet related will be deleted this includes any posts that don't mention pets even if they are on a pet blog or if the post could pertain to pets.)

Spread the Love!

Leave a quality comment(more than just a few words) on at least 3 other posts from the linky party

. Tell them why you love their post, encourage them, share on social media.

Check back for the next linky party

to see if you are featured on one of the hosts' blogs.
*Note: By adding your post to the linky party you are giving the hosts permission to use an image from your post if your post will be a featured post on their blog to help encourage people to click through to your post. The image may be used individually or as a collage.
That's it! No need to RSVP. No need to bring a covered dish. No need to add the linky to your post. No need to include a button. Just come join the party and PAWTY ON!
Comments
comments