These months with five Fridays and Saturdays really throw me off. It seems like forever ago since our last linky party.
I have to apologize for being so sporadic with reading blogs and writing my own. We had an office move at work, that I ended up coordinating, and it kept me super busy, and left me totally exhausted. Thankfully it's behind me now, so hopefully I can jump right back in that saddle!
All that being said, we still need to showcase some awesome posts. So here we go!
For the Love of a Collie, by Kathleen at All Things Collie – I've been following Kathleen's blog for a while, and there is no doubt that she absolutely adores the Collie breed. Kathleen got her love of Collies naturally, it apparently runs in the family. In this post, Kathleen shines the light on a number of collies who have graced her life over the years. It's a beautifully written post, and her love of the breed is apparent.
Mission Impawsible by Monika and Sam at Tails from Around the Ranch – One of the things I love reading about is how dog's bring so much comfort to the folks confined in hospitals and convalescent homes. There is just something so therapeutic about stroking the soft fur of a dog. When one a member of the therapy team couldn't make his rounds, sweet Sam answered the call.
Sister Saturday with Sascha: What I Did On My Summer Vacation by Sascha at Brian's Home – Poor Sascha, when the food schedule got rearranged, she knew one of them was heading to the vet.  She wasn't too happy to find out it was her. 🙁  Then she got tricked into writing the post, like it was some kind of 'treat' for her. Oh Sascha, you were a good sport about it!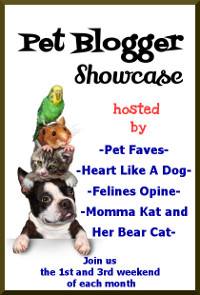 Welcome to the Pet Blogger Showcase! This is the place for you to show off your favorite family friendly pet related posts, find other great posts to read, show some love to other bloggers and maybe be featured on one of the host blogs!
Meet the Hosts Behind the Showcase
Pet Faves– Living the pet lover lifestyle
Heart Like A Dog– The good, the bad, and the Oh My God of living with dogs
Felines Opines– The world from a feline point of view
Momma Kat and Her Bear Cat– The humorous and touching tales of a formerly homeless, yet always extraordinary, feline and his Momma, who's just along for the ride.
About the Pet Blogger Showcase
Twice a month, On the 1st and 3rd Saturday of the month, you have the chance to link up one of your blog posts to the linky party link-up. Then visit 3 other blogs that joined the party and leave a meaningful comment. Feel free to share with your followers on Facebook, Pinterest, Twitter, etc. Then each week the hosts will feature their favorite 3 posts from the previous Linky Party on the new party post.
Pet Blogger Showcase Rules
Share a pet specific post

, past or present, from your blog in the linky below (be sure to link to your post page and not your home page). Family friendly posts only. (We love reading about other topics and niches, but posts that are not pet related will be deleted this includes any posts that don't mention pets even if they are on a pet blog or if the post could pertain to pets.)

Spread the Love!

Leave a quality comment(more than just a few words) on at least 3 other posts from the linky party

. Tell them why you love their post, encourage them, share on social media.

Check back for the next linky party

to see if you are featured on one of the hosts' blogs.
*Note: By adding your post to the linky party you are giving the hosts permission to use an image from your post if your post will be a featured post on their blog to help encourage people to click through to your post. The image may be used individually or as a collage.
That's it! No need to RSVP. No need to bring a covered dish. No need to add the linky to your post. No need to include a button. Just come join the party and PAWTY ON!
Comments
comments