Every Labrador Retriever I've ever met, has been motivated by food. Like all dogs, some are more motivated by others.
Sampson is only part Labrador Retriever, so while he's motivated for food, he's never been one to go into the garbage, destroy used napkins or paper towels that had food on them, run off on a walk to eat bird seed from the neighbor's yard, counter surf (except for when he was a puppy and went for the butter, and filet mignon, but who could really blame him for that? Not me.)
Unlike a certain Labrador Retriever who has done all of the above, and then some.
Honestly, her exploits are what legends are made of. Every self-respecting Labrador should aspire to eat at least half of what she has.
Okay, so I gave you the background, now here's the task. While I was searching for a photo for today's post, I came across this photo.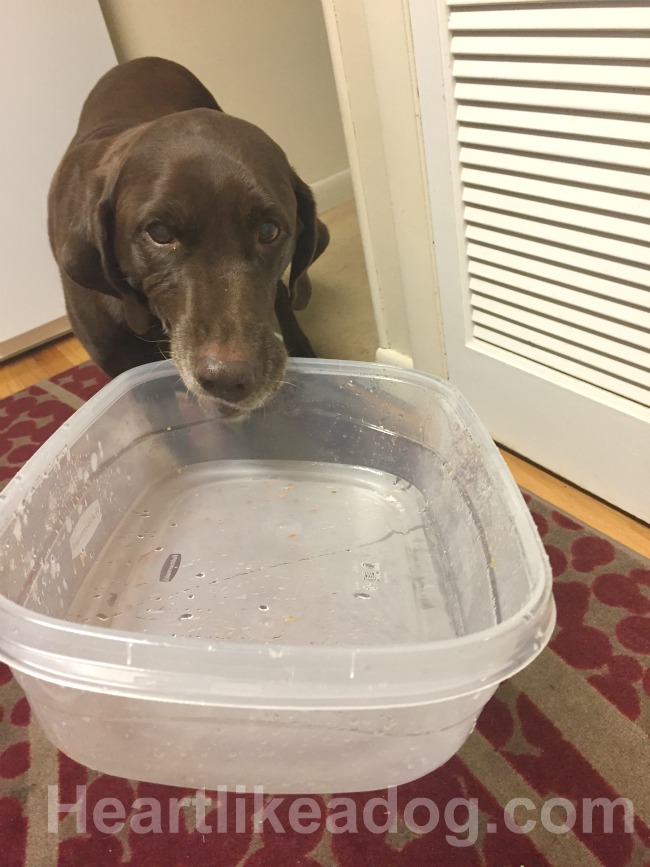 Now, I already have a caption in mind, but I want to hear what you think, and how you'd caption the photo. And just for a little background, that container she's holding is what stores their raw food in the refrigerator. I had used the last of the food up, and stuck the container in the sink to wash it. Delilah took it OUT of the sink, and decided to wash it her way.
True story.
I have a friend, who met her current husband in a bar. It went down like this.
My friend Charlotte was visiting from Chicago. So the Hubs and I decided to take her out to our favorite bar for a drink. Hubs was shooting pool, so Char and I sat at the bar. The TV was on, but you couldn't hear the sound, SO…I supplied the dialogue. But in a funny kind of way, because I like to make things funny. Well, there was a guy at the bar, and he was listening in, and we all were laughing, and the next thing I knew, I was standing up for them at their wedding.
What can I say? I like this kind of stuff….and I thought it might be fun to include you guys in it.
Sound like fun? Good.
Captioning contest will end Saturday, July 15, 2017 at 3:00 pm Eastern Standard Time, and I'll announce the winner either Sunday the 16th, or Tuesday the 18th.
Oh and to make this a bit more fun, SO…The person who has what I consider the best caption, will receive a $15 Amazon card.
And go!
Comments
comments