Before we get to this week's edition of the Pet Blogger Showcase, I want to let you all know that the NEXT Linky Party will be the first Saturday in June. It seems three or your four hosts will be at Blog Paws for the next party, and in order to keep our sanity, we've decided to take that weekend off. 🙂
I also might add, I'm looking forward to meeting them!
Are any of you attending? If so, be sure to look me up. I'll be the loud red-head with the wine glass in my hand. 😉
Now, on to this week's showcase…
Relax! (Or How I Trained My Dogs To Rest On a Mat) by Beth at Travels with Barley – Is your dog mat, trained?  Sampson definitely is, and Delilah is, but only when she wants to be. 🙂 In our house, we use the term, "place" and I've heard some people refer to it as "spot", but whatever you choose, having your dog trained to go a certain spot, can come in right handy. In this post, Beth explains exactly how she taught both Barley and Rye to use their mat.  As you can see from the photo, they don't seem to  mind it at all.
A Dog's Nose Never Forgets by Jan at Wag 'N Woof Pets – Have you tried Nosework with your dog? Sometimes the weather just doesn't cooperate for outdoor exercise. We all know, a tired dog is a good dog, but did you know that mental stimulation can tire a dog out just like physical exercise can? Jan has graduated her dogs to Birch smells, but you can play this game with food too. Check out Jan's post and see how much Cricket and Luke enjoy this game.
Leo's Sunday Selfies by Animal Shelter, Volunteer Life – Siriusly, look at THAT face! He's absolutely adorable, and he's in CT, and looking for his forever home. To find out more about Leo, check out Animal Shelter's post.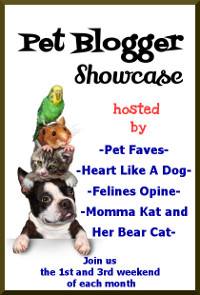 Welcome to the Pet Blogger Showcase! This is the place for you to show off your favorite family friendly pet related posts, find other great posts to read, show some love to other bloggers and maybe be featured on one of the host blogs!
Meet the Hosts Behind the Showcase
Pet Faves- Living the pet lover lifestyle
Heart Like A Dog- The good, the bad, and the Oh My God of living with dogs
Felines Opines– The world from a feline point of view
Momma Kat and Her Bear Cat– The humorous and touching tales of a formerly homeless, yet always extraordinary, feline and his Momma, who's just along for the ride.
About the Pet Blogger Showcase
Twice a month, On the 1st and 3rd Saturday of the month, you have the chance to link up one of your blog posts to the linky party link-up. Then visit 3 other blogs that joined the party and leave a meaningful comment. Feel free to share with your followers on Facebook, Pinterest, Twitter, etc. Then each week the hosts will feature their favorite 3 posts from the previous Linky Party on the new party post.
Pet Blogger Showcase Rules
Share a pet specific post, past or present, from your blog in the linky below (be sure to link to your post page and not your home page). Family friendly posts only. (We love reading about other topics and niches, but posts that are not pet related will be deleted this includes any posts that don't mention pets even if they are on a pet blog or if the post could pertain to pets.)
Spread the Love! Leave a quality comment(more than just a few words) on at least 3 other posts from the linky party. Tell them why you love their post, encourage them, share on social media.
Check back for the next linky party to see if you are featured on one of the hosts' blogs.
*Note: By adding your post to the linky party you are giving the hosts permission to use an image from your post if your post will be a featured post on their blog to help encourage people to click through to your post. The image may be used individually or as a collage.
That's it! No need to RSVP. No need to bring a covered dish. No need to add the linky to your post. No need to include a button. Just come join the party and PAWTY ON!
Comments
comments