Since I went back to work full-time, walking the dogs has been a challenge. Hubby works late three nights a week, but on his two early nights, he's agreed to walk the dogs with me.
I'm not going to lie. I struggled the first week. The first night we went up to the woods. Delilah and I went one way and Hubby went the other way with Sampson. When I turned around and they were gone, I literally sobbed. When I told Hubby, he said he was pretty sure Sampson did too. 🙁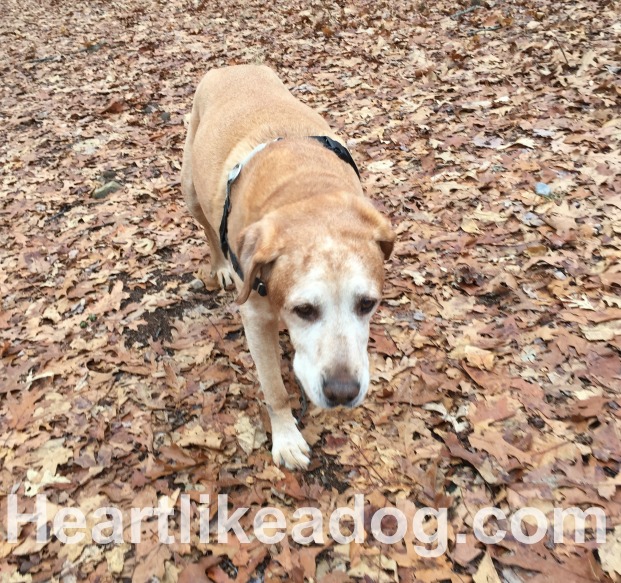 You guys, I've been walking both dogs by myself for at least five years. For the last two, they've been walked separately twice a day. I guess you could say, we've sort of got a rapport going.
Breaking that up is harder than hard.
SO, this week, Hubby and I have been walking the dogs together. I think it's a bit of a challenge for Sampson, but we keep it slow and only go around the neighborhood or field.
I've said many times, I need to have a Go-Pro camera set-up, because you just can't make this shit up.
We were walking past one of the houses with dogs that bark at us.  Delilah and I were ahead of Hubby by a good 25 to 45 feet.
I heard a noise, and it sounded like a dog hitting a blind. I heard Hubby said, "Now THAT was funny."
I turned, saw a dog in the window and thought, the dog must have banged the blind or something.
Then Hubby says, "Do you see that nut rolling down the street?"
I turned to look and he pointed to the other side of the street, where sure enough, an acorn was rolling down the street, hugging the curb.
Apparently what happened was, a chipmunk with an acorn in his mouth was running across the street, when it suddenly realized Delilah and I were there.
The chipmunk must have experienced an OH SHIT moment, he dropped his nut and turned around and ran the other way.
Neither Delilah or I saw him.
The things you see without your Go-Pro.
Comments
comments