Welcome to this week's edition of the Pet Blogger Showcase.
Par for the course, I can't whittle this list down to just three. I. Just. Can't. So I picked three with an honorable.
All of the entries were just so good. I started reading and pasting links in and when I finished the pawty, I looked at the post and I had five. *SIGH* You guys make it hard!
So here we go!
Acupuncture with Bruiser by Christy Caplan at My Life with Dogs – I'm a firm believer in different modalities for treatment. For myself, I prefer to treat as naturally as possible and I carry that philosophy over to my dogs as well. Both of my dogs have had acupuncture and it has helped them both. If you've ever considered it, or wondered if it worked…wonder no more.
Cats of Istanbul by Jenna at Meow Lifestyle – I love reading how other countries handle their stray animals, I think we can learn a lot from different programs that other countries have in place. What surprised me about this post was how Istanbul has a trap/neuter/release program for dogs, but not for cats. In fact, the cats in Istanbul were more like dogs in the way they approach humans, while the dogs were the complete opposite!
A Danger to Any Dog by Kathleen Piro at All Things Collie – Bloat is one scary disease.  Most dogs die, either from the bloat itself, because their owners weren't aware of the signs, or from surgery.  The only dog I've ever heard of that survived bloat was Thunder from Two Brown Dawgs, and that's because Linda knew the signs. It's such a serious disease that I've heard of Military dogs having their stomachs tacked to prevent it. If you have a dog that is on the high risk for bloat list, I encourage you to read this post and know the signs. Heck, even if your dog isn't a high risk, know the symptoms and signs, you never know whose dog you could help save.
Honorable Mention:
That Guilty Feeling by  Beth at Travels With Barley – Because really, what owner hasn't done something inadvertently to their pet, and then carried the guilt after?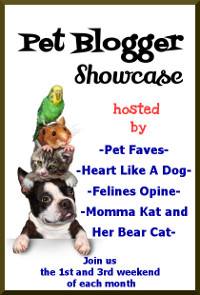 Welcome to the Pet Blogger Showcase! This is the place for you to show off your favorite family friendly pet related posts, find other great posts to read, show some love to other bloggers and maybe be featured on one of the host blogs!
Meet the Hosts Behind the Showcase
Pet Faves- Living the pet lover lifestyle
Heart Like A Dog- The good, the bad, and the Oh My God of living with dogs
Felines Opines– The world from a feline point of view
Momma Kat and Her Bear Cat– The humorous and touching tales of a formerly homeless, yet always extraordinary, feline and his Momma, who's just along for the ride.
About the Pet Blogger Showcase
Twice a month, On the 1st and 3rd Saturday of the month, you have the chance to link up one of your blog posts to the linky party link-up. Then visit 3 other blogs that joined the party and leave a meaningful comment. Feel free to share with your followers on Facebook, Pinterest, Twitter, etc. Then each week the hosts will feature their favorite 3 posts from the previous Linky Party on the new party post.
Pet Blogger Showcase Rules
Share a pet specific post, past or present, from your blog in the linky below. Family friendly posts only. (We love reading about other topics and niches, but posts that are not pet related will be deleted this includes any posts that don't mention pets even if they are on a pet blog or if the post could pertain to pets.)
Spread the Love! Leave a quality comment(more than just a few words) on at least 3 other posts from the linky party. Tell them why you love their post, encourage them, share on social media.
Check back for the next linky party to see if you are featured on one of the hosts' blogs.
*Note: By adding your post to the linky party you are giving the hosts permission to use an image from your post if your post will be a featured post on their blog to help encourage people to click through to your post. The image may be used individually or as a collage.
That's it! No need to RSVP. No need to bring a covered dish. No need to add the linky to your post. No need to include a button. Just come join the party and PAWTY ON!
Comments
comments