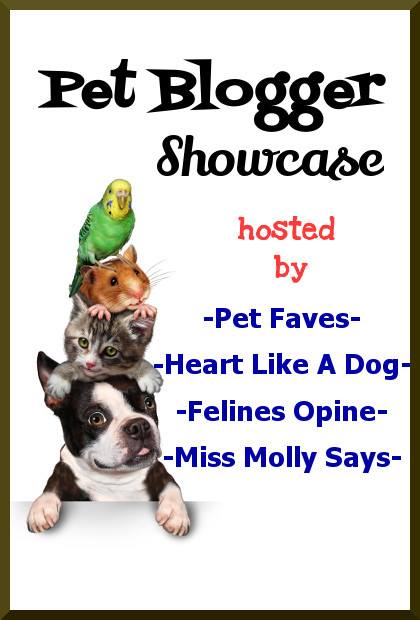 Thank you for joining me today for the 2nd Pet Blogger Showcase. Today I'll be sharing three (okay four) of MY favorite posts from the very first Pet Blogger party which took place on July 2, 2016.
Going forward, on the 2nd and 4th Saturdays of each month, I (and my three co-hosts Pet Faves, Felines Opine and Miss Molly Says) will be sharing three of their favorite posts from the week before. Easy right?
Before we start, I'd like to touch briefly on something. It has to do with photographs. You'll notice that I haven't used any photographs from any of the blogs I'm showcasing. Pictures really catch a reader's eye and help drive traffic to your site (just look at Pinterest!). To help encourage people to visit your posts when we feature them on our blogs, we want to include an image from your post. By linking up your post, you are giving us permission to use an image if your post is featured. (Of course, we'll make sure your watermark is included.)
Okay, now that's out of the way, let's get started!
Every post was amazing, so it was super hard for me to choose, but I had to. I mean I couldn't really highlight every one now could I?  That being said, I had to narrow it down, so in the order they were submitted, here goes:
The Golden Poodle Awards for June, written by Jan at The Poodle (and dog) Blog. Jan finds the most interesting dog stories to share with her readers. Once a month, she bestows "The Golden Poodle Awards" where she highlights the very best and the very worst of the month.  I don't know how she keeps track of everything, but every month her awards are perfectly bestowed.
The Challenges of Gardening with Dogs – Are Your Plants Safe? Part 1, written by Jan from Wag 'n Woof Pets. We all know the top ten foods that are poisonous to dogs, but I had no idea how many outdoor plants were actually toxic. Jan and her crew recently moved into a new home and as Jan set about beautifying her yard, she discovered a number of 'beautiful but not so safe for dogs' plants.
Heartworm Preventative written by Water Rolls Uphill, I was thrilled to find some new blogs to read and this was a great post. I myself use a heartworm preventative and I know from following some rescues that a lot of dogs that come up from the south come up with Heartworm. I see their posts saying being treated etc, but had no idea how costly it was to treat. This was a great eye-opening piece for me.
Like I said, they were all SO good, and it was so hard to narrow it down, but I couldn't add them all, so I'm going to have an honorable mention and that was:
Why Dogs Tilt Their Heads, submitted by Emma from My GBGV Life.  Emma presents two theories as to why dogs do that cute little tilt with their heads. Personally, I think it might just be a little of both, but I'll let ya'll decide for yourself.
That is a wrap for me. I cannot wait to read what you all are posting about this week. Remember it's a Linky Party, not a blog hop.
What's a linky party you ask?
A linky party, like a blog hop, but better. You don't have to fiddle with any code, just add your link below, visit a couple of posts, make some new friends and then come back here on the first Saturday in August and see if your post has been showcased.
Welcome to the Pet Blogger Showcase! This is the place for you to show off your favorite family friendly pet related posts, find other great posts to read, show some love to other bloggers and maybe be featured on one of the host blogs!
Meet the Hosts Behind the Showcase
Pet Faves- Living the pet lover lifestyle
Heart Like A Dog- The good, the bad, and the Oh My God of living with dogs
Felines Opines- The world from a feline point of view
Miss Molly Says- Pet product reviews, pet training, pet health, pet nutrition and all things pets!
About the Pet Blogger Showcase
Twice a month, On the 1st and 3rd Saturday of the month, you have the chance to link up one of your blog posts to the linky party link-up. Then visit 3 other blogs that joined the party and leave a meaningful comment. Feel free to share with your followers on Facebook, Pinterest, Twitter, etc. Then each week the hosts will feature their favorite 3 posts from the previous Linky Party on the new party post.
Pet Blogger Showcase Rules
Share a pet related post, past or present, from your blog in the linky below. Family friendly posts only. (We love reading about other topics, but posts that are not pet related will be deleted.
Spread the Love! Leave a quality comment(more than just a few words) on at least 3 other posts from the linky party. Tell them why you love their post, encourage them, share on social media.
Check back for the next linky party to see if you are featured on one of the hosts' blogs.
That's it! No need to RSVP. No need to bring a covered dish. No need to add the linky to your post. No need to include a button. Just come join the party and PAWTY ON!
Comments
comments