Did you know that July 5th is the busiest day of the year for animal control officers? It's true. So many pets are lost on the 4th of July because they were frightened by fireworks and escaped their yards or collars.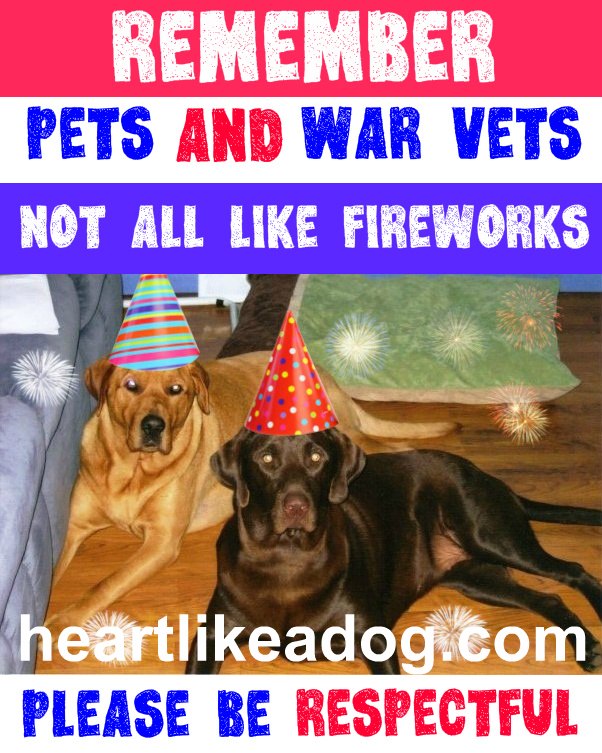 Pets, frightened by the noise from fireworks have been known to break out windows, or break down doors in their desperation to escape. Once they are on the run, it can be very difficult to find them again.
Animals, like most of us, work on the 3-F's system. Fight, Flight or Freeze. Once an animal is in Flight mode, it can take a long time for them to stop running, even when they do, they sometimes don't immediately recognize their owners.
Those of us with pets frightened by loud noises know the best way to keep your pets safe is to not leave them alone.
My dogs were never afraid of fireworks or thunderstorms until recently. We had an incident two summers ago where the smoke alarm went flooey and ever since then, Sampson shakes and pants with fear with loud noises.
We live far enough away from the town Fireworks display to not hear the noise, but that doesn't stop our neighbors and others in the area from putting on their own displays. In particular we have a neighbor two houses up, that always has a 4th of July party and around 9:30, they start with the street fireworks. (Thankfully, the woman across the street from him will call the police if it goes past the 10:00 pm noise cut off.) Still it can make for a very stressful time for Sampson.
Here are some tips for how we help keep Sampson as stress -free as possible during the 4th of July.
We stay home. While I realize that isn't an option for everyone, it just works for us.
We keep the windows closed and the air conditioners running, to help buffer the noise from outside.
We also turn the TV on and keep it fairly loud.
Sampson and I will likely retreat to a bedroom, where I can calm and reassure him if he needs it.
I've recently added a Calming Chew to Sampson's supplement routine. It works fairly well with thunderstorms, so I've got my fingers crossed it will work just as well with the fireworks.
Here are some general tips that can help keep your pets safe over 4th of July (or anytime there are any types of celebrations.)
Keep your cats inside.
If at all possible, try and get your dogs outside to potty before the noise begins.
If you have to take them outside during the celebration, make sure they have their collar with contact information on it. Even if your yard is fenced in, consider taking them out on leash.
Even if your pet is micro-chipped, make sure they have a tag with your name and phone number on it. Remember,  a vet will need to scan your pet in order to get your contact information. Many vets will not be open during 4th of July celebrations.
Speaking of scanning, consider using a scannable ID tag, like the ones made by PetHub. This tag can be scanned by anyone with a smart phone (they even say the older phones can do it too), giving someone instant access to your dog's profile and also your contact information. The tags cost a little bit more than the ones you make yourself at the pet store, and there is a moderate annual fee for the tag, but considering the heartache it can save you, it's a good value if you ask me. (They have a monthly or annual fee, for whatever fits your budget.)
Make sure your dog's collar is snug and not able to be slipped. Even better, consider using a harness with attached tags vs a collar.
Secure any areas in your house (windows, doors) or yard (gates or weak spots) where your pet could escape from.
Some pets might be content with a stuffed Kong, (Delilah probably would.)
Make a place they feel safe.
If your pet is comfortable and feels safe in their crate/kennel, considering securing them in there. You can place a light blanket or sheet around a wire kennel, to help your dog feel safer.
Take a small room (bathroom or larger closet) and make it a safe area. Add a blanket, a bowl of water, a radio or fan for noise control.
There are other options, such as Rescue Remedy, plug-ins that emit pheromones, Thundershirts to name a few. If you have a pet that has a sensitivity to noise, try different things to find what works best for them.
Knowing your pet and what bothers and comforts them, can help you plan for stressful events and ultimately make them less stressful for you as well.
Heart Like a Dog is working with PetHub for Lost Pet Prevention month. While we are being compensated for this post, the thoughts and opinions expressed are our own, and are shared here because we believe in keeping pets safe in all situations. That being said, we never share anything that we don't believe or use ourselves.
Comments
comments