I'm a big fan of Jackie Bouchard (Award-winning and USA bestselling author) and her books. (And Rita's pretty sweet too, that's her dog in case you didn't know. And really, if you don't know Jackie and Rita head on over to Pooch Smooches and start following her. I'll wait.)
Jackie's one of those super cool chicks. You know the one you want to sit down with and slam back a couple of Margaritas. I think Jackie and I have a similar sense of humor and it's fairly likely we could get into a good bit of trouble if we could actually hang out. (Putting that one on my bucket list!)
I've read both of Jackie's previous books and loved them both. Her characters are intense, and they have issues, which means they are human and they are all uniquely different.
So when I heard Jackie had a new book being released I was super excited. I tried to be all sneaky about it…"Um….Jackie…do you need any help promoting your new book?"
Truthfully I think she was on to me, but she humored me anyway.
"I was just going to ask you if you would be willing to review it."
SCORE!!
It came in the mail a few days later.
"Guess what I have waiting for me upstairs?" I teased my mom. "Jackie Bouchard's new book."
"Hurry up and read it." My mother spat at me. Okay, so she didn't like spit, like a llama or anything, (she's not that kind of mama!) But she sort of demand it.
I can't blame her though. Dude let me tell you. This book grabbed me from the first sentence.
THE. FIRST. SENTENCE. And it didn't let go until the last. It was that freaking good.
If you like books that make you laugh. This is the book.
If you like books that make you cry (just a tiny bit). This is the book.
If you like books with a bit of suspense. This is the book.
If you like books that make you think about yourself and your own actions. This is the book.
Okay. Like basically what I'm telling you is this is the next book you need to read.
Whenever I'm reading one of Jackie's books, I feel like she's writing me. You know what I mean? She captures the realness of a person and puts it into a character. Now, I'm not going to give a lot of this book away but I will give you this.
Two DINK's (Double Income No Kids, for those that don't know) that didn't really want kids, and were quite content in their perfect little house, with their perfect dog, (Marie) discover that one of them has a child from a previous relationship. (Okay, it's the husband because really…most women KNOW they've had a kid) and the kid HAS a kid!
I don't know about you, but if my husband's adult child showed up on my doorstep with a little baby….there'd be some serious adjustments (and maybe a little bit of slapping).  She didn't bitch slap him though, just so you know.
Sometimes I sabotage myself. You know what I mean? I offer to do something, not really thinking of the consequences and work it will entail for me. And so that like happens in the book. The main character, Alex trying to be a good supportive wife sort of bites off a little more than she's ready for when she invites the kid and the KID to stay with them temporarily.  Alex is a perfectionist and a neat freak, which most of you that have had kids know, it's hard to mesh the two.
So they going from just the three of them to five and all the complications that go along with it.
And that's it, that's all I'm going to tell you with the exception of this. House Trained will be in select Walmarts nationwide starting next Tuesday! You can pre-order it on Amazon (available in Kindle, Paperback AND Audio!) (If you do order through Amazon, there's a small chance I might get a commission on it, because I'm working on affiliate links, but I'm not sure if I did it right or not).  You can also order the paperback or Audiobook from Barnes and Noble (which we will NOT get a commission on).
Oh and just in case you're wondering…this is what it looks like.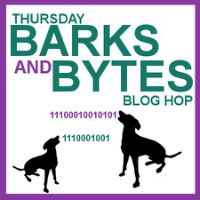 This is the Thursday Barks and Bytes Blog Hop hosted by 2 Brown Dawgs and Heart Like a Dog. Grab the badge and the linky code and join us! Please only link up blog posts and as a courtesy to the other hoppers, please add the linky to your post and/or link back to the hosts' blogs.
Comments
comments