Monday we took the bandage off Sampson's foot and sent a picture of it over to the vet.  As it happened the vet was sick and didn't get back to me until yesterday.
Unfortunately the vet felt Sampson's nail wasn't healing the way it should and suggested surgery, so I dropped him off around 2:30.
To keep my mind off of Sampson, I went home and grabbed Delilah for a nice long walk.
Spring hasn't fully arrived here and the floor of the path was a carpet of leaves.  Our feet crunched along the well known path as we made our way in the warm spring sun.
It always amazes me what a difference a walk is when you only have one dog.  This dog, the one I yell at, who pulls relentlessly, chomps my fingers when I give her a treat and basically acts like a crazy dog when walking with Sampson, is a dream to walk by herself.
Just look at that loose leash! 
We hiked the main trails and around the field and then a lap around the block as well. 
Afterwards she sacked out on the couch, tired and content. 
Sampson got picked up about 5:45. His paw is bandaged again, and he's on Carprofen for another two weeks or so as well as an antibiotic.  He was panting a lot when I picked him up and wouldn't lie down in the car.  It almost broke my heart because he was trembling so badly.
Once we got home and he lay down, I snuggled up next to him and held him for a few minutes.
I offered him half his meal and he refused.  I offered him Kefir and oatmeal and he declined those as well and yet he stood in the kitchen expectantly.  I offered him some liver wurst and he at a few pieces, enough to get some of his meds in.  The antibiotic is supposed to be taken with food and three pieces of liver wurst just didn't seem like enough, so he'll get his first dose this morning, providing he eats his breakfast.
I called the vet to see if it was normal and was told it was.  I was also told there might be some pacing and anxiety during the night.  
As of this writing he seemed much calmer, and had eaten a few treats and made an attempt at his Kong.  So fingers crossed we had a decent night.
As you can tell from this boring and humorless post, my Mojo is still MIA. Please if you see it in your travels, send it back.
Baby come back!!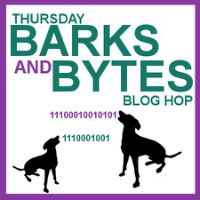 Welcome to this week's edition of Barks and Bytes hosted by 2 Brown Dawgs and Heart Like a Dog. Barks and Bytes is for anyone and everything! Please share the linky code in your post and if your blog does not support linky tools, please link back to either Linda or I.
Comments
comments