As the saga of Delilah's liver levels continues I sometimes ask myself why I bother.  No matter how carefully I monitor what goes in her mouth, she always finds something.
Take yesterday. On our afternoon walk she tried to gobble up some poop that was smushed in the middle of the road.   Shocking right?
I mean, how the hell does dog poo get in the middle of the road?  Who lets their dog drop a deuce in the MIDDLE of the road and not clean it up?  I'm on the side of the road trying to figure out how to dig the little ball of shit out of an ice crevice and all along I could have just let them dump in the middle of the road.  And I could have left it!!
Then I came home from work last night to discover the kindling wood out in the middle of the living room.  You know the kindling wood that typically sits in a sealed plastic bag beside the fireplace.
The paper you see in front of the wood is the label from INSIDE the bag.  How the hell she got that out I have no idea.  
As I picked up the wood to put it away I discovered the wood had been chewed.
You see what I mean, the dog is out to kill herself. 
Or maybe it's me.  Maybe she's trying to kill me. Do you think dogs think like that?
One last thing.  Today is my sister's birthday, Happy Birthday Sheena!  I hope you have a wonderful day.  I love you!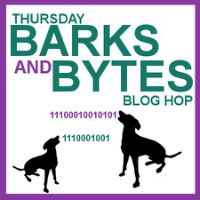 Welcome to Thursday's Barks and Bytes hosted by 2 Brown Dawgs and Heart Like a Dog. The Barks and Bytes hop is for anything at all and all bloggers are welcome. You don't have to be a dog blog to join. For new blog hoppers, a blog hop is list of links that is shared on multiple blogs. In order to be fair to all participants Linda and I ask you to please use the linky list. If your blog does not support a linky list, please link back to either Linda or I.
Comments
comments