Delilah and the Baby Gate:
Sampson and I have been sleeping in the Recovery Room that Hubby and I made for him.  Anytime we aren't home, Sampson is locked in this room via a walk through baby gate.  Last week we were told we could give him a bit more freedom, so I tried using a plastic baby gate in the hallway.  I shut the bathroom door so he couldn't go in and slip and I wedged the gate between the walls.  This would give him access to his room and the den.  Typically the den is Delilah's.  She has a little bed in there and she lays there watching for us to come home.  But I figured, hey she has access to the entire house including the bedroom, so she can suck it up for a few weeks.
The first morning I heard my mom getting ready to leave so I called Sampson in to the den so we could go out on the small deck and say good morning.  I slid open the door and there was this humongous crash and Delilah came tearing into the den.
Scratch the plastic baby gate in the hall.
Who's been pooping in my bed?
You all know by now that I'm a worrier.  It's what I do best.  If I could get paid to worry, I'd be richer than Bill Gates.
Monday I came home from work and went to let Sampson out and I noticed something in the bed.  It looked like a small rock so I went in and picked it up.  Upon closer examination I realized I was holding dog poop.  I was puzzled. How on earth did dog poop get in the bed?
And then the following thoughts raced through my mind:
Could Sampson have pooped in the house and then cleaned it up himself, even though he's never pooped in the house before? (You missed one dude.)
Why would Sampson poop in the house?  Oh god, what if he really does have Degenerative Myleopathy and he's losing feeling in his back end and doesn't even know he's pooped?
What about Delilah?  You know she's a shit eater.  She was snuggling in here this morning.  What if she brought something in from outside to enjoy in bed, like most people enjoy crackers?
Sampson did poop this morning.  Maybe he didn't get it all out, what if he had a little one left in the chamber and when he went to sleep it shot out?
Then I decided it wasn't worth worrying about, I left the room to dispose of the poop and I met Delilah in the hall.  What the hell, I thought.  She eats shit anyway.  I held out my hand.  She gave me the nastiest stink-eye and turned her head.
What? (For those of  you not in the know, the poop of raw fed dogs is very different from non-raw fed dogs.  It is very hard and compact.  This poop looked like a small rock or a very large piece of kibble.  I think the fact it looked like kibble is that gave me the above idea.) 😉
Where does the Mama sleep?
Please take note of this photo.  Can you see where the pillow is?  That's typically where I should be resting my head.  Do you also see where Sampson is?
Yes, most nights I wiggle my way between the dog and the wall.  The things I do for my dogs.
Welcome to this week's edition of Barks and Bytes..  Hosted by 2 Brown Dawgs and Heart Like a Dog, Barks and Bytes is the blog hop for bloggers of any genre.  Grab a badge, add your link and join the fun.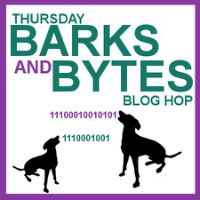 Comments
comments