For a long time I struggled with where this blog was going.  How do I attract readers? Siriusly.  It seems no matter what I do, I can't grow beyond 100 subscribers.
One of my biggest character flaws is I don't know how to accept no for an answer.  Which basically means I don't know when to give up.  If I do it just one more time….maybe I'll get a different outcome.  What if the NEXT time I do that, it works?
Insanity: doing the same thing over and over again and expecting different results.  ~ Albert Einstein
Who can argue with Einstein?  Maybe Sheldon from the Big Bang Theory, but certainly not Jodi from Heart Like a Dog.
Some people would say it's time to let the blog go.
But I can't do that.  I love this blog and I love all of you who read and comment.  You bring me up when I'm feeling down, you celebrate with me when something good happens, and you rally around one another like family, friends and neighbors should do when one of our own needs it.
Dammit!  You people are awesome!
One could argue that I'm still finding my way and learning what works and doesn't work on this blog.  Or that I'm too stubborn and refuse to do it any way but mine.
Either one of those statements would probably be right.
So I keep trying new things to see what folks like.  I really want this blog to be a place where people come to laugh and feel good, even when they're dealing with something frustrating, like a training issue.  Can I share a struggle I had, and inject a little humor in there and help someone else feel better?
I'd like to think so.
I tell you all of this because I'm trying something new.  I'm not going to sit here with panties full of piss and whine because I'm wet.  I'm making some changes!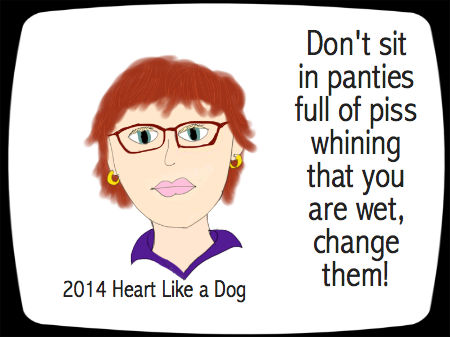 Image courtesy of AJ from I Still Want More Puppies.
This is my little avatar/cartoon me that my friend and soul sister AJ, from I Still Want More Puppies made for me.  It's for the times I feel like going on a rant.
Can I tackle a tough subject and make it funny?  I'd like to try.  SO, you may be seeing my little cartoon coming out on the blog now and then when something gets me riled up and I feel like climbing up on my soapbox.
But first you have to tell me, do you think the little cartoon me should be serious like the above photo or smiling like this one?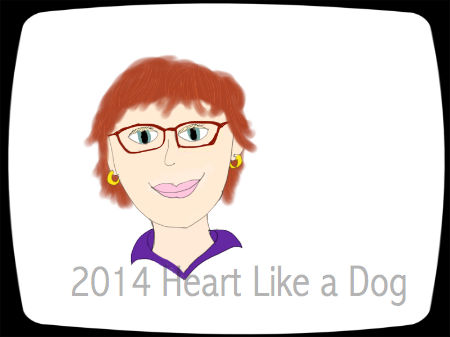 This cartoon is also courtesy of the amazing Aj, from I Still Want More Puppies.
Switching topics, we've had an awful lot of snow in the last couple of weeks and I happened to notice this snowman in front of a house around the corner from where I live.  It is the biggest snowman I've ever seen.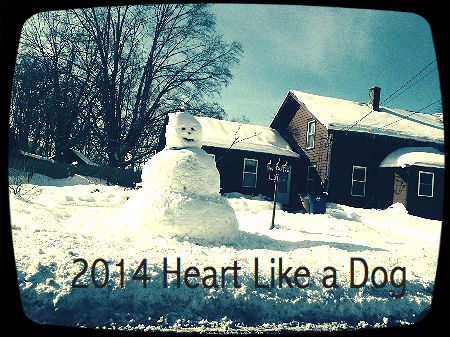 Sorry for the crappy quality, I took it with my phone.  Why do they tell me the phone has an awesome camera?  I think it sucks.
Can you tell from the photo that it's at least six or seven feet tall?  Do you think the folks that live in the house would think it weird if I stopped and asked if I could have my picture taken with the snowman?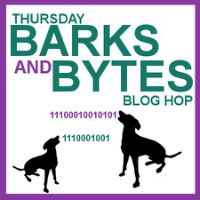 This is Thursday's Barks and Bytes, hosted by 2 Brown Dawgs and Heart Like a Dog.  Grab a badge and join the fun!
Comments
comments