Welcome to this week's edition of Follow-Up Friday, the blog hop that wraps up your week and leads you right into the weekend!
You Make Me Smile – December 29, 2013
Cupcake said, "Whenever I freeze and stop breathing and stare into the distance, Mom says, "Let's go. There's nothing there…" She's usually wrong."
Cupcake darling, your comments always make me laugh.
Dawn asked, "I have to take dozens of photos and hope one of them turns out right. How many photos did you have to take to get this perfect one of Sampson and Delilah?"
I think about three.  It's the rare time I get a great picture right from the get. 🙂
Dawn said, "I have to walk Maya and Pierson one-at-a-time or they will get extremely riled up when they see another dog."
Which is why Hubby needs to be with me if I venture out of our woods.  Sampson usually just wants to greet, but Delilah is a mixed bag of nuts.  You never know how she will react.
Jan K said, "We LOVE our rail trails! Yours look really nice too. Ours are mostly flat though….I wouldn't mind more of an elevation gain here and there. They do go high over some rivers and roads, but the trail itself is flat. We can walk right to ours from our house too, which is great, and sometimes I drive to other towns for scenery changes. The only downfall is that once we have a lot of snow we don't use them. The snowmobilers use them then and I don't trust that they aren't out there going too fast for our safety."
Most of the trail is flat, or you don't really realize the change in elevation, but in this instance to access the trail, it was a huge climb.
We don't have to worry about snowmobiles here, motorized vehicles are not allowed on the rail trail down here.
Are You Ready for Some Good Carma?
Jessica said, "I thought the whole point of Golden Doodles was that Poodles made terrible service dogs. It's nice to see somebody disprove that."
I thought that too.  I thought (oh I'm going to catch some shit from this statement) poodles were high strung. 🙂
Pamela asked, "Did you meet Carma and her mom at BlogPaws this year?"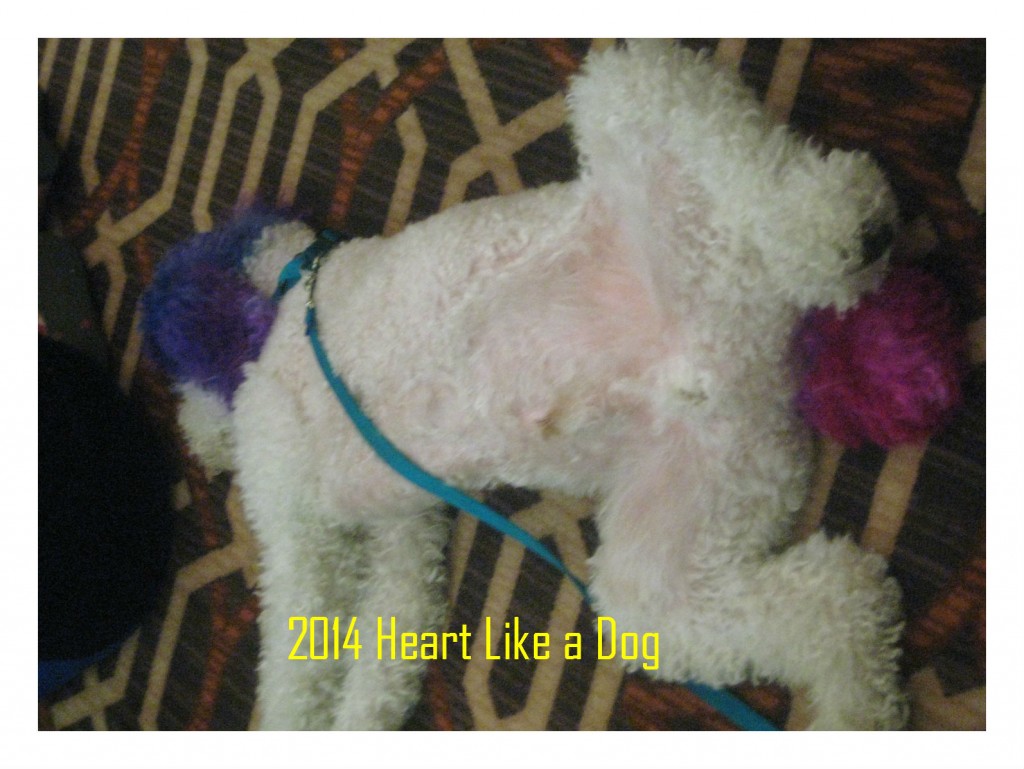 Sadly, I did not.  I only saw one poodle and it was in my Facebook course.  But she was certainly relaxed. 🙂
Then again, she could have been Carma, but if she was I did not know.
This 'N That Thursday – January 2, 2014
Emma said, "As for the butter…Mom had a similar experience except that Bailie took the top slice of bread off her sandwich which was on the kitchen island about two feet behind Mom's back. She was going for the entire sandwich but got caught and settled for the bread of which she got about half before Mom attempted to kill her. Well, not really, but there was a lot of nasty yelling going on for sure! Bailie will be a stellar counter surfer when she gets her techniques refined a bit more. I'm proud of her, Mom is not at all pleased! Mom did not eat what was left of the bread, but in your case, she would have eaten the butter."
LOL Emma, I think Bailie will make a wonderful counter surfer too.  For the record, I would not have eaten the bread and yes, there were some nasty words coming out of my mouth. 🙂
Roxy the Traveling Dog said, "I am glad my dogs are to short to counter surf. I would have used the butter too."
The counter surfing wouldn't bother me quite so much if she wasn't so bold.  She will reach into the trash to pull something out while you are putting something in there. 😀
Frankie and Ernie said, "BaaaaaWaaaah what a way to start the new Year… BUTTER UP !! Our mom would have used it too…WAY TO GO DELILAH!!! WE are PROUD of you… even if your mom isn't. Did she have Tomato Soup with the Grilled Cheese?? THAT is a super meal."
No Frankie and Ernie, I covered the soup. 🙂
And Jessica said, "Lots of good challenges. There's also the fitness challenge that was posted on You Did What With Your Wiener yesterday."
So there is another blog hop to add to the list!
That's it for me, have  a great weekend!!
Comments
comments