Wow, I can't believe it's already the 2nd of January.  Where does the time go? 🙂
Today we are joining our friends 2 Brown Dawgs and their co-host Ruckus the Eskie, for This 'N That Thursday, you know some days you've got a little of this or a little of that.  Grab the badge and join the party.
Advent Calendar for Dog Lover's
Did you get an e-mail?  I know that the winners were all chosen yesterday and I was very pleased to see some of your names listed.  So if you won, congratulations and if you didn't, I'm sorry.  But there is always next year!
Don't turn your back
Yesterday after taking the dogs for a nice hour's walk, Hubby and I came home and I set to making lunch.  I pulled a stick of butter out to make some grilled cheese sandwiches.  I turned my back for 10 seconds to add something to the sink and when I turned around, Delilah had the stick of butter in her mouth.
YO!  I was like two steps away from her, with my back turned.  That is how bold this dog is.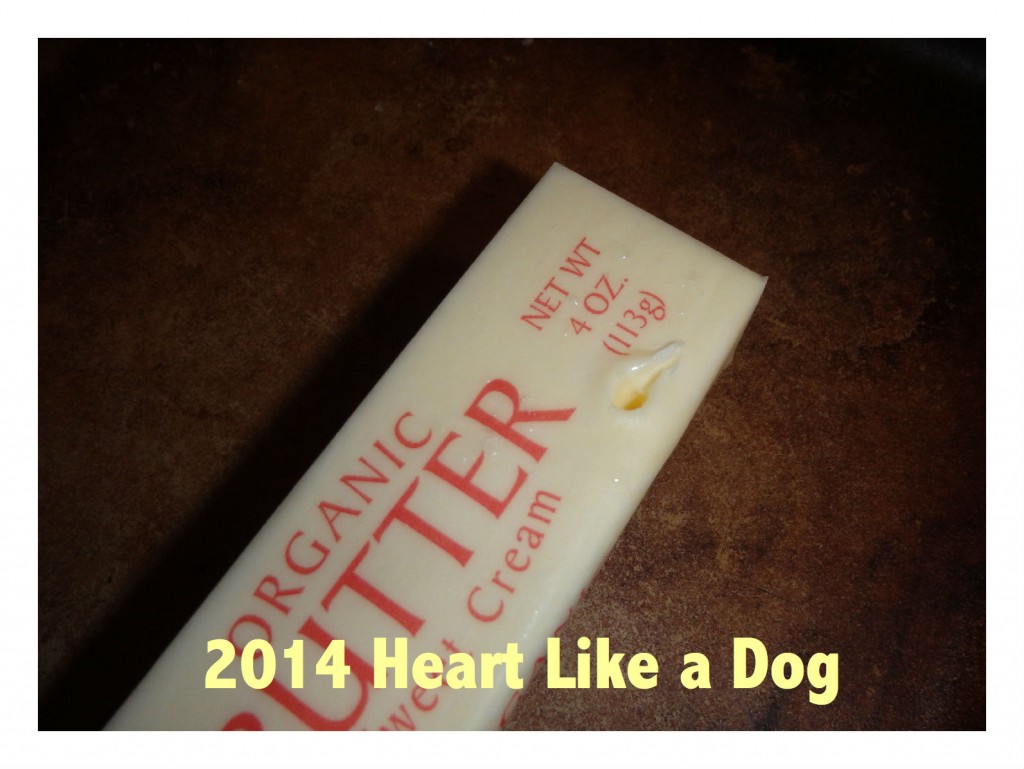 Do you see her tooth mark?  There's a matching one on the other side.  And in case you're wondering, yes I did use the stick of butter.  Hey, times are tough baby.
Blog Hops 
I thought I'd take a minute to mention a couple of blog hops that are coming up this month.
Have you heard about the 4th Annual Pet Blogger Challenge coming on January 10th?  For those new to blogging it's a once a year blog hop where fellow bloggers offer encouragement and support to others.  The list of questions is over at the Go Pet Friendly blog, along with a few more details.  Go check it out, I'll be joining. 🙂
Blog the Change for Animals
Blog the Change is coming up on the 15th of this month. If you're unfamiliar with BTC here is a quick excerpt from their website, "Bloggers, write about a cause near and dear to your heart. Readers, share your comments and ideas in answer to these questions and more!"
There are also topic suggestions on their website if you aren't sure what you want to write about.
Train the Dog Month Challenge
And January is train your dog month!  So our friends from Something Wagging This Way Comes, Rescued Insanity and Alfie's Blog are setting up a blog hop for the end of the month.  Your training goals can be as simple or as complex as you'd like.
Last year, I trained my dog to heel using a chick pea. 🙂  It's true, I have video to prove it.  And I just re-read that post and I think it's pretty dam witty if I do say so myself.
That's it for me, please join me tomorrow, when I highlight some comments, answer some questions and wrap up my week.
Many thanks to 2 Brown Dawgs and Ruckus the Eskie.

Comments
comments