Well last night was the big night, and Sampson went to the Vet to have his stitches removed.  I was a little nervous, I mean I've had stitches twice.  Once when I had my appendix out and once after my C-Section.
The appendix stitches were super easy and I never felt them coming out, BUT the stitches for my C-Section hurt like a son of a bitch!  Of course it could have had everything to do with the fact that I'd just delivered twins, who had each weighed 6.5 pounds and my stomach looked like a bowl of pizza dough.
But I digress.
So I've had two experiences with stitches, one good, one bad and I'm not sure how it was going to go for my puppy.  On the way into the Vet's office, I told Hubby, "I'll take the bite."
Hubby said, "No, I'll hold him."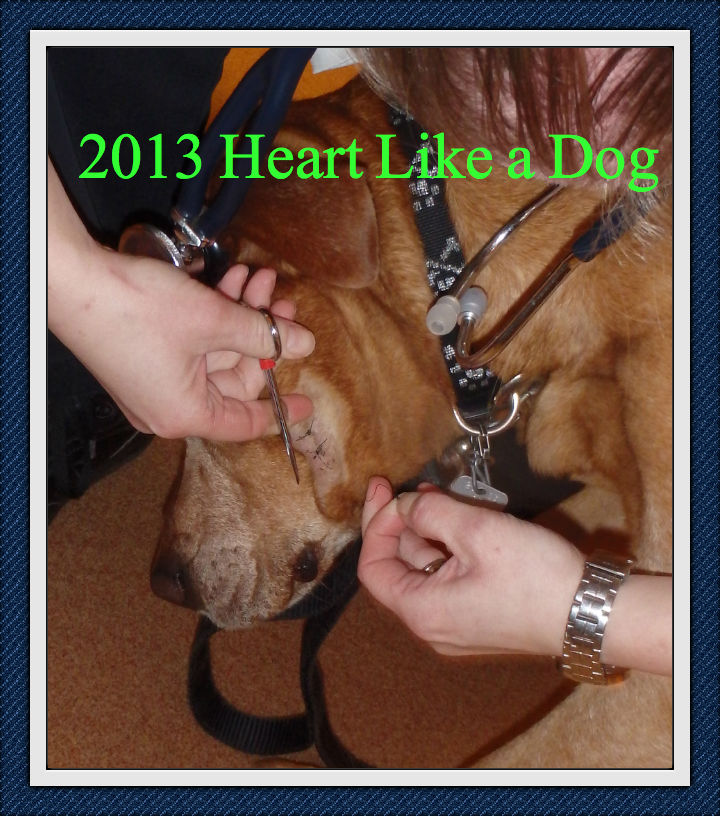 No-one held him.  The stitches in his face were out super quick.
As soon as Dr. Soutter moved to the area at the top of his leg, I started feeding him treats.  He stiffened once or twice, but never turned to look and never stopped eating his treats.
All told it took less than a minute.  Dr. Soutter said he'd healed up beautifully and he now has no restrictions.  Thank heavens, I can't tell you how many times I've said, "NO Running!"  or "No wrestling!" in the last 10 days.
So the cone of shame has been retired.  I stuck that cone in the closet. With the way Delilah devours things, I've a feeling we're going to need it again at some point.
Only four days left for the Advent Calendar!!
It's time for the Advent Calendar for Dog Lovers hosted by Kol's Notes, Heart Like a Dog, My Brown Newfies, My GBGV Life & Bringing up Bella! 24 giveaways in 24 days, plus a grand prize worth more than $800 – who wants to win? Today's giveaway is sponsored by Zigoo Pets. You could win durable Crinkits Water Bottle Covers making water bottle toys safe and fun for pets! Click here to check out the Advent Calendar and enter today's giveaway!
Comments
comments