Welcome to this week's edition of Follow-Up Friday, the blog hop that helps you wrap up your week and leads you right into the weekend.
Well here it is December 13th and I just realized yesterday that I missed my three year blogging anniversary!  LOL  See what happens when you switch to self-hosted?  You don't have those little WordPress monkeys to remind you of important mile stones.
Animal Couriers said, "Bet you wake up with a crick in your neck

"
Sometimes I do, but it doesn't matter to me, I'll happily sleep like a pretzel if my puppies are cuddled against me.
Emma said, "Mom finally caved. Bailie sleeps all snuggles with Mom and sometimes Mom gets a paw in the face, but she doesn't care, she loves having a dog in bed to snuggle."
Welcome to the dark side Mom. 🙂
Lauranne said, "Cuddling up to my dog is the favourite thing in the world!"
You and me both!!
Emma asked, "Since I'm the dog and I'm the blogger, should I skip it or do it? Mom seems to think they want humans but it is my blog. What is your opinion?"
Read what one of the originators of the blog hop had to say.
Pup Fan replied, "Maybe you can blog about your mom that day? Hehe."
Frankie and Ernie asked, "Heeehehehe do you SIRIUSLY think anybuddy Really wants to read all that stuffs about our PEEPS???"
I realize a lot of people aren't comfortable putting themselves 'out' in the blogosphere, BUT I think a lot of people want to make a connection with the person behind the blog.  It's a personal preference so if you don't feel comfortable participating no one will be mad.  Disappointed maybe, but certainly not mad!
Kristine asked, "So tell me, Jodi, what makes you feel fabulous?

"
You'll just have to wait until the 18th to find out. 😉
Roxy the Traveling Dog said, "That's all so interesting. I do wonder about the second leash thing though. When I am walking Torrey and unclipped her, she's off and running. Maybe it's just the sound and the fact she knows that's what I'm doing."
Now that you mention it, I'm wondering if it's the sound as well.  Food for thought.
Jessica said, "It seems to me that Delilah needs some off-leash recall practice in a low-stakes environment. ….Have you practiced with her in a fenced yard or a really boring place outside??"
It's been a while since we worked her there, I'll have to find an enclosed area where we can practice.
Emma said, "In the end, it must be the fault of the human for leaving such a temptation unguarded."
I absolutely take full responsibility for that Emma, it was totally my fault.
Jessica said, "Labs are usually a little too mellow for me, but Delilah is definitely not!"
I think it's the Chocolate Labs, I've never met or heard of one that wasn't just a little off the wall. 🙂
This story cracked me up.
Dawn said, "I used to feed my cats on a table on what we call the back porch (it's a room off the kitchen all enclosed) and one of the dogs was helping them selves, but I couldn't figure out who.
One day I left to go run errands when I went back into the house to grab my sunglasses. As I walked in the door, I could hear someone out there chomping on cat food. Ah ha, now I had the culprit! I started into the kitchen when my lab, Torri, came running around the corner. She skidded to a stop, looked at me and then spit a whole mouthful of cat food all over the floor and took off past me. I hadn't said a word the whole time, but I was trying not to laugh. It was just the funniest spit take ever."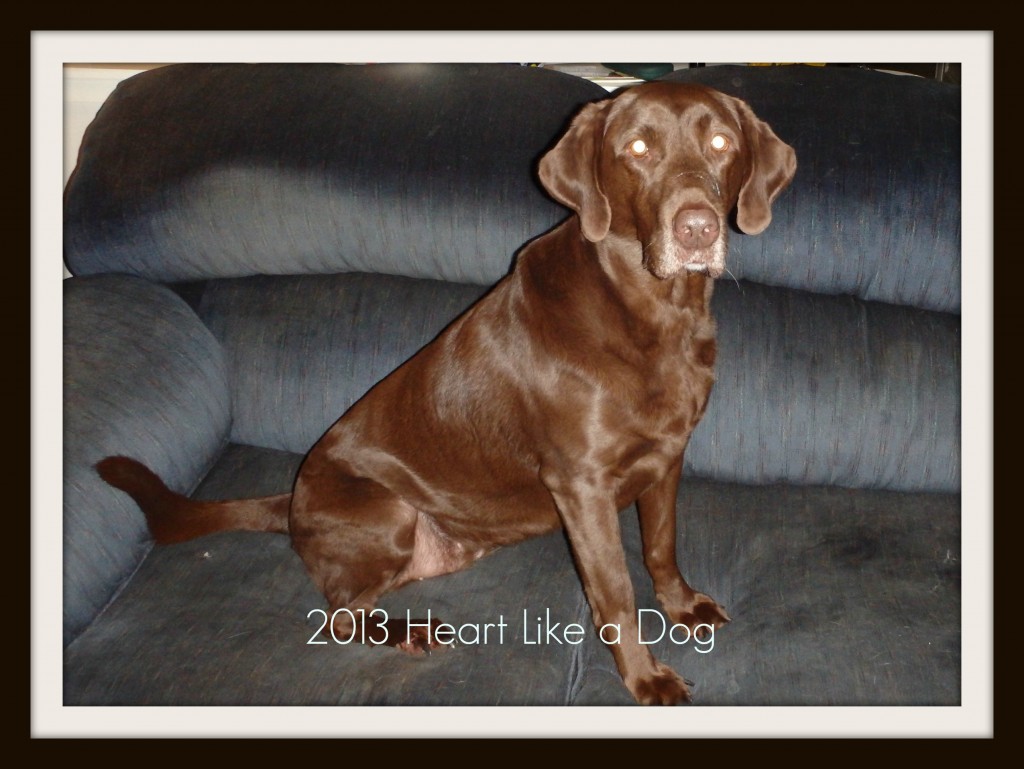 And no, she's not still sitting there.
Sampson is Home and Advent Calendar for Dogs Day 12
Thank you all so much for your kind words and thoughts.  He is none the worse for wear and I'm having a hard time keeping him quiet.
Animal Couriers said, "That is great news – dear chap still looks knocked out in the photos."
He was just happy to be home.   Although he was a tad bit clingy.
Pamela said, "And since you didn't mention any problems, I'm assuming Delilah did ok by herself while Sampson was gone."
Delilah surprised me in a pleasant way.  She was so good, and she didn't get into anything!
That's it for this week's edition of Follow-Up Friday.  You can find the blog hop below the Advent Calendar info.
Have a great weekend!
It's time for the Advent Calendar for Dog Lovers hosted by Kol's Notes, Heart Like a Dog, My Brown Newfies, My GBGV Life & Bringing up Bellat! 24 giveaways in 24 days, plus a grand prize worth more than $800 – who wants to win? Today's giveaway is sponsored by Winning Moves Games. You could win the Game of Life Dogs Edition. Click here to check out the Advent Calendar and enter today's giveaway!
Comments
comments