Welcome to this week's edition of Follow-up Friday, the blog hop that wraps up your week and leads you right into the weekend!!
I love Follow-Up Friday because it gives me the opportunity to follow-up on comments that I can't always get to during the week.
December 1, 2013-The Advent Calendar for Dog Lovers and You Make Me Smile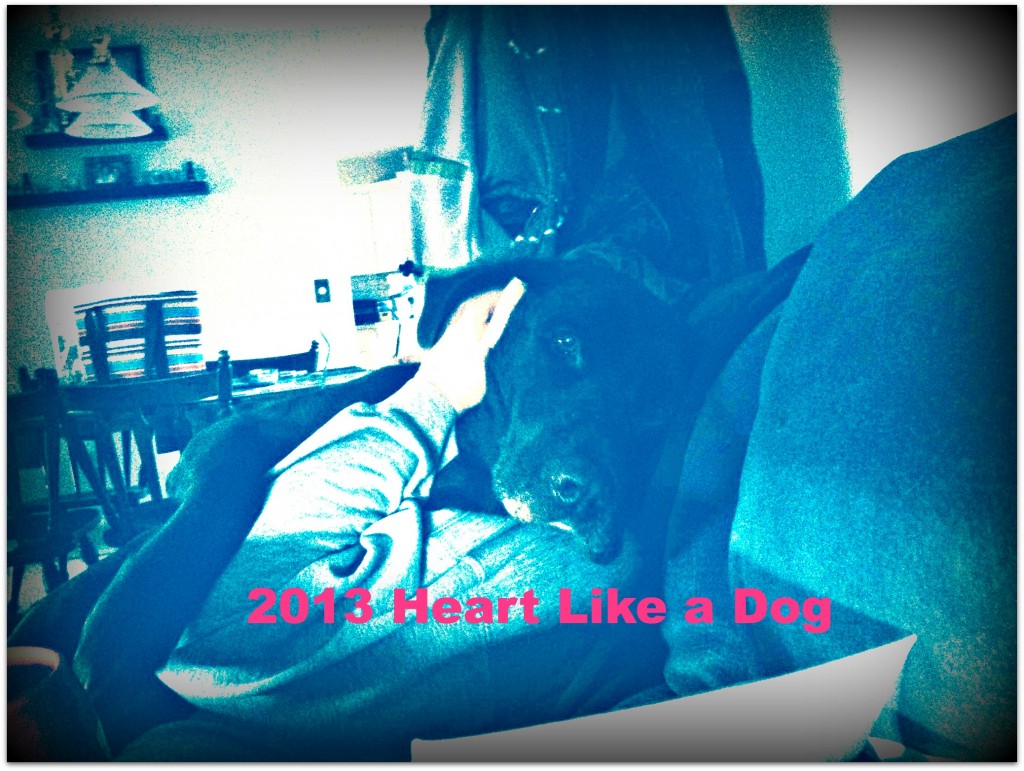 Delilah climbs in Hubby's lap all the time, but I was surprised to see her climb in my sisters!
Donna said, "I'm guessing either your sister is a dog lover too—or she was trapped."
Thankfully my sister is a dog lover, but she was trapped.  LOL  Delilah rarely takes no for an answer.
Leslie said, " And given that my dog doesn't even like to be my lapdog, I'm thinking we need to arrange a visit so I can get some Delilah lovin'.
You are always welcome here Leslie, I know Sampson and Delilah would be delighted, as would I.
And All Things Collie asked if all the calendars were sold.
Yes, I ordered just enough to fill the orders.  Although there is one calendar that is going in the grand prize pack for the Advent Calendar.
Off-Leash Behavior and Advent Calendar Day Two
There were so many great comments on this post.  So. MANY.  I want to make sure I do them justice, so we will be revisiting this topic on Monday.
Advent Calendar for Dog Lovers Day 3: Yappy Hour Vineyards
 Leslie said, "Oh the oenophile is me is all a-quiver!"
Dammit Leslie, I had to look that word up!  How often does oenophile come up in your daily conversations? 🙂
I Dropped the Blogging Ball and Advent Calendar for Dog Lovers Day 4
First I want to thank you all for your concern for my mom.  She is on the mend at the moment, although she won't be home as fast as she'd like.  Thankfully she has no computer access where she is so I can tell you that rehab is telling me at least 2 more weeks.  She's very upset that she is missing so many blog posts.
Emma said, "There is this four letter thing that seems to get in the way all the time called W-O-R-K if we could just leave that out of our daily program there would be so much more time for important stuff!"
You are so right Emma, I swear I could spend 8 hours a day working on blog related stuff.
Jackie said, "Yes, where does the time go? Hard to believe it will be Christmas in 3 weeks. (PANIC!)"
STOP Jackie, don't tell me that, I haven't even started yet!
Jan K said, " I can't seem to get caught up on my blog reading!"
Me either Jan!  I have a good day and think I'm ahead of the curve but no, I still have over 400 posts to be read in my reader.
This 'N That Thursday and Advent Calendar for Dogs Day 5
Cupcake asked, "Did they leave you any delicious "candies" in the grass?"
Eww….I just realized why Sampson loves to sniff down there.
Callie, Shadow and Ducky's Mom said, "Wow! What a weekend! 17 pix of turkeys, 2 barking dogs, and ?? A partridge in a pear tree maybe?"
That made me smile, I'll be working on that one Sue, let me see what I can come up with. 😀
Pamela said, "Turkeys sure are ballsy aren't they?"
Yes they are Pamela, yes they are.
Blueberry's Human said, "I totally would have taken the remaining turkey from the fridge and run outside waving it in front of those turkeys while shouting, "Get outta here or this'll be you next you scoundrels!". But, that's just me. 

"
Now I would pay to see that. 😀
That's it for me and this edition of Follow-up Friday, now are you ready to win something really cool?
It's time for the Advent Calendar for Dog Lovers hosted by Kol's Notes, Heart Like a Dog, My Brown Newfies, My GBGV Life & Bringing up Bella!! 24 giveaways in 24 days, plus a grand prize worth more than $800 – who wants to win? Today's giveaway is sponsored by K9 Bytes. You could win a hand crafted whimsical leash & collar set. Click here to check out the Advent Calendar and enter today's giveaway!
Comments
comments