First off, many thanks to 2 Brown Dawgs and Ruckus the Eskie for This 'N That Thursday.
Thanksgiving Weekend
Originally we intended to go to New Hampshire to visit my sister and her husband over the long Thanksgiving weekend.  But when Mom got sick, my sister decided she needed to come to CT instead.  Me being the oh so generous wife that I am, suggested Hubby head to NH for a 'boy's weekend' while my sister and I enjoyed a 'girl's weekend. Well you know what they say, the best laid plans and all.  Turns out we were super busy.
So when Sunday morning rolled around, I decided to park myself on the couch for a few minutes to shop for purses. My sister meanwhile was elsewhere in the house.
Okay, she was using the toilet if you have to know, when all of a sudden the dogs started barking like demons were circling the house.
My sister cut her business short thinking she might have to save me from something and the three of them dashed to the window, faster than the main character in "A Visit from St. Nicholas" by Clement Clarke Moore. (Ok, technically Santa Claus MIGHT be the main character, but let's roll with this okay?)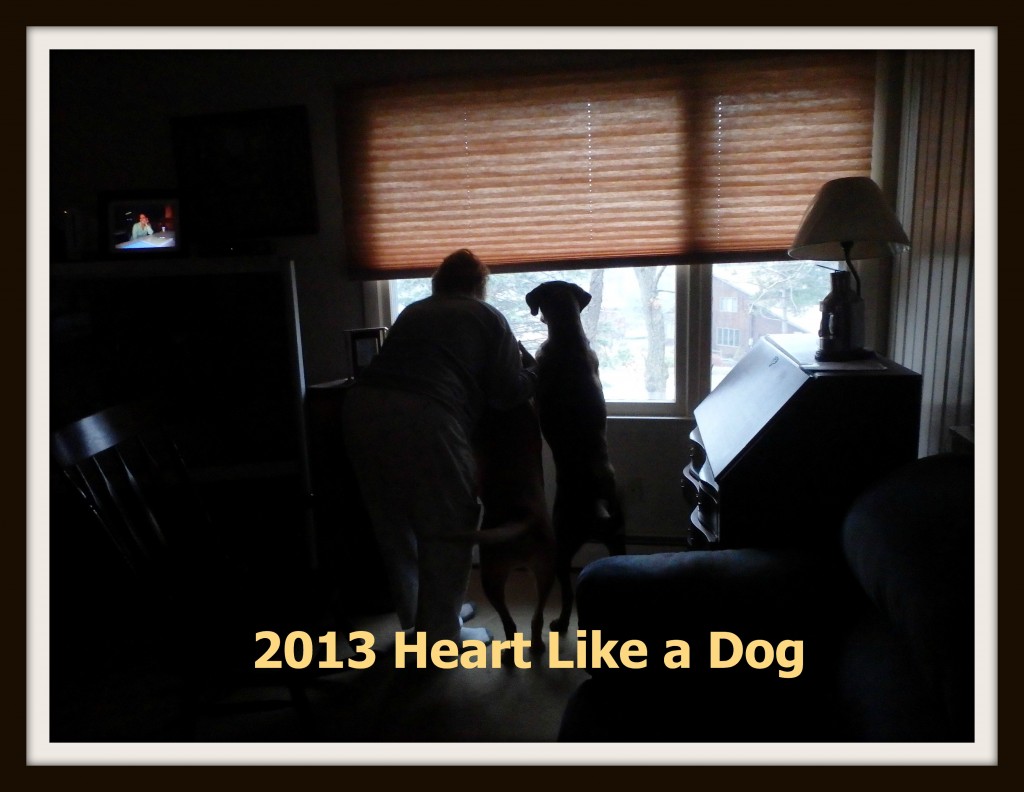 Yeah, the picture is dark.  It was an overcast day and I don't turn on lights.  Sampson is there in front of my sister, while Delilah is clearly silhouetted.
I mentioned I was shopping for purses right?  So you can see why I didn't jump right up.  Well the three of them looked out the window and then the dogs ran to the front deck and then back to the window and I just couldn't concentrate with all that racket, so I got up to see what had everyone's attention.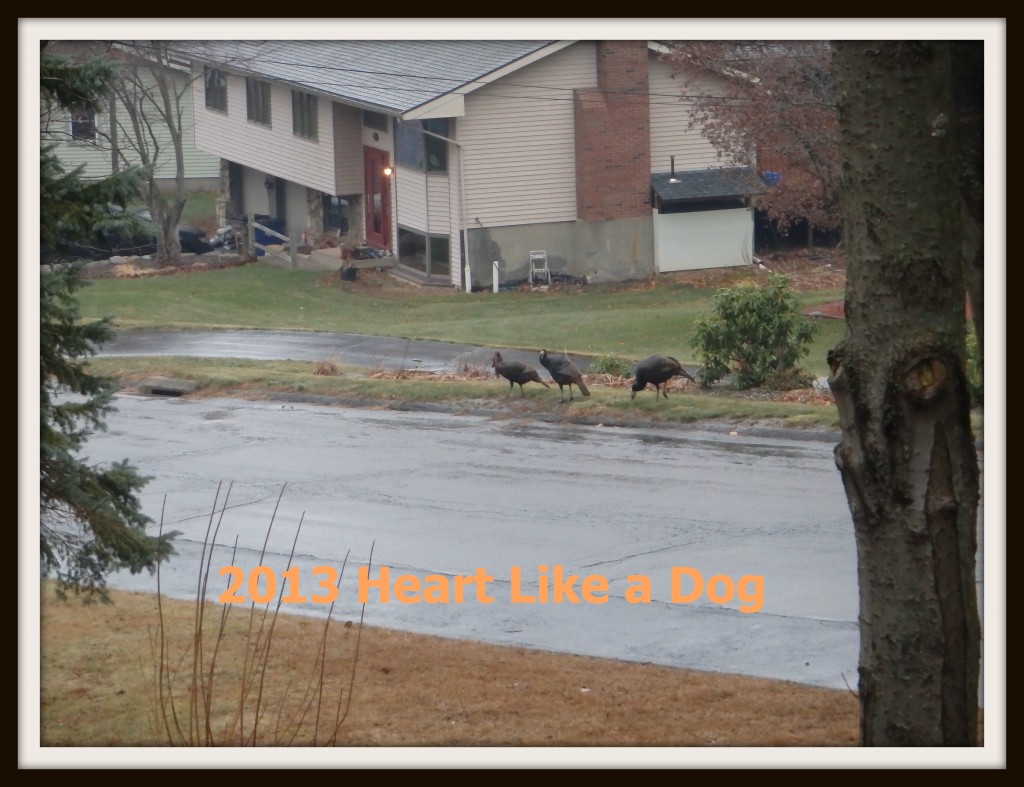 There were some turkeys across the street.
And then the turkeys crossed the street to my neighbor's yard, so the dogs had to go outside, where they could stand at the fence barking at them.
Can you handle a little joke?  I hope so, because I'm doing it anyway.
Q: Why did the turkeys cross the road?
A: To see what the dogs were barking at of course!
The barking dogs didn't frighten the turkeys at all, in fact a few of them stopped to look.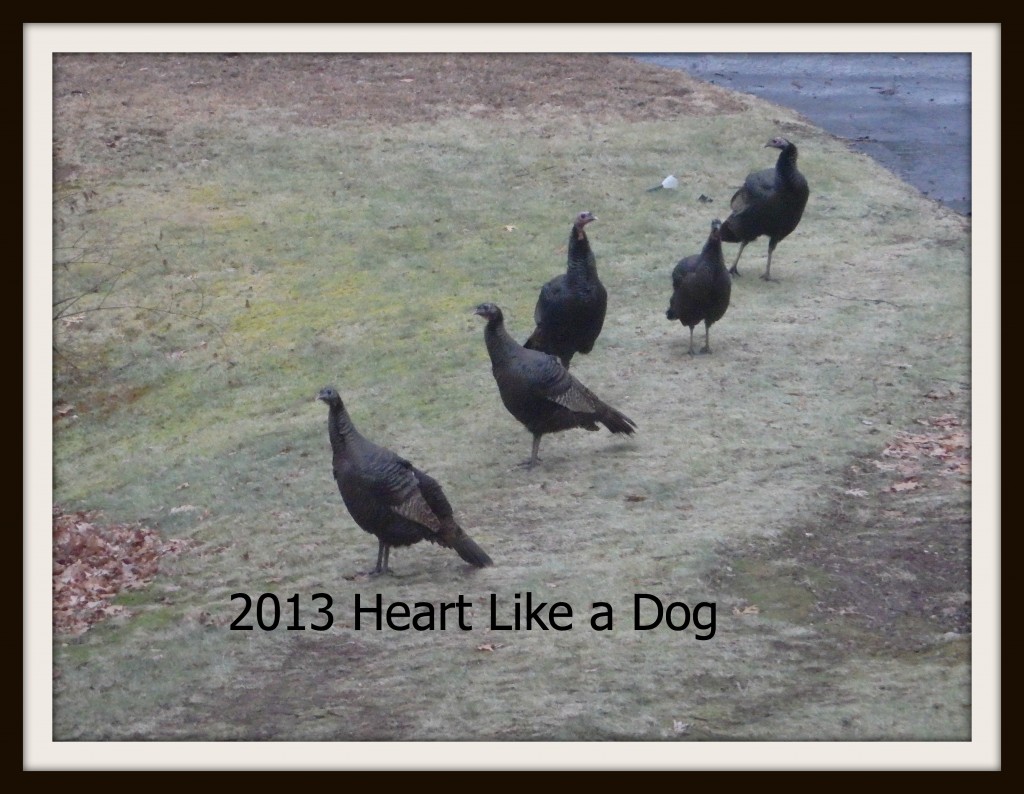 Whatchoo lookin' at fools?
It was a stare down in my yard.  My two barking dogs and these five bold as brass turkeys. (Who didn't realize their cousin was already cooked and sitting in my refrigerator.)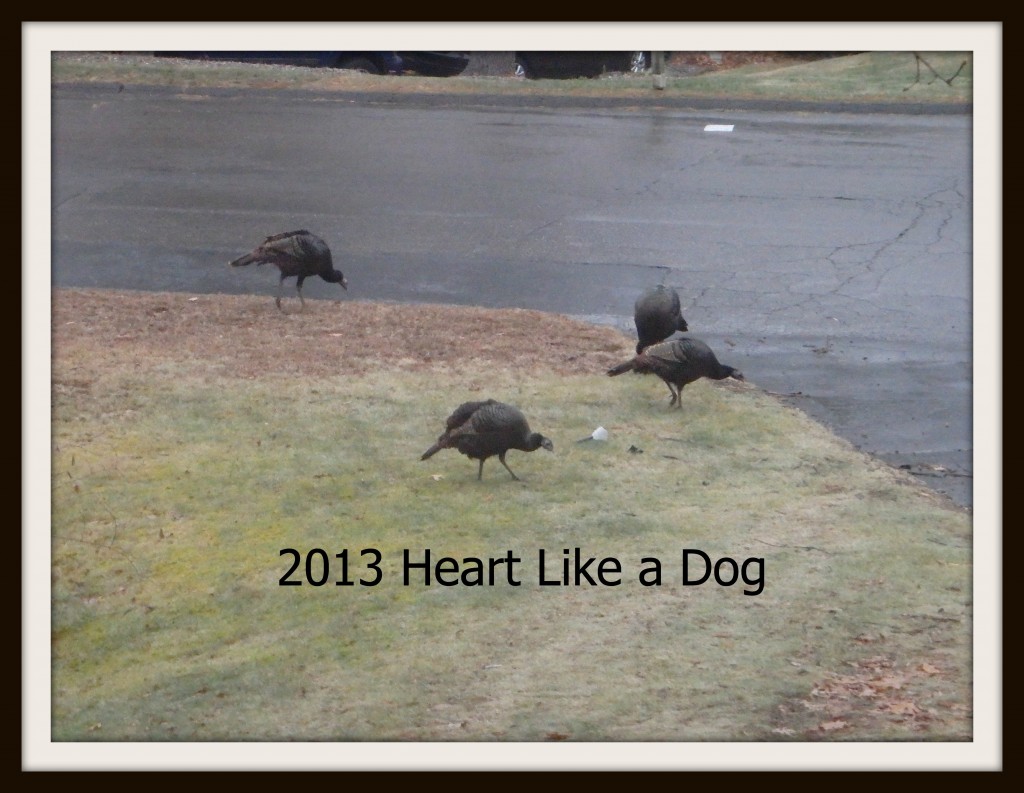 These other four could have cared less, they were pecking the grass for something.
And there I was in the front window snapping away like I'd never seen a turkey in my life.  Honestly I took like 17 pictures.  Of turkeys!!
A short time later my sister and I saw a herd/group/flock of 15 about 4 miles from my house.  Someone must have been spreading the word that Thanksgiving was over and it was safe to come out. 🙂
 Thanks again to our friends at 2 Brown Dawgs and Ruckus the Eskie for This 'N That Thursday blog hop.
Are you ready for some loot?  Here's the info for the Advent Calendar!
It's time for the Advent Calendar for Dog Lovers hosted by Kol's Notes, Heart Like a Dog, My Brown Newfies, My GBGV Life & Bringing up Bella!! 24 giveaways in 24 days, plus a grand prize worth more than $800 – who wants to win? Today's giveaway is sponsored by Dog Lover Gift Baskets. You could win dog-centric gift basket for pups & people. Click here to check out the Advent Calendar and enter today's giveaway!
Comments
comments