Today we are participating in the special edition of the This 'N That Thursday blog hop hosted by 2 Brown Dawgs and Ruckus the Eskie.  Thank you to our hosts.
Before I tell you what we are thankful for, I have a couple of quick things to discuss and then we'll let you get back to time with family and friends.  After-all, isn't that what this holiday is all about?
Advent Calendar for Dog Lovers
You may have noticed a new badge in our sidebar.  It is the Advent Calendar for Dog Lovers badge and this year I am as excited as all woof to tell you that we are co-hosting this AMAZING event.  Pulled together by the brilliant and extremely talented Jodi Chick of Kol's Notes, and joined by other amazing bloggers such as Emma from My GBGV Life, Jen from My Brown Newfies and Gizmo from Terrier Torrent,  the Advent Calendar is going to be an amazing extravaganza!!
Beginning December 1st and continuing every single day until December 24th, you have a chance to win a whole bunch of different prizes!
That's right, I said Every.  Single. Day!
What's more, the grand prize package (yes, there is a GRAND prize) is worth over $800!  All the details will be available December 1st on Jodi's blog, but don't worry, any day that we aren't hosting the giveaway we will have links to the blogger who is.
So remember to check back daily.  Because let me tell you, there are some awesome prizes!
Black Diamond Necklace
The other event I'm excited to tell you about is an auction taking place right now on Bringing up Bella.  Leslie won a beautiful black diamond, paw-print necklace and she's auctioning it off with proceeds going to Save a Sato, an organization working tirelessly in Puerto Rico to save street dogs.  You are probably aware that Leslie's darling Bella is from Save a Sato, so this cause is near and dear to her heart.
In order to up the ante, Leslie has agreed to match the bid (up to $500.)  A necklace this beautiful won't last long, so hurry over and place your bid today!
What we are thankful for.
I'd just like to take a minute today to share what we, at Heart Like a Dog are thankful for.
First we are thankful we have each other.  Sampson and Delilah bring such joy and laughter into my life every day, they truly are blessings.
We are thankful for family and friends whom we hold dear and we count you, dear readers among them.
We are thankful for the material gifts we have, even though at times we struggle, we are grateful for food, shelter and basic living necessities which so many in today's world are lacking.
We are thankful as always for our military.  For our men and women who at a moments notice will leave family and loved ones to protect us from those who would do us harm.
Today, on this day of thanks we salute you.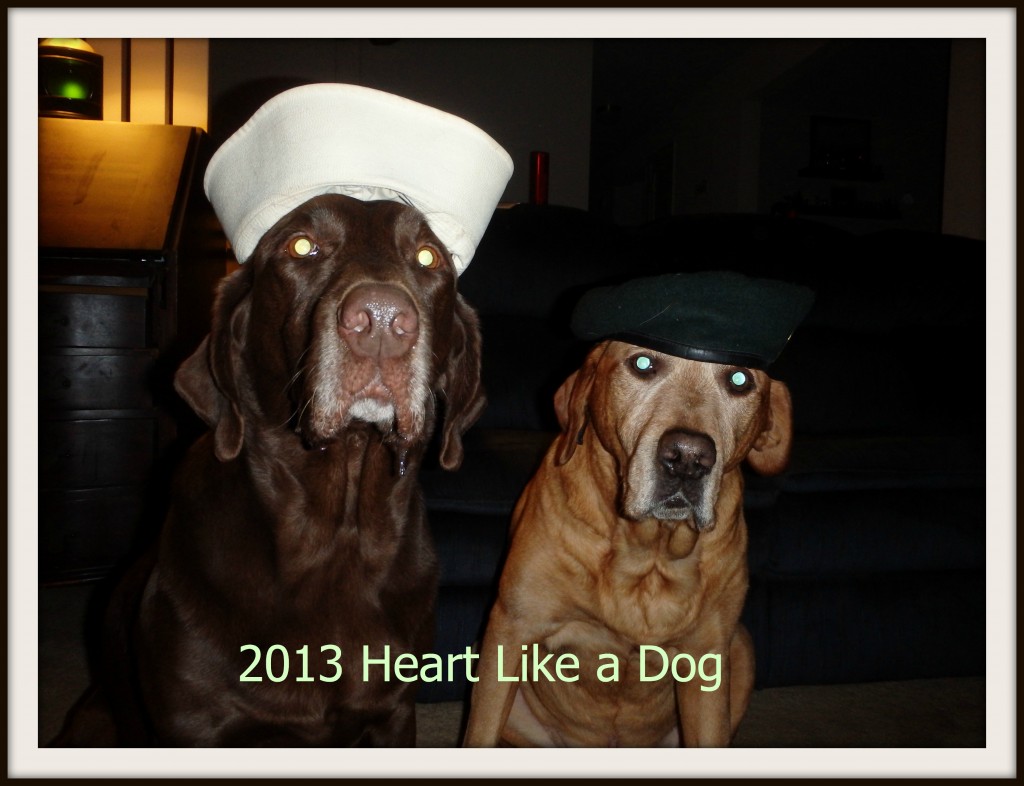 From all of us at Heart Like a Day, Happy Thanksgiving!!
What are you thankful for today?
Comments
comments