I don't know about you but when I'm hosting a holiday at my house, it can get a bit hectic, especially with a dog like Delilah who absolutely LOVES food.
You can be sure at least once you will hear someone yell, "Delilah get off the table!" 
While we don't willingly share our leftovers with the dogs (I say willingly because you can guarantee that Delilah will get something she shouldn't) I still like to make a little something special for the pups.
I had to go gluten-free a couple of years ago and while I do fairly well without treats for most of the year, the holidays are hard.  Recently I discovered an awesome recipe for Gluten-free Apple Crisp.  I will share the human version first, then below it a way for you to make something special for your pups.
Filling mixture: 4 cups apples, peeled & sliced (such as Granny Smith) 1 tablespoon white sugar 2 tablespoons water 1 teaspoon cornstarch 1 teaspoon ground cinnamon 1 pinch nutmeg   Crisp Mixture: 1/2 cup almond flour 1/2 cup gluten free quick oats 1/4 cup brown sugar 1 teaspoon cinnamon 2 tablespoons softened butter (I use salted) plus a smidge more for the dish   Preheat oven to 350.  Take a smear of butter and coat your pie pan.   In a large bowl, toss together the apples, sugar, water, cornstarch, 1 teaspoon cinnamon and nutmeg until well combined.  Set aside.   Oatmeal topping:  In a large bowl gently combine: almond flour, oats, brown sugar, 1 teaspoon cinnamon and butter until crumbly.  I usually melt the butter a tiny bit in the microwave, so part of it is runny and part is super soft.  You can melt the whole bit of butter, it won't matter at all.   Place the apple mixture in the pie pan.  Sprinkle the topping evenly over the apples and bake for 25 to 30 minutes, until the apples are cooked through, the juices are bubbling and the topping is browned.  Serve hot, warm or room temperature.  For a little added treat, throw a dollop of ice cream on there.  
When I was sharing this recipe with my sister, she said to double the crisp recipe because that is the bit that's really good, so that's what I plan on doing when I make this for our Thanksgiving table.  I'm also planning on incorporating some pecans into the topping mix.  I'll let you know how THAT turns out.
Sadly I don't have any pictures of the apple crisp because I didn't think to take any, but I promise to take some on Thursday and I'll share them in Friday's post.
I will however share a sweet picture of Sampson.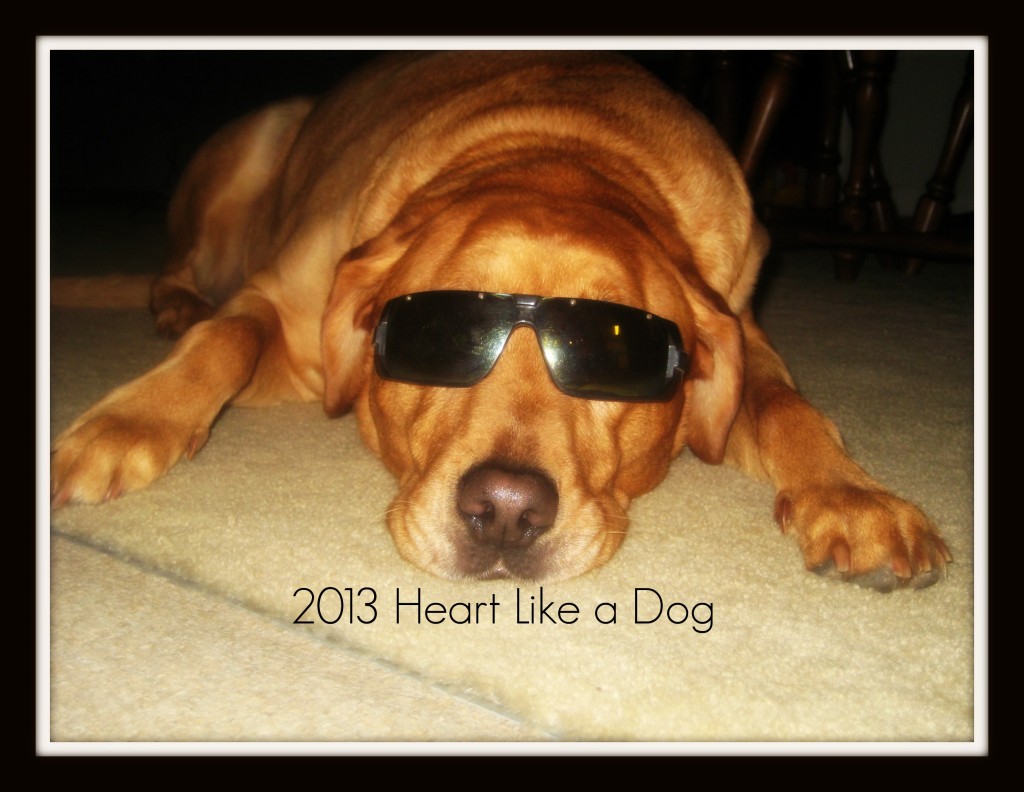 Don't mind me, I'm just sitting here waiting for a Thanksgiving treat.
So I told you there was an easy way to make a holiday treat for your pup. 
When you're cutting and peeling your apples set a couple aside.  Once they're peeled and sliced, take a set of small muffin tins or if you prefer use a a couple of ramekins.
Grab some coconut oil and a paper towel and using the coconut oil like shortening grease the tins or ramekins.
In a small bowl add your sliced (or if you prefer chopped) apples, a shake of cinnamon and a little bit of almond flour (a small handful) toss the apples until they are coated.  If need be add a bit of water just to help the process.
Pour the apple mixture into your ramekins or muffin tins and bake in 350 oven until apples are soft.
Cool and serve.
So will you make a special treat for your pets this holiday?  What are some of YOUR pet friendly traditions?
If you're interested in some other recipes for your pups this is the Tasty Tuesday Blog hop hosted by Kol's Notes and Sugar the Golden Retriever.

Comments
comments