My last set of Pumpkin Patties were such a big hit with my pups, I decided to try the entire recipe.  This time it's called Pumpkin Plumpies because…..well because I didn't change anything, and it's not my recipe at all, it came from a woman named Pam.  That's all I know, is her first name, Pam.  And that she has a chocolate lab named Amelia and a Corgi named Morgan and she makes her own Irish Cream whiskey (why oh why didn't I get THAT recipe instead of this one?)
With my last set of cookies I indicated they were all different sizes and Jodi Chick reminded me about the cookie scoop, which as it turns out, made these cookies a little too big.  But neither of the dogs in my house complained.
I tried using a potato masher to give the cookies a little design, (siriusly, have you seen Jodi's cookies?  She has a way better presentation than I do.) But there was so much dough that the masher stuck to it.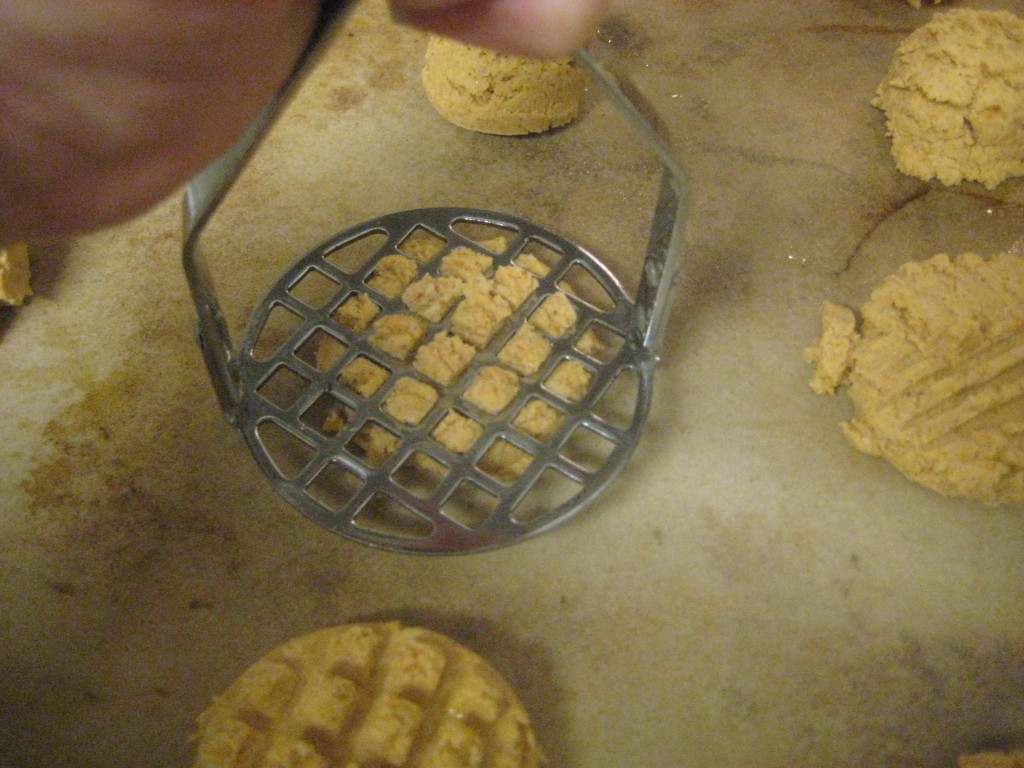 I finished off the cookies using the scoop, but I reverted to using my hands to flatten them out.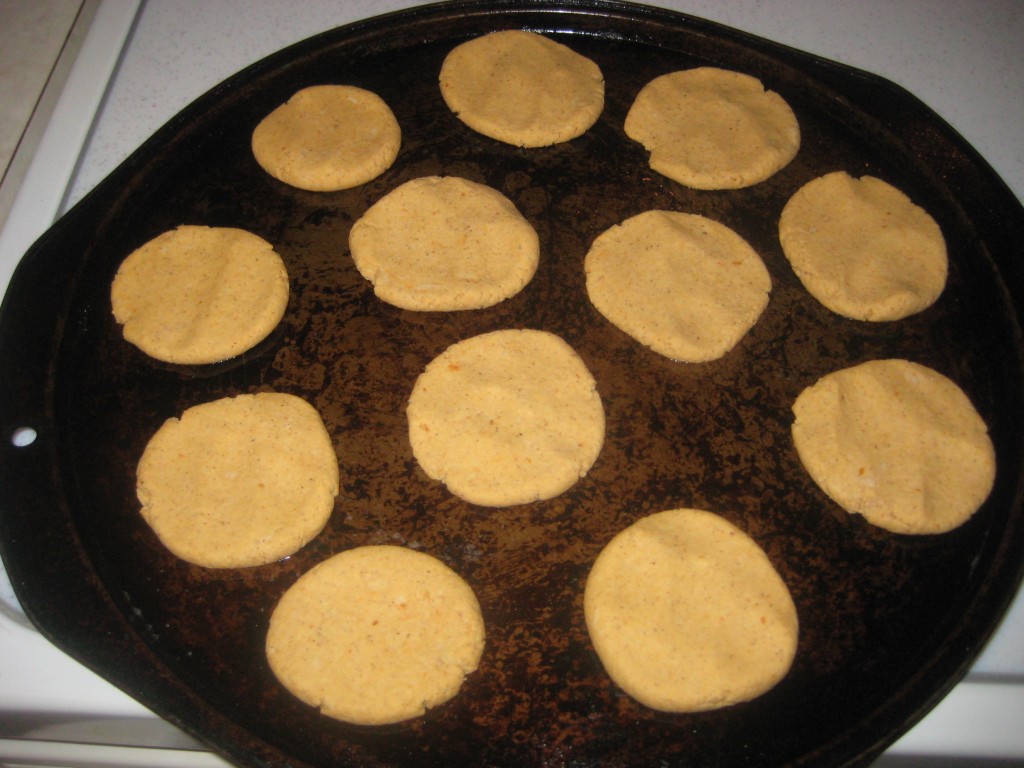 This worked out very nicely as the thinner cookie baked really crisp.  In fact, to me they seemed more like crackers.
Pumpkin Plumpies:
1 1/2 cups of oat flour 1 1/2 cups of brown rice flour 1/2 tsp cinnamon 1/2 tsp nutmeg 1 egg 3/4 cup pumpkin (I used canned.) 1/2 cup water 3 tablespoons of applesauce  
Mix all ingredients together to form a stiff dough.  Form by teaspoon drop or cookie scoop and place on ungreased baking sheet.  They do not spread, so if you want to flatten them, go for it!  (I think they might even be crispier and crunchier if you rolled them.)
Bake at 350º for 18 to 22 minutes.  My recipe says until they are golden brown, but mine never browned. Store in the refrigerator.
Of course I had to humanize it, so I added some M&M's to a couple.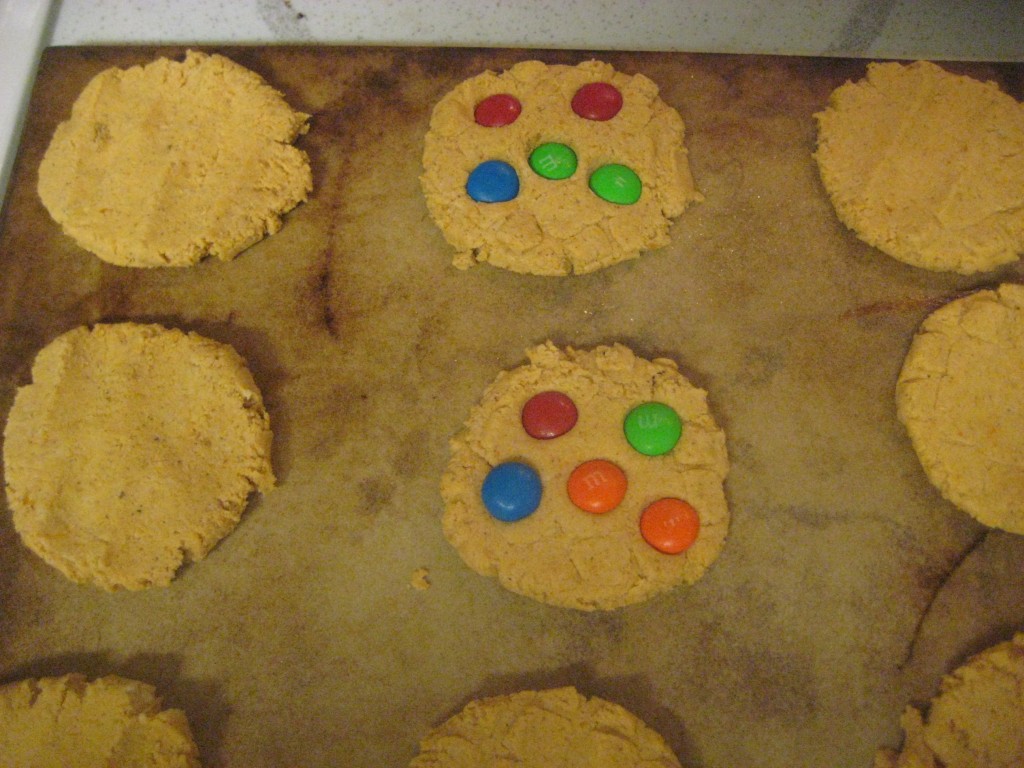 The M&M's did the trick in terms of providing the right amount of sweetness, as these cookies have no sweeteners. And they were definitely good warm!
I also thought perhaps a maple icing might be nice.  So I took some confectioner's sugar (about 1/4 cup) along with a bit of maple syrup (little drizzles at a time until the icing is the consistency you want it to be.)
I didn't care for the icing but I think that had more to do with the brand of confectioner's sugar I used than anything else.  So I took a jar of Monkey Butter out of the fridge and plopped a dollop of that on.
Winner, winner, chicken dinner.  It was da bomb!
Here is the recipe I used for the Monkey Butter. (Canning note:  Don't panic if you don't have a hot water bath, stick your jars in the dishwasher and run your cycle without detergent so the jars are hot.  Put a washcloth or another piece of material in the bottom of a large pan of water.  Get your water up to boiling and set your jars of MB on the material.  You should be able to process them for 15 minutes without them breaking.  This is what I did with my Caramel Apple jam on Sunday.)
These continue to be a HUGE hit with my dogs.  They absolutely love them! Have you baked for your dog? Are you like me, determined to make something you BOTH can eat?