Today I'd like to share a special girl with you.  Her name is Nyla.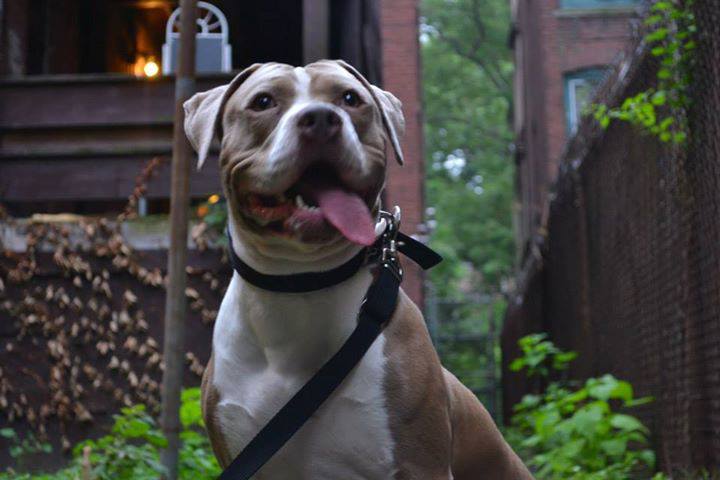 On the surface, Nyla's story is like so many other dogs in today's society. She comes from a home with a human mom and dad, human siblings, a dog sister (who has gone to the bridge) and a cat brother.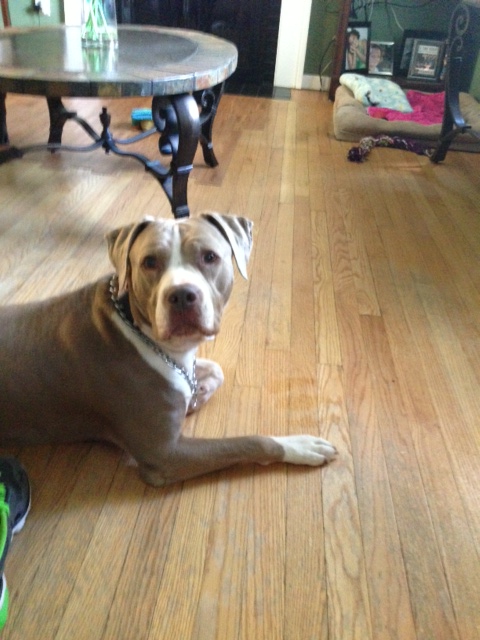 Like so many dogs in today's society, her owners are moving and their new residence doesn't take dogs.  Her owner intended on euthanizing Nyla, but had a last minute change of heart and desperately began calling around looking for a rescue to take her.
Thankfully her owner found Little Feet, Big Heart Rescue, and the loving heart of Jen Wemmell.
Vet records however, tell a different story.  Nyla had not been kept up to date on her vaccinations and she'd been repeatedly bred.  Nyla was a breeding a machine.
Little Feet, Big Heart Rescue took Nyla in on August 10th, this beautiful little girl was adopted out almost immediately and then within two weeks she was returned.  Her new owner felt they didn't have the time to give to Nyla, so according to the rescue's contract, Nyla was returned.  Jen has since found a foster home for Nyla, but this confused little girl needs a forever home.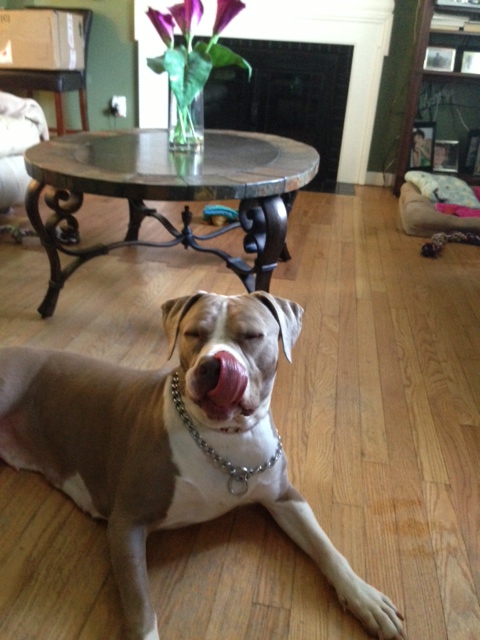 Nyla is a 5 year old female Blue Nose Pit Bull, Champagne in color.  She is spayed, and up to date on all her vaccinations.  She has lived with small children, other dogs and cats.  She seems to be a well-rounded, happy dog despite the curves life has thrown at her.
About two weeks ago I had the opportunity to speak with Jen Wemmell about Little Feet, Big Heart Rescue.
Jen is no stranger to rescue, she's been rescuing and re-homing dogs for years.  She's never had a problem re-homing a dog, until she started asking for a fee.  And believe me, compared to some rescues her fee is very minimal – about $200, even though some of her dogs need treatments that cost much more than that.
Little Feet, Big Heart Rescue has filed for 501 (C)(3) status which is currently pending.  In the meantime all of the care and expense for these dogs come out of Jen's own pocket or from donations.
We talked about ways of fund-raising for rescue and while I had a couple of suggestions for her, I'm woefully lacking in terms of how rescues solicit funds.  BUT I did tell Jen that I had some awesome readers that are far savvyer than I am.  I'm hoping some of you might have some ideas you could share, that could help this newly founded, but destined for great things rescue get some much needed donations.
In the meantime, today is the day I ask you to share this post, in hopes of finding Nyla her forever home.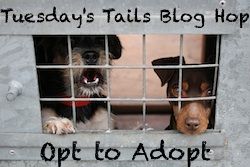 Today is Tuesday's Tails Blog Hop, the brain child of Lisa from Dogs N Pawz.  Thank you Lisa!  Together we can make a difference!
Comments
comments