Um make that Flea.  Not the bug, the blogger.
As I mentioned yesterday, my co-hostess this week is a newbie.  Not to the blog hop but to the co-hosting duties. When I asked her to co-host I promised I'd write something nice about her.  She said to tell you she was crunchy.  I think she's hysterically funny and wish my posts were as funny as hers.  She is the first blogging friend I met at Blog Paws.  An animal lover through and through as you know if you read her blog.
Please stop over and say hello to Flea from Jones Natural Chews.  Thanks so much for joining me this week Flea, it's awesome to have you on board.
Yes, it's Follow-Up Friday.  The blog hop that helps you wrap up your week and leads you right into the weekend.
Many of you commented on the beauty of this photo.  I'd like to take credit for it, but that was all Mother Nature.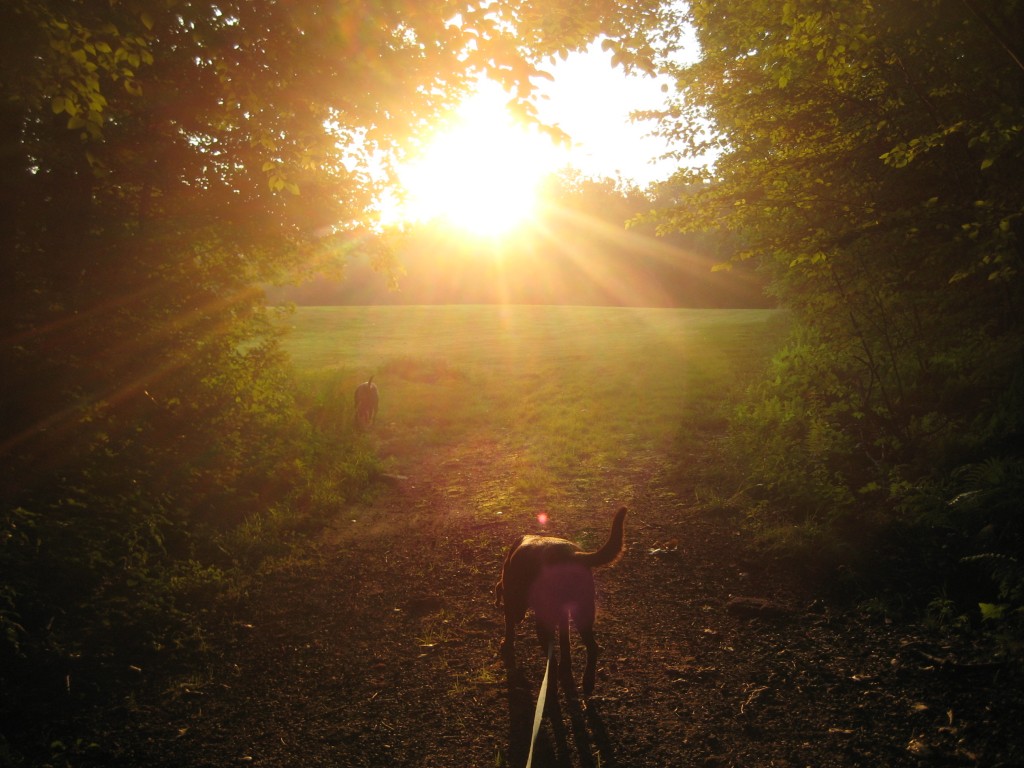 Emma asked, "Now that fenced in area for the dogs…looks like any dog could just duck under the post or was there another fence?"
Here's the answer I got from Ginny (one of the owners): the Llama in the picture who kept looking at you is Satin. Crystal is the Llama kissing Chet (smile). For folks who were asking about the backyard fence, there's very strong woven wire that's attached from top to bottom of the poles…so far this has been doggy proof (no escapes). However, we are having the "test" right now…4 large Rottweilers and 3 Dobermans (and their owners) are presently vacationing at the cabin.
Jessica said, "Cabin rentals are our vacation salvation with Silas, because he gets overwhelmed by hotel noises. Some cabin rental places really pack them together, though, which cuts down on the fun."
There are two houses on the property.  One is occupied by the owners and the other is the cabin.  It really is very quiet and peaceful.
And to all of you who want to go with me next time I say, HELL YEAH!!
Blueberry's Human asked, "what happens if the llama does NOT "accept" you???" and Jen asked, "So I'm wondering what does the llama do if it doesn't accept you? Kick? Spit?"
I imagine they tear you to shreds like the Hippogriff, but you can bet I won't be hanging around to find out!   Truthfully I think they just turn away from you.  We were told they rarely spit and when they do it's usually at another llama.
Jan K asked, "Also, what place can you go with your dogs, and leave them at the cabin and they'll be let out (if you wanted)?"
Exactly Jan.
Carol asked, "Canned green bean………really?????"
Yes really.
Blueberry's Human asked, "Do you also end up with various scratches and/or bruises due to Delilah's enthusiasm for treats for tricks?"…….and " hope she has a "soft mouth" like Blueberry."
Yes. She's very enthusiastic and not shy about letting you know she what she wants. Many is the time I've been scratched or stepped on.  And once she drew blood on my hand.  And no, she does not have a soft mouth.  Most times I have to give her the treat in my palm which can make for a very wet hand, but it beats dripping blood.

Sugar said, "Next time, may we suggest that don't bend down so much."
I know, I know.  My trainer keeps telling me, but it's a hard habit to break.

2nd Annual Dogs of Blogville Calendar Contest
Frankie and Ernie said, "HEY….. that is US. We want to get in again this year… would you like a pic of us in our Tighty Whities… instead of our ZoomO's????? BaaaaaWaaaah"
And when they sent their entry, guess what?  Yup, they sent a picture in their 'Tighty Whities."
So far I have eight photos, Blueberry, Frankie and Ernie, Dakota, Maya, Alma and Moses, Molly the Wally, Winston, Roxy the Traveling Dog.  I'm so excited to show you all the awesome photos!
Some comments I got regarding the video:
Julie, "I like how Sampson walks up and does every command on the first try

"
Jessica, "I also love Sampson. He's all, "yeah, I'll sit for that. But I'm not going to carry on like she does."
Sampson is a very good boy but he's not into learning tricks.  Thankfully he's very good at sit and down.

They were easy for him.

Thanks for joining Jones Natural Chews and Heart Like a Dog for Follow-Up Friday.  Don't forget to submit your photos for the calendar contest.
Thanks again to Flea, see that wasn't painful was it?  I am always looking for co-hosts for this blog hop, just leave me a note in the comments.