Thank you for joining me for Follow-Up Friday, the blog hop that let's you wrap up your week and leads you right into the weekend.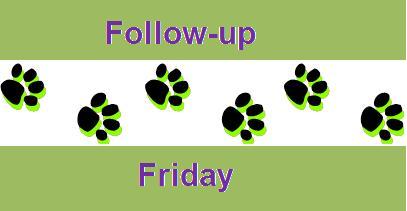 As I mentioned in yesterday's post, my co-hostess this week is the fabulously wonderful Jodi Chick from Kol's Notes.  Don't just take my word for it.   You know Kol's Notes is a finalist in this years Petties, right?  I mean Holy Woof, my co-hostess this week not only won a Nose to Nose Award for best Bark Blog, she's also up for a Pettie for Best Dog Blog.   Some of our other blogging friends are up for awards as well, so make sure you go vote.
I feel like I'm blogging with royalty.  Thank you so much for co-hosting this week Jodi!
Emma said, "Mom says the ultimate lazy dog move was about 2 years ago when she took me out to pee and I laid down and peed while lying down."
Wow Emma that is either really lazy or you weren't feeling well at all.  But I'm with mom, I would probably find that disgusting.
Kim said, " I can't lay down and eat, so how do they?"
Good question Kim I wonder that myself!  I also worry that he'll choke.
Flea said, "My dog makes me laugh when he's running away from the duck."
That would make me laugh too Flea, except I've seen how mean Petey is.  I'd run from him too. 😉
Marie asked, "what is a pig gestation crate?"
I'm not sorry to tell you that I don't know.  I don't want to know either.  Sue knows, and she will tell you but please NOT HERE.  While I love to advocate for animal welfare there are some things that I just can't read about because it gives me such anxiety that I cannot sleep.
Suffice to say, it's horrifying.
2 Brown Dawgs commented, "Some of those things are good, but why do the animal rights people always have to go after the hunters?"
I would say because just like everything else, certain people take advantage of or abuse privileges which ends up impacting everyone.
Pam asked, "Why have a pet if you're just going to tie it up outside?"
Probably because it's not really a 'pet,' at least it's not treated as such.  Some people have such horrible views about animals and proper treatment.
I love how some of you gave her a name.  There is something so inexplicably sad to me that she has no name.
I don't know if she made it out or not, I was too afraid to call the pound.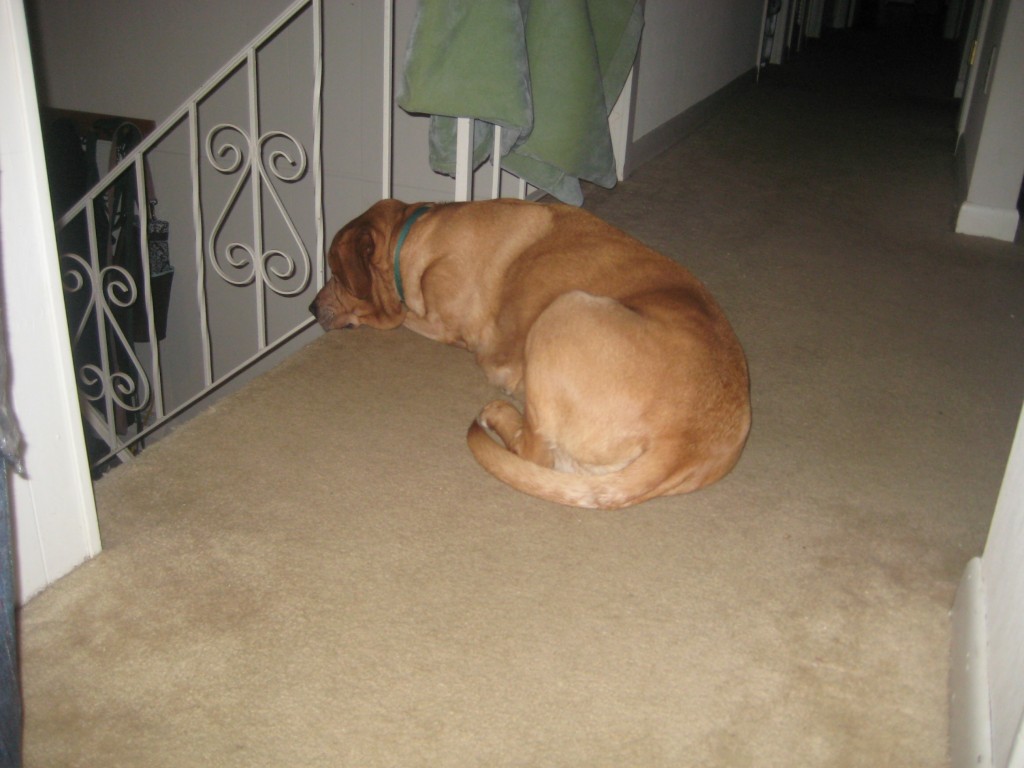 You had a lot of good guesses, but no-one guessed right.
My favorite comment came from Elyse, "I'm gonna guess that Delilah was acting crazy at the bottom of the stairs and he was giving her a "WTF?" look."
The funny thing is, I totally picture him rolling his eyes when she does some of her crazy antics.
So here's what he was looking at.
Yuppers, it was Bob Stone the cat.
Blueberry's Human said, "Yay – loved the calendar – it really is good quality and the photos are excellent!"
Thank you.  The reason this means so much to me is she bought one of the calendars.  In fact, Blueberry is the featured dog for the month of October.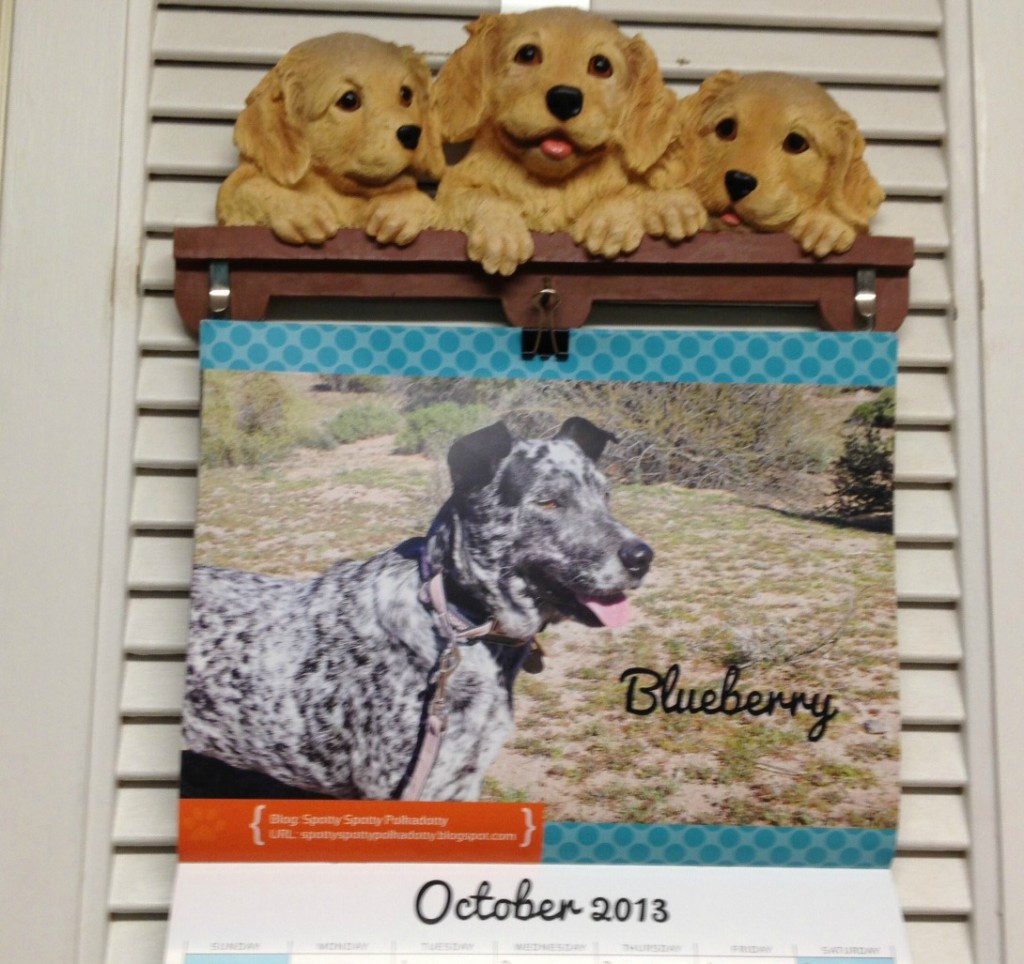 Callie, Shadow and Ducky's mom said, "I'll be glad to send you some bugs … hehe"  And Donna said, "Jodi – you are so lucky it hasn't been buggy by you."
Perhaps I wasn't clear.  Walking the dogs around the neighborhood at 9:00 pm was fairly bug free, going out on our normal walks in the woods and we are bombarded.  We are not lacking bugs, thank you very much!
Now this one is going back a ways.
Remember this?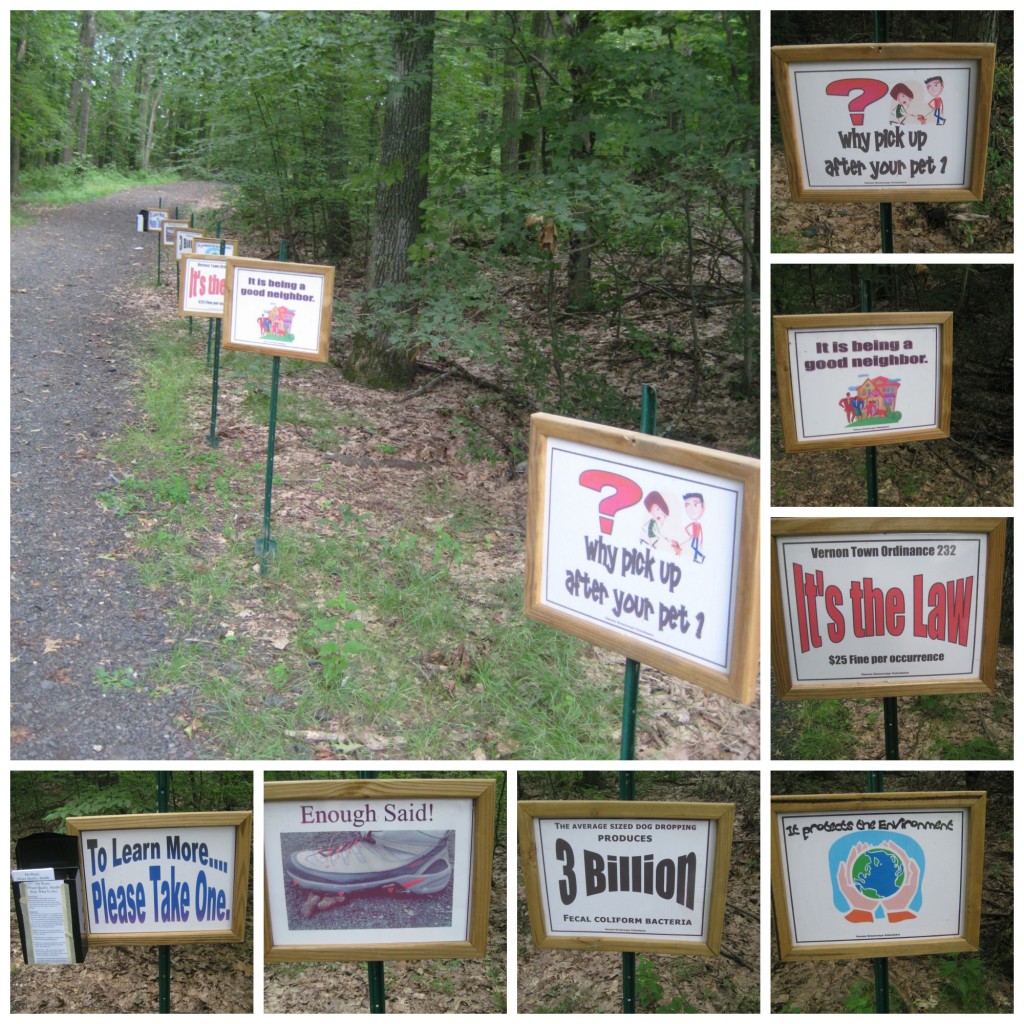 Yesterday when we went to the park, all the signs were gone.  I'm not complaining, but I am curious as to what happened.


That's it for me, thanks again to my co-hostess Jodi Chick.  This is the Follow-Up Friday Blog hop hosted by Kol's Notes and Heart Like a Dog.
Comments
comments