Sampson
When you have a dog like Sampson, you want to share him with the world.  Unfortunately there's not a lot to write about dogs like Sampson on a normal day.  Some days though, they do something so wonderful that you just have to share.
I found out on Tuesday that one of the women I graduated with had passed away.  It certainly wasn't the first classmate we'd lost.  But it hit me particularly hard.
Not because we were close friends in school, in fact we ran in totally different circles.  Donna was a cheerleader and what I considered to be one of the popular girls.  I was shy and hung with a lot of younger kids.
But when I went to our last high school reunion (my first in 24 years)  Donna was the only one from that crowd who greeted and embraced me.
We e-mailed a couple of times after that and then we became friends on facebook.
Donna was a great supporter of this blog, and gave me lots of encouragement.  She got sick a while ago and I knew it was cancer of some sort but I didn't know what kind.  I left messages on her facebook page, sent a card here and there and got busy with life.
I found out from her obituary that she'd been living with recurrent brain cancer for twenty years.
When I went home on Tuesday I laid on the floor with Sampson and I cried, mostly silent tears but every now and again an audible sob would escape my lips and when that happened my sweet, sweet boy would lift his head and enthusiastically lick my face.
I'd know what to say if Donna were a dog, but Donna lived life fast and free.  Instead I will say, "Donna, your light will continue to shine in those you love and who loved you in return.  Be at peace."
Delilah
Tuesday night my friend Arianne, who is also my trainer posted this photo on my facebook page.
To which I responded, "well one, this dog looks like Delilah and two, it's totally something she would do!!"
Siriusly, the only reason Delilah hasn't climbed on my counters is that she hasn't thought of it.
Yet.
When Delilah first joined us we lived in a different house.  That house was very small but it had a beautiful bay window in the living room.  I always wanted to add some pillows to the window and make a seat for reading but I never did.  Mostly the bay window ended up collecting stuff.
Our couch was positioned in such a way that the bay window was on the left and I would sit there in the afternoon and could see Hubby pull into the yard.
One day in her excitement of Daddy coming home Delilah ran into the living room and jumped into the window, where she sat.
Like a cat.
Yes Arianne, I could totally see Delilah on my kitchen counter.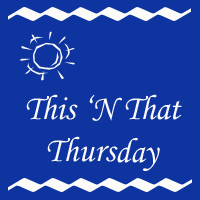 Today we are joining our friends at the 2 Brown Dawgs blog for This 'N That Thursday.  Thank you 2 Brown Dawgs!!
Comments
comments