I hope you all had a safe and happy 4th of July.
Thank you for joining me for Follow-Up Friday, the blog hop that let's you wrap up your week and leads you right into the weekend.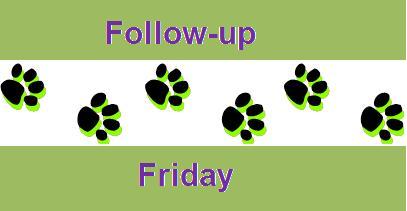 My co-hostess this week is a great friend and mentor of mine.  I've learned so much from her, and not just about blogging but about generosity and friendship.  You know her as the mastermind behind Kol's Notes, the one and only, Jodi Chick.
Thanks so much for co-hosting with me this week Jodi.
This 'N That Thursday – June 20, 2013 – UPDATE
This post I shared that Sampson had a lump.  He saw our vet on Wednesday.  The good news is the lump is a fatty tumor that some dogs are just prone to.  The bad news is the location, it is on his chest near what we would consider our armpit.  Our vet says if this grows it will impede his mobility.  We are planning on having his teeth cleaned very soon and when we do, she will remove the lump.  It just makes sense.
Thank you all so much for your prayers and good thoughts.
Follow-Up Friday – June 28, 2013
A few of you were wondering what flopper stopper was.   I'm only guessing here and will need Frankie to confirm, but I'm thinking it's along the lines of a maxi pad.  Like I said, I'm only guessing. 😉
Sue asked, "Have you ever considered turning this "You Make Me Smile/You Make Me Laugh" into a blog hop?"
No Sue I haven't.  Follow-up Friday is as many blog hops as I can handle. 🙂  If you would like to use "You Make Me Smile" or "You Make Me Laugh" feel free.  I just don't have the energy to add anything more to my plate at the moment.
Our dogs are so unique, I loved reading how your dog greets you.  Sampson is actually quite amusing.  If Hubby is home first Sampson runs right to the back door.  He then makes his way to the corner of the yard where he sits and waits for my car to pull in.  Once he sees my car he goes charging back to the door so that he can be inside to greet me when I walk in.
Sue mentioned they are having a problem with flies.  I'm not sure if you saw it or not Sue, but Elyse left you a link for some traps they bought that really helped, you can find her answer in the comments.
Can I just go on record as saying you west coasters are lucky that you have no bugs!
Emma said, "Mom says that drinking lots of alcohol keeps the bugs from biting, but she wouldn't recommend that as a good solution."
I like the way you think Emma.
Blueberry's Human said, "You know – they have these screen-type "shirts" that you can wear that protect you from bugs. I wonder if they make them for dogs too?"
If they do, I haven't been able to find them.  If you do, please let me know!
Julie said, "Last summer I got a sample from Pet Friendly of some bug spray that works for no-see ums – and it's all natural. I can't remember the name of it, maybe Amy can remember what it was??"
Any chance you checked with Amy? 😉
BJ pup said, "Have you tried that Off thing that you hook onto your pants."
Not yet, but I thought about getting one and attaching it to the back of her collar!
Jessica said, "I use Dr. Mercola's Natural Flea and Tick Defense and…so far, so good"
Thanks Jessica, I'll have to check this one out.
Here's what my vet told me.  When it's really hot, the ticks aren't very active, so we are focusing more on the other pests that bother us.  I mentioned the Skin-So-Soft and she felt it was okay to use on the dogs.  As for the eye area, she suggest a make-up sponge but I found a Q-tip works just as well.
We are also staying away from the really wet, dark, wooded areas.
Tuesday's Tails, Regally Yours
Marie Angelique said, "You know when I was stationed in Germany, they would not let American Soldiers adopts pets locally because some Soldiers would get orders to go to another assignment and they would just abandon the dogs! I never understood this because after all the effort and love you give a dog, there is no way I would just abandon them. By the way, I'm a Soldier who tried to adopt a dog, which is how I know."
Marie, first and foremost I thank you for serving, if you are ever in the northeast, please look me up, I'd love to thank you personally.  As sad as it is that you couldn't adopt a dog, I can understand why some folks might be hesitant to adopt to a soldier.
2 Brown Dawgs said, "But I bet there are people who would love to take pets and cannot. The economy is such that sometimes people do what they have to do to provide for their families"
All Things Collie said, "I work with a woman you gave away her 12 year old dog because she had a baby."
Jan said, "It's heartbreaking for me to look at all the adorable Chihuahuas in shelters because they or their parents were part of a fad that is no longer "in.""
There are many great posts about people surrendering their pets and why.  Sometimes I do understand, I really do.  BUT there are some excuses that just don't fly with me.  Surrendering a 12-year-old dog because you had a baby or surrendering your pet because it is no longer fashionable don't fly with me.  Call me judgmental, or unreasonable but that's how I feel.
That being said, there are programs available and organizations that will work to help you keep your pet.  As I said, I'd sleep in a tent but that's me.
I'm not a quitter.
Caren said, "It could always be worse….did you forget the MOUNTAINS of snow you had last year?"
No I haven't and right about now, I'd love that snow.  Even though we had trouble getting into the woods, it was still better than the bugs and heat. 🙂
Pamela said, "Monday the rain was so heavy I saw a moving stream along my basement foundation wall. When I moved my bike away, I saw 4 weep holes in my foundation spurting water in."
Ut oh, that's not good.  I hope you get that straightened out Pamela and yes, it's good you aren't living on a boat!
Most of you are experiencing either wicked heat or mad amounts of rain.  Those of you who said you have decent weather, enjoy it!
Before you go thinking my dogs were so good wearing hats, nope.  I added those hats and fireworks with PicMonkey. "-)
Thanks for joining us, this is the Follow-Up Friday blog hop hosted by Kol's Notes and Heart Like a Dog.



Comments
comments