Yesterday two of my friends helped their beloved pets cross over the bridge.
Mrs. Taleteller had her beloved Blueberry for 11 years, she has a beautiful tribute to Blue on her page today.
My facebook friend Tamara, helped her Hannah cross the bridge last evening.
Both of these dogs were well-loved, well-taken care of family pets.  Sadly their quality of life had changed and their owners with hearts full of love, helped ease their pain.  It is a wonderful, unselfish gift to be able to ease the pain of those we love, despite the fact our hearts will ache in the process.
My heart goes out to both of my friends who are missing their pets today.  My thoughts and prayers are with you and I hope that you will find peace and comfort knowing your pets are pain-free.
Run fast, Run free Blueberry.
Run fast, Run free Hannah Marie.
Sadly there are so many animals in shelters whose lives will end, at the hands of a stranger because there is no room at the shelter and no-one wants an older pet.
Dogs like Penelope.
Penelope's story is a sad one.  At 10-years-old she and her litter of puppies were dropped off at a high-kill shelter in the south.  Her owner's signed the papers that should have ended her life.  "We don't want her or her puppies, we're tired of having dogs and anyway she's old."  And they left her.
Poor Penelope cuddled her puppies close, trying to protect them.  She was scared and confused and had no idea of where she was or what was happening.
But there is good news.  All of Penelope's puppies were adopted and one of the shelter workers contacted a Lab Rescue and convinced them to pull Penelope.  As the rescue worker slipped a leash on her, Penelope licked their hand in gratitude.  You can find more about Penelope on her Petfinder page.
Penelope is currently in Lebanon, CT, if you are interested in helping Penelope spend her remaining years loved and cherished, you can contact lottoson@yahoo.com (Laurie.)
Please share Penelope on your social media networks and help her find the home she deserves.
Thank you to Lisa at Dogs N Pawz for Tuesday's Tails, blog hop.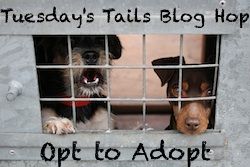 Comments
comments