Welcome to this week's edition of Co-hosted Follow-Up Friday.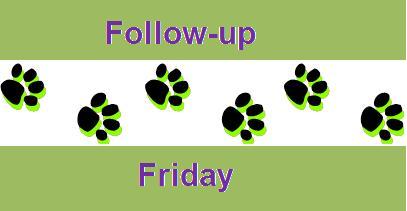 As I mentioned in yesterday's post, my co-hostesses this week are Jackie and Rita from Pooch Smooches.
If you haven't met Jackie and Rita, well folks you are in for a treat.  Jackie published her first novel "What the dog ate" last year, she's happily married living the life out in California, with her sweet little Rita, a rescue that was found on the beach.  She likes reading, writing, margaritas and dogs (I think we might be long lost sisters.)
Thank you Jackie and Rita for joining us in the Follow-Up Friday blog hop, we're quite excited to have you join us.
This is sad Rita, if you're wondering why Rita's sad well you'll have to read Jackie's brilliant post from yesterday. (I'm sorry but shock wave kept crashing so I can't link to the post.)
Are you kidding me?  I just looked at this post and I have a HUGE spelling error!  What an embarrassment.
Most of you don't have a problem with loose dogs, but those that have encountered them seem to handle it fairly well.
Donna said, "I don't exactly live in the area where I can let my dogs off leash, and Toby's been attacked once and nipped another time, and Leah was attacked once, so I now carry citronella spray and have used it once as a loose dog started following too close for comfort. Happy to say, it did work – I sprayed him and he turned and took off.
I don't love the idea of spraying a dog, but my dogs come first and citronella is benign. It's not like I'm macing them!"
Sampson and Delilah have both been attacked by the Bull Dogs across the street (which is why I think they didn't like my daughter's Bull Dog at Christmas.)  I don't relish the idea of spraying a dog with anything either, but I'm also not sure how willing I am to take on an aggressive dog.  If it comes down to my dog or theirs, well I'm peppering their dog and anything else I need to do to protect my dogs.  We do have leash laws, unenforced, but we do have laws.
Well I think this is good news, when I went to check on Willy last night, he was no longer available on Petfinder.
This comment from Jessica made me laugh,  "I'm calling my mom right now to remind her that she gets custody of Silas."  I'm glad you have a plan in place for him.  We all should. I think we all agree it's just horrible for a Senior dog to be dumped at a shelter.
Frankie and Ernie said, "Now about the cleaning thingys around the house… our mom only uses three thingys plus WATER… White Vinegar MicroFiber Cloths and Mops and now and then a LITTLE Murphy's Oil Soap…
Gizmo said, "Vinegar…plain white vinegar…I use it for cleaning almost everything these days.
Okay, so how do you use the vinegar?  Do you put it in a spray bottle and what is your dilution percent?
Jackie said, "Anyway, I've been trying to switch to using products that have less chemicals. I haven't used dryer sheets for years (evil little things) and stopped using anything beyond warm water and maybe some vinegar for the floors long ago. I also use Method brand laundry and hand soaps, and we have some lovely local olive oil soap that we use in the shower and for the dog."
I too use Method laundry soap, but what do you use in your dryer?  How do you keep your clothes from getting full of static.

Pamela said, "As well as baking soda, washing soda, and other old fashioned items."  What is washing soda and what kind of old fashioned items?
Sugar asked, "We are interested in sanitizer for toothbrush. Is there an after taste? Is it safe for dog?"  I think it is safe for dogs, the ingredients are alcohol and oil blend.  You spray it on your toothbrush and wait for it to dry before using it.  I haven't noticed any taste on my toothbrush at all.
Emma, 2 Brown Dawgs and Anonymous said they aren't getting their e-mail subscriptions.   Well I tried to do a backup and in order to do it, I disabled all my plugins.  I've since gone in and reactivated them.  The subscription button is back in the side bar, and you said you got your e-mail yesterday so hopefully it's straightened out.
Jan is having a problem with Feedly, "Whenever I go there it says that I have "no unread articles" but it lies. Then it gives me a list of what I am supposed to have already read and they are ones I've never seen. What am I doing wrong? Anyone?"  Can any of you gurus help her?
All Things Collie said, "Hi there! So tomorrow we are joining your blog hop."  Yay!  We love having new people join the hop.  Welcome, welcome!!
Many of you asked about our Free Style performance (if you can stretch your imagination to call it that.)  While Hubby won't be with us, my instructor has graciously offered to video tape it for us, so hopefully if all goes well next week we will have a little video to share.
That's it from us, thanks for joining the Follow-Up Friday blog hop hosted by Pooch Smooches and Heart Like a Dog.
Comments
comments