Welcome to co-hosted Follow-Up Friday, the blog hop that let's you wrap up your week and leads you right into the weekend.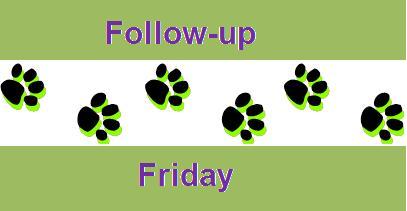 Thanks so very much to Misty Shores Chesapeakes, my co-hostess this week.  She very graciously handled the entire blog hop yesterday so we could make the big announcement about K9 Kamp hosted by Koly and Kelly.
This goes way back but I just wanted to thank everyone for their kind comments and yes, I intend to follow my bliss wherever it may lead me.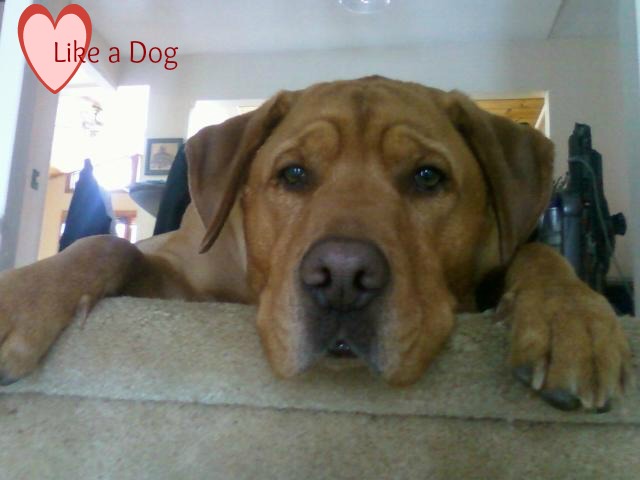 I think it's pretty clear, our pets are awesome and bring us joy and laughter all the time.
Leslie said, ""Bella, you make me laugh every. single. day. It's one of her greatest gifts to me."  What a beautiful statement.
H and Flo said, "I always smile when George uses my use of the bathroom as his cue to use the litter tray."  Yes, I imagine that would make me smile too.
Delilah is very good about getting her nails done (she's such a princess) she will actually hand me her paw and let me clip them.  Sampson is the tough one though, despite the fact that he has light-colored nails.  He does tremble a bit when I take out the clippers, so it's just easier to take him to see Sara.
Misty asked, "Have you ever tried using a grinder on them?"  You know Hubby did a while ago and Sampson didn't care for the vibration, but it might be worth trying again.
Thankfully the dogs passed the bones with no major incidents.
Julie said, "That is exactly why I always leave typed, step-by-step notes, but how can you be sure that they will follow them?"   You know Julie, I always used to do that, write everything out so that a monkey could come in and feed my dogs.  Granted he'd have to be a monkey that could read, and I have yet to find one of those.  For some reason I did NOT do that this time.  That will be the last time that I don't do it.
Guaranteed.
All Things Collie said, "Wow, that's a lot of chicken! Our cottage is rather small, or I would offer to dog sit!
But if you need a recommendation for a really great kennel, let me know. My daughter works for a kennel, the same kennel I worked at while in high school and college. It's very clean, great staff, and the owners live on the property."
Thank you, that is so sweet of you and I really appreciate that.  My house is quite large would you like to come here?  😉
Actually I was speaking with my daughter today and she offered to come over, I think if I fly (I hate flying) I could leave first thing Friday morning and come back Saturday and would really only need someone to feed them dinner on Friday and breakfast on Saturday.  I'll keep you posted.
Mrs. Taleteller said, "I am trying to imagine you coming home and your head NOT exploding!"  LOL that's pretty much what happened.
Sue asked, "What kind of wild animals are you talking about, anyway?"  Well we know for sure there are Fisher's (aka fisher cats) in the woods and we've been told there are coyotes as well. Neither one of which I want to mess with.
Bert said, "Oh I definitely would go for a patent, I would change the design on the bag a little and I would add a fling cord for harder impact" I like the way you think Bert. Let's talk.
Emma said, "Mom worries about getting the poo on herself sometimes but we never thought of flinging the bags."  Yeah, getting it on yourself is disgusting, but it's my dog.  I wouldn't want someone else's dog's poop on me.  That just grosses me out.
All Things Collie said, "We have WADS, or a poopisle or a fecal grenade ready to aim at any dangers, and we never even knew it!"  Fecal grenades.  I love it!!
Jen said, "I've actually thought about that, if necessary, I'd throw a poop bag at a charging dog/person of ill intent. With or without accompanying ninja sounds. For the threat display, you understand." Yes I do understand, but knowing me I'd probably be screaming, "Eat shit and die mother f**ker!"
Kim said, "By the way, that reminds me of when I used to walk the dogs when we lived in a subdivision–I would put the bag down by a tree in the common area as I walked and pick them up on my way back. We used to pass the house of a really, really obnoxious schnauzer that our dogs didn't like and he would bark at us from his front door that was always open. One day after I set a bag down he came over and picked it up and went inside with it."
OMG that made me laugh.  I set the bags down by trees too!  Delilah has a habit of pooping within a few minutes of starting our walk and there I am left to carry it the whole way.  But I've never had a dog carry a baggie off.
Pam said, "The moment it opened with, "It was a four bag walk…" I knew I was in for hilarity." Thank you.  I was  actually singing that first line to "It was a hard day's night."
I answered the comments on this post directly.  Good thing too because I'm way over my word count!
Join us next week for Follow-Up Friday when my co-host will be?  Who?  Any takers?
Thanks again to Misty Shores, you rock!!
Comments
comments