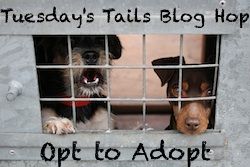 Today we join our friends Teddy, Scout and Ash from Dogs N Pawz for the Tuesday's Tails Blog hop. 
As Lisa says, "This is the Blog Hop that features shelter animals. Find a cat, dog, rabbit, etc. at your local animal shelter or rescue and feature them on this Blog Hop! Come join the fun and help a furry friend find a forever home! And while you're at it, don't forget to visit the other blogs and share their doggies, cats, rabbits, and all the other animals that need forever homes on your social media sites. Please spread the word!"
Once again I chose a senior black lab.  Many dogs suffer from black dog syndrome, I'm not sure if anyone has ever figured out why so many black dogs are not adopted.  Having a chocolate dog myself (and having seen her picture on Petfinder) my guess would be, it's hard to get a great picture of them.
I've also heard people may feel a tiny bit scared of them, because of the whole black cat thing.  Whatever!
I know some beautiful dogs that are black and had fate not intervened I'd have one right now myself.  When Hubby said, the only color we're missing is black, let's get a Black Lab I said NO.
What can I say?  I have my hands full with the two I have.
Anyway, back to the blog hop.  The picture of this guy, named Drifter caught my eye on Petfinder.
Here's what they have to say about him.
Drifter is a mellow guy who showed up to someone's front yard with no collar and no plans of leaving. No owners could be found after searching the area. Drifter is around 7-8 years old and weighs 65 lbs.  He is house / crate trained and very sweet with children and other dogs he meets. He walks great on a leash and is pretty much the perfect pet for anyone looking for a loyal, mild mannered fellow.
If you or anyone you know is interested in Drifter, Labs 4 Rescue has an application on their website. If you require additional information, reference Drifter #3 and email Marla Cox at mclabs4rescue@gmail.com.
Drifter #3 is being fostered in Connecticut.
This is the Tuesday's Tails Blog Hop hosted by Dogs N Pawz.
Comments
comments