Welcome to co-hosted Follow-Up Friday, the blog hop that let's you wrap up your week and leads you right into the weekend.
My co-hostess this week is a repeater, she writes about her pups, Riva, Cheyenne, Maia and Titan, as well as educating about the Chessie breed.  She recently returned to blogging after taking a little break and I for one am tickled to have her back.
Please welcome my friend Misty from Misty Shores Chesapeakes.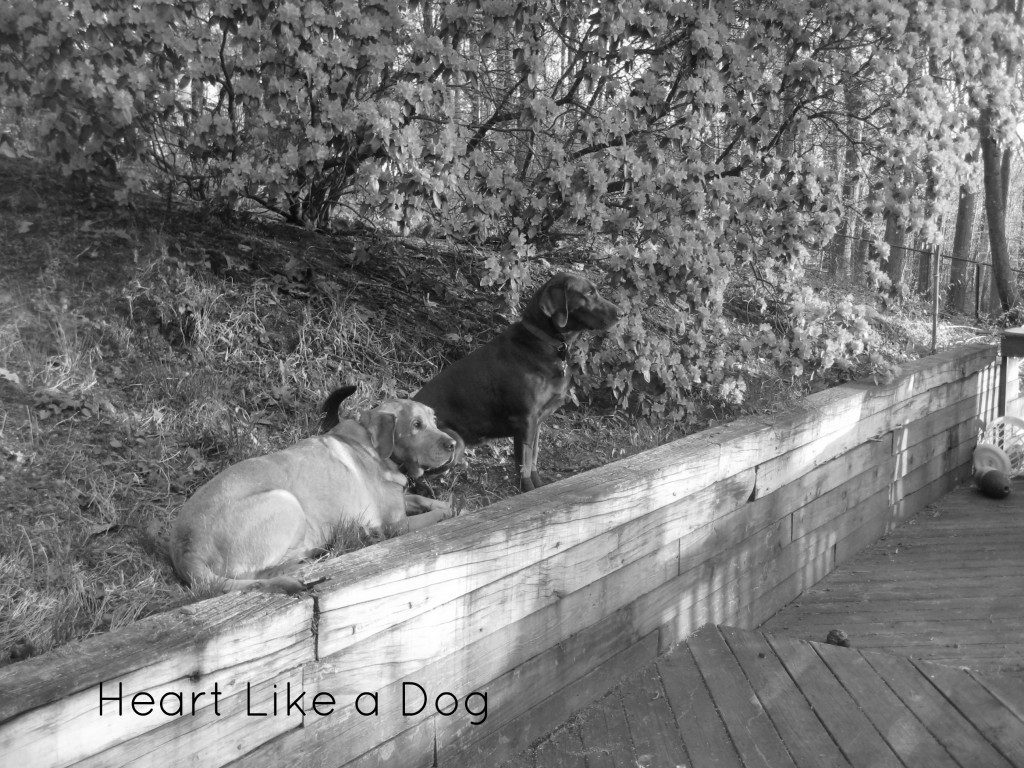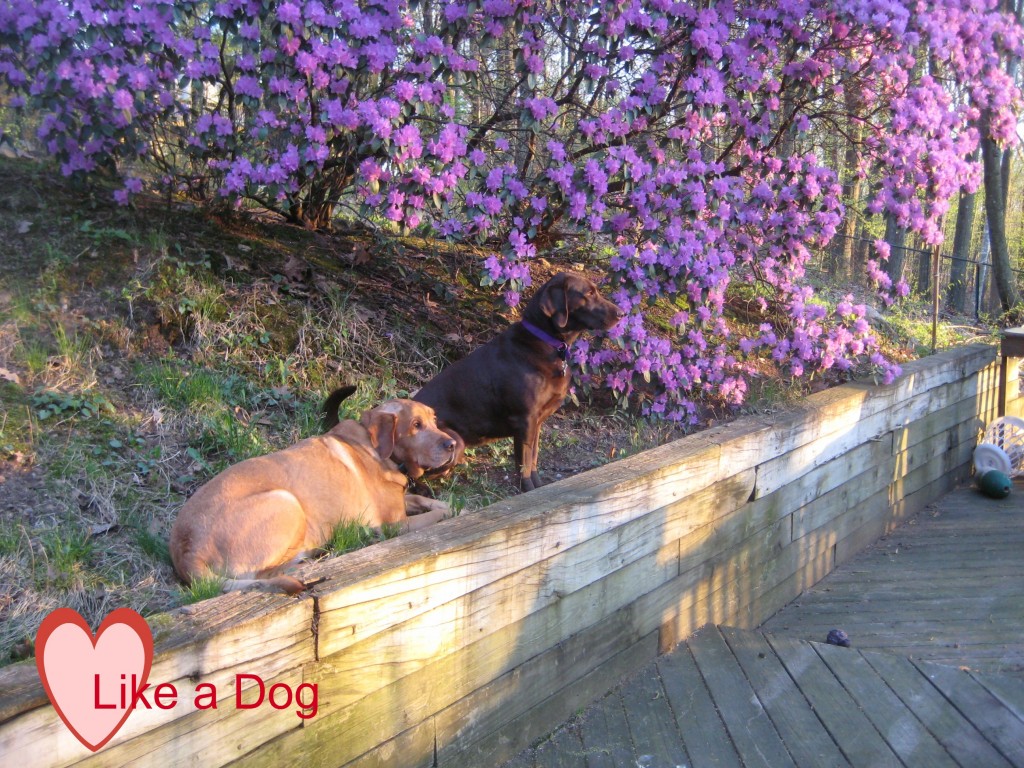 This photo was taken about two years ago, in the midst of Sampson's allergic reaction to something in our yard.  If you look closely, you'll see he has a bald spot above his right ear. I love the way Delilah is sitting and the way the flowers match her collar.  I love that dog in purple!
Sadly the rains came in the last couple of days and look what happened to the Rhododendron tree.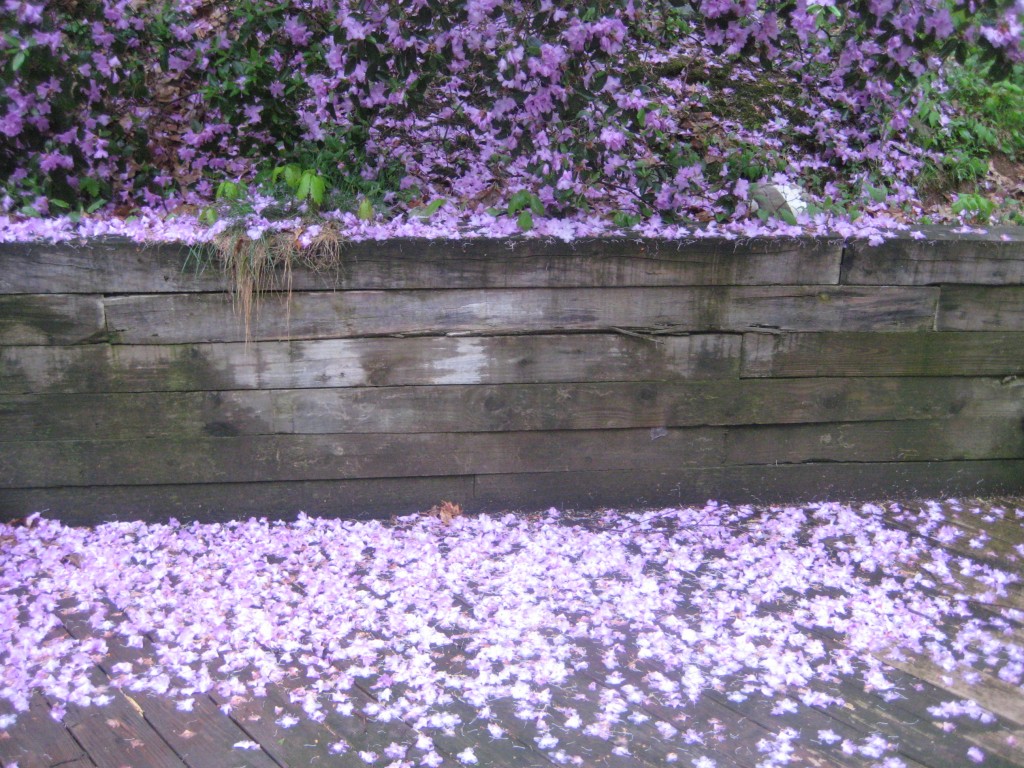 I'm glad you found it humorous, I intended it to come across that way.
All Things Collie asked, "Do you think Sampson ate the Bisquick too?"  It did cross my mind because I couldn't figure out why he was so needy, but I can tell you there was no smell in the living room.
Sue asked,"What I want to know is who took the picture of you & Sampson on the floor? The camera fairy, maybe?"  No, it was actually recreated, trust me there was only me and Sampson awake that night.
Blueberry's human asked, "I wonder if the vet office staff quickly place their bets on what you are calling about when they see your number pop up?"  You know that's a great idea!  I think I'll mention it the next time I'm in there.
JoAnn said, "How old is Delilah?"  Believe it or not she turned 7 in December.  I had hopes that once she hit the two to three years with us mark she would have stopped this behavior, but Delilah is Delilah.
Snoopy said, "I'm wondering how long it will take for you to laugh at the mischief?"  Pretty quick.  By the end of the next day I was already planning it for Monday's Mischief. 😉
Sue asked, "So, hubby slept through all the stinkbombs?"  Either that or it was like Propofol for him. 😉
Mango Momma said, "Dog farts can be toxic. At least it feels that way sometimes."  Oh yes, I agree with you 100%!
H and Flo asked, "So Stinky and Needy aren't the name of the newest dwarves?!"  LOL I actually tried to figure out a way to incorporate that but couldn't do it.
Donna said, "Oh Delilah. Again?????
Maybe Sampson was just trying to escape the smell???"  I'm thinking you might be right on that.
Sugar asked, "What kind of bone you are using?" and Jessica asked, "Are those real bones that you are stuffing?"  Champ's mom asked, "Is that just a hollowed out marrow bone you use?"
I bought those bones about seven years ago and they were stuffed with either cheese or peanut butter.  Once Sampson had cleaned them out, they were still good for chewing.  I did try and find some newer ones but the ones I found were easily destroyed and didn't work out.
There was a great variety of guesses on this one
Slimdoggy said, "Looks like some good heel training being done!"
Elyse and Riley said, "Are you learning doggy dancing, Delilah?"
Jen said, "Taking a dance class!"
Winner, winner chicken dinner!!  Tuesday night Delilah and I started our Freestyle class, and we are practicing her show heel.
For those of you who are friends with Julie on facebook you know that Cali went over the bridge on Wednesday evening.  My heart just aches for Julie and Kevin and what they are going through and I wish I had words to help her.   But words seem so inadequate.
Jackie asked, "There is never "enough" time with them. What amount could possibly be enough??"  You are right my friend, there is never enough time with them!
Please keep Julie and Kevin in your hearts, thoughts and prayers in this very sad time.
This is the Follow-Up Friday Blog hop hosted by Misty Shores Chesapeakes and Heart Like a Dog.
Comments
comments