Delilah has been doing super on our walks.
I keep her on leash in certain areas and in other areas she's allowed to be off.  The majority of the time she returns immediately upon being called.  On those rare occasions when she doesn't respond, if I run in the opposite direction or loudly reward Sampson she zips right over.
Until Saturday.
We'd been walking for about 45 minutes and were heading out of the field.   At this stage, she's responded to every call.
Then she entered the woods at the edge of the field.
And she kept going.
Sampson  wasn't too far away and I called him over, raising my voice and showering him with treats.
Sometimes when Delilah appears to be blowing off a recall, she's actually running a great big circle and will come at me from the front.
Not this time.
I continued calling her as we made our way out of the park.
Fine, she can go to the pound, I said to Sampson.
But I couldn't do that.  I couldn't just leave her out there, and take a chance that she'd get hit by a car or come in contact with some unscrupulous character.
As Sampson and I walked back to the car I looked over and could see her grazing in someone's yard.
Damn it!
At this point, I wasn't really sure how this was going to go. By the time I could get to her, would she have moved on?  Would she run when she saw me coming?  I couldn't chase her through the neighborhood with Sampson in tow, so I took him to the car.  I cracked one window about 2 inches and locked the door.  I figured if it took longer than 10 minutes I would call Hubby and ask him to come and get Sampson.
I can't tell you accurately what the distance was.  Let's just say it's not the gingerbread house and there's no trail of crumbs leading to it.  I had to forge my own trail and honestly I did not count my footsteps as I stomped through the woods, but if I had to guess I'd say it's at least 100 yards.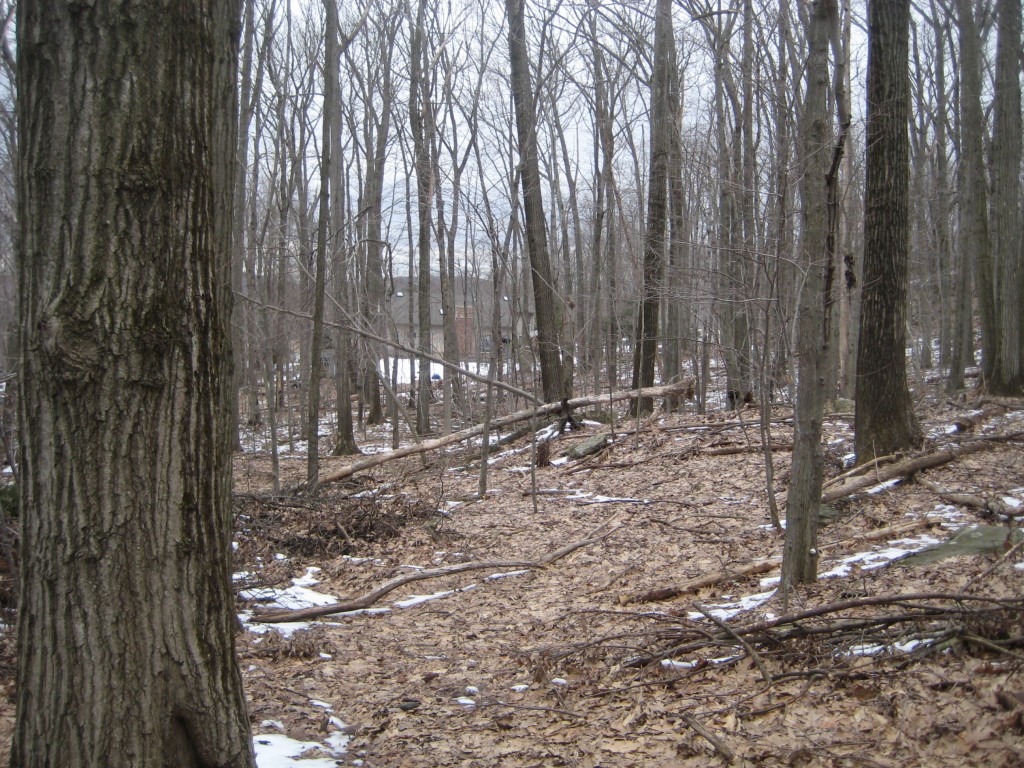 See the patch of white through the trees?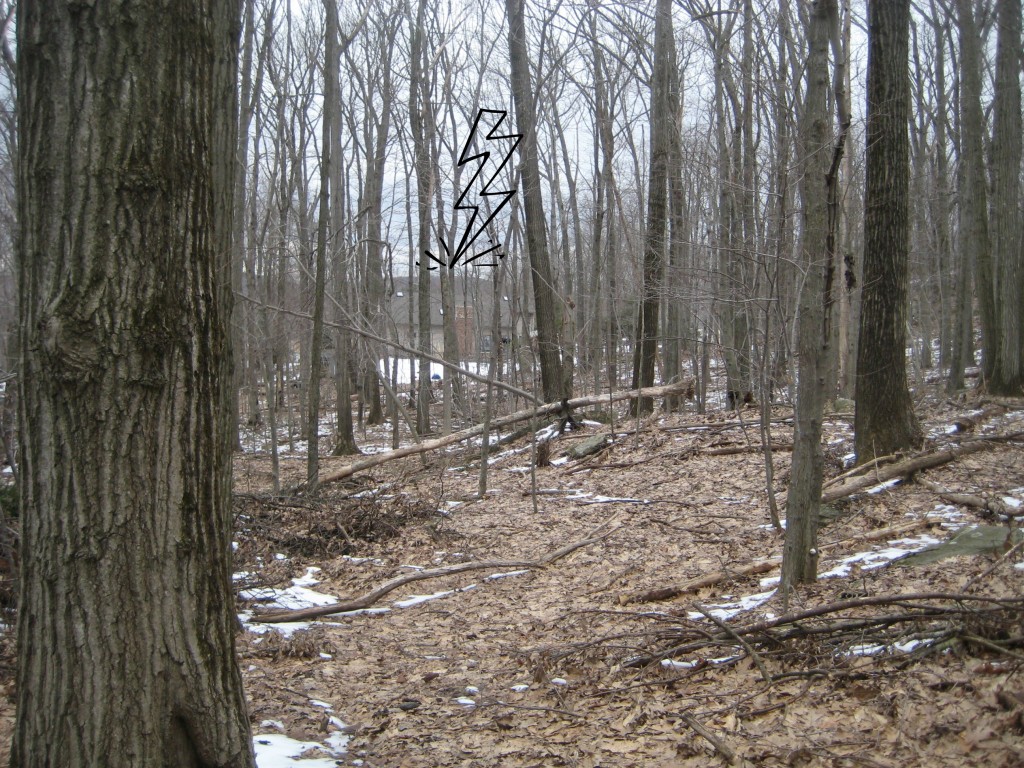 Yup, she was grazing in the yard.
The whole time I was Sasquatching it through the woods, I was calling, clapping and whistling, yet Delilah never  raised her head from her grazing.
Not once.
In fact, it wasn't until I was about ten feet away from her that she actually looked up.  To me it seemed like it took her a few seconds before she realized it was me.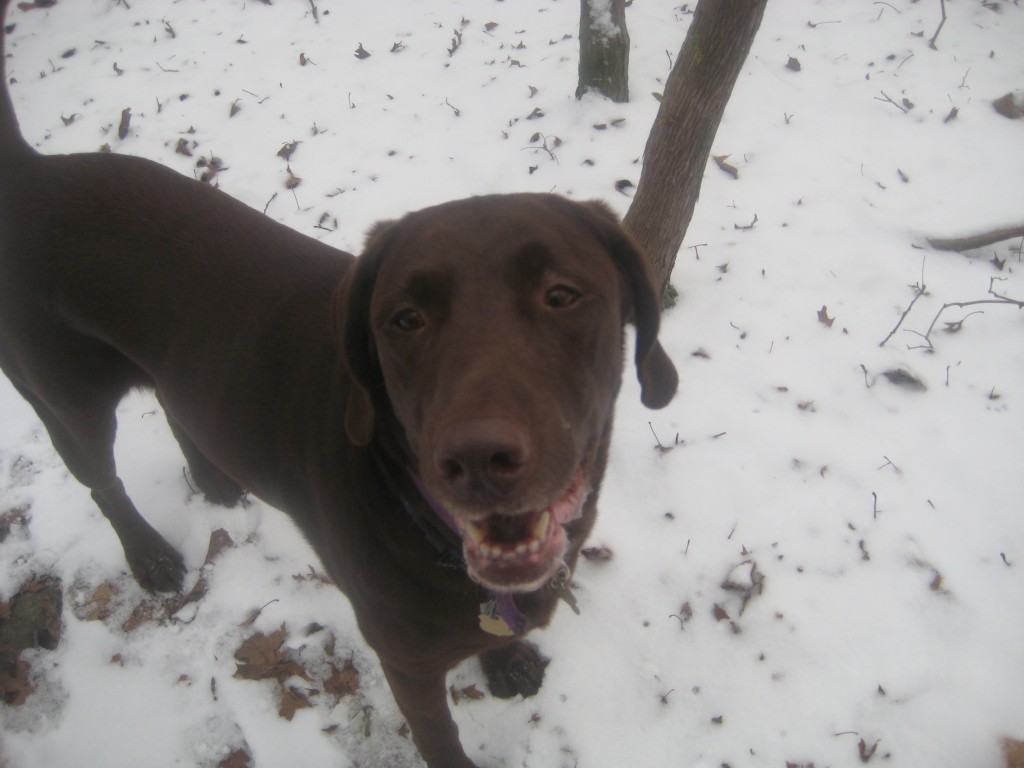 Oh hey mom, were you looking for me?
Does that make sense?
I'm not a dog trainer, expert or behaviorist yet I've heard stories of dogs in survival mode that don't recognize their owners immediately.
I can't see how she'd be in survival mode, but it was like she was in a zone somewhere.
As I thought about it after and discussed it with Hubby, it seemed to me she wasn't just blowing off her recall.  There was something more to it.
Then I recalled how in one post I'd written about something destructive that Delilah had done and 2 Brown Dawgs had said, didn't she do that at the same time last year?  And when I looked back at the posts, she was right!
I went back through my posts to Defeated and Lost Parts One and Two and OMD, it was March of last year, although to be fair, it was the beginning of March.
So here are the thoughts racing through my gray matter:
Is there something in the air (birds that leave droppings) or ground with a strong scent that is prevalent this time of year that makes her lose her mind?
She came to us in May of 2007, at that time she was in a high kill shelter but we don't know why.  Had she been picked up as a stray, scavenging for her food for a couple of months and this time of year is like an acid flashback?
Is there just something in the spring that makes this bitch feel her wild oats?
Will she EVER be reliable off-leash or will I have to trip over this dog the rest of my life?
Am I too neurotic to own pets?
Comments
comments