Welcome to the latest edition of co-hosted Follow-up Friday.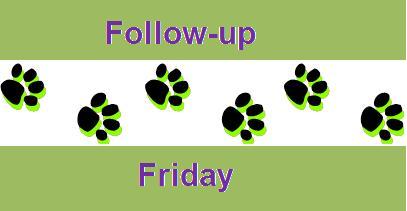 My co-hostess this week has co-hosted with me many times. I learn so much from her, and I love reading about her training sessions with her brown dawgs.
What more can I say about her that I haven't already said?
How about thank you for co-hosting. 🙂
Don't forget to stop by and visit the 2 Brown Dawgs blog to check out their Follow-Up Friday post.
SDS – Author's Note
How reassuring to know I'm not the only one with spoiled dogs. 🙂  Truthfully those nights don't happen that often, but when they do…well you know.
I found a delicious gluten-free soda bread that complemented our meal perfectly.  I timed it pretty well so the bread was still slightly warm and the butter melted.
YUMMO
Still looking forward to Sunday's corned beef hash and egg breakfast!
I've said it before, that dog has mad skills.
For those that asked, no she did not get sick.  She is known as the dog with the cast iron stomach.
When she first came to live with our pack she had a sensitive type stomach, but once she got used to having two squares a day with lots of treats and a snack, there isn't much that upsets her stomach.
Of course, there are exceptions.
One time she ate 3/4 pound of butter, wrappers and all.  I thought she'd be hurling or shitting like a goose, but no.
She did drink a lot of water and I watched her like a hawk the entire day.  Finally after a few hours she vomited the tiniest bit of foam.
No, the time she really hurled was after she'd cleaned up a good portion of the yard.
Talk about vile.
She cleared the house on that one.
The dogs love the little frozen bits of whatever they're getting but I won't be buying any more Dorot spices. I did not realize that these little cubes contain soybean oil.
Remember the post where I told you I'd share the healthy changes we were making both in the dogs and our lifestyle?  Well one of the biggest things I'm trying to avoid is Genetically Modified Organisms a.k.a. GMO's.
Unfortunately soy makes the list of the top 10 genetically modified foods.
Many thanks to Donna, from Donna and the Dogs to alerting me to this.
GMO's are very, very bad.  You can read more about them as well as find non-GMO brands here.
More to come.
I'm so happy that I can teach my grandchildren to be respectful of animals.  I feel it is my responsibility as a dog owner and animal advocate to educate whenever possible.  As you know, some adults are a real hard sell, but I'm a firm believer that the youth of today will make the change I want to see for animals.
And I'm starting in my own backyard.
Thank you for all your kind words, I really appreciate the support.  Part of it is I sometimes feel like I don't know what to write about and I think on those days, I'm going to have to give myself permission to skip a post, or throw out a photo.
Every day doesn't have to be a chapter of a book, right?
That's it for me!  I hope you have a great weekend.  Many, many thanks to our friends at 2 Brown Dawgs for co-hosting the Follow-Up Friday blog hop,
Comments
comments