My little grandchildren were over on Sunday for our traditional St. Patrick's day dinner.  My grandson is five and my granddaughter is two.
They're both a little shy with the dogs when they first come in and truthfully I can't blame them.  I mean to put it into their perspective the dogs look to them like a bull or horse look to us.
And if I saw a bull or horse running full at me, I'd whimper a little bit too, even if my Daddy were holding me and telling me I was okay.
But once the dogs settle down, the kids are very comfortable around them.
Which doesn't mean I don't watch them, I'm constantly watching and educating them.
Watch out for the dog.
Don't do that to the dog.
She doesn't want you to pet her right now!
The last one was after my grandson decided he wanted to pet Delilah. Which is in and of itself a good thing.  I was in the kitchen doing something (now here's a surprise, I can't remember what) when he made the announcement, "I'm going to pet her."
The assumption is if I'm in the kitchen and both dogs are with me, I'm probably working with food.  Delilah can get a little snarky around food, so my eyes were focused on the interaction.
He proceeded to stroke his hand down her back and then back up, moving her fur in a way she is only accustomed to when she is being toweled.
Delilah shifted slightly to her right.  He moved with her and continued his stroking.
Delilah moved again, again he moved with her.
Delilah barked and walked away.
At which point I said, "She doesn't want you to pet her right now."
He decided he would then pet Sampson.
I took the opportunity to explain to him that dogs cannot speak to us and tell us that they do not like something, instead they might bark at us like Delilah did.
I also showed him Sampson's teeth and said, do you see these big teeth?  If you continue to do something a dog doesn't like, the dog might bite you.  And that would really hurt.  Then I showed him a scar I have from a dog bite and explained that I didn't get it from either Sampson or Delilah, but we should still be respectful about what dogs need and how they speak to us.
A few moments later my grandson had taken off the door-sized magnet of Sampson that I have on my refrigerator and was showing it to Sampson.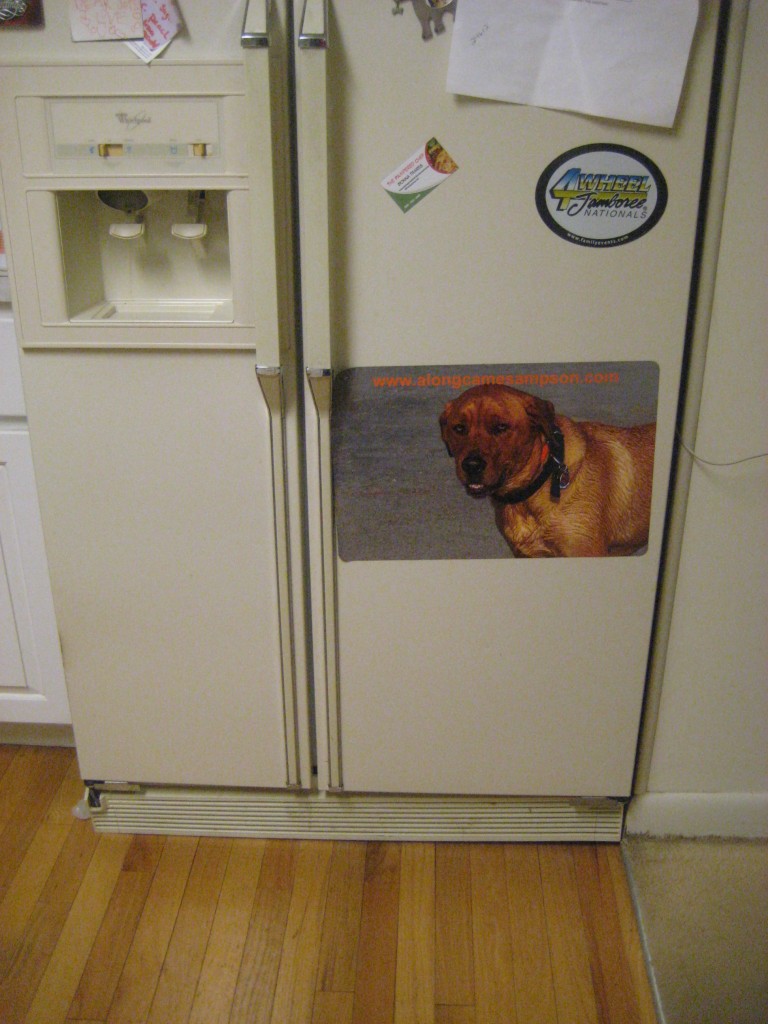 I heard him say, "This was when you went to the beach in North Carolina Sampson when you had little teeth."
It was a cute ending to our lesson of love.
It's not just a lesson of love to prevent my grandchildren from being bitten, it's also a lesson of love for my pets.  To be their voice and not put them in a position where they are forced to speak for themselves.
What types of lessons of love do you teach your little friends?
Comments
comments