I dropped the ball again.  I waited too long and then I couldn't find a co-host.  So once again I'm flying solo.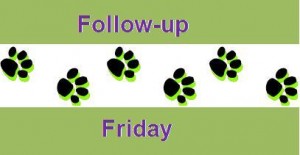 Follow-Up Friday, because some posts just need a little update.
Remember that snow we got last Friday?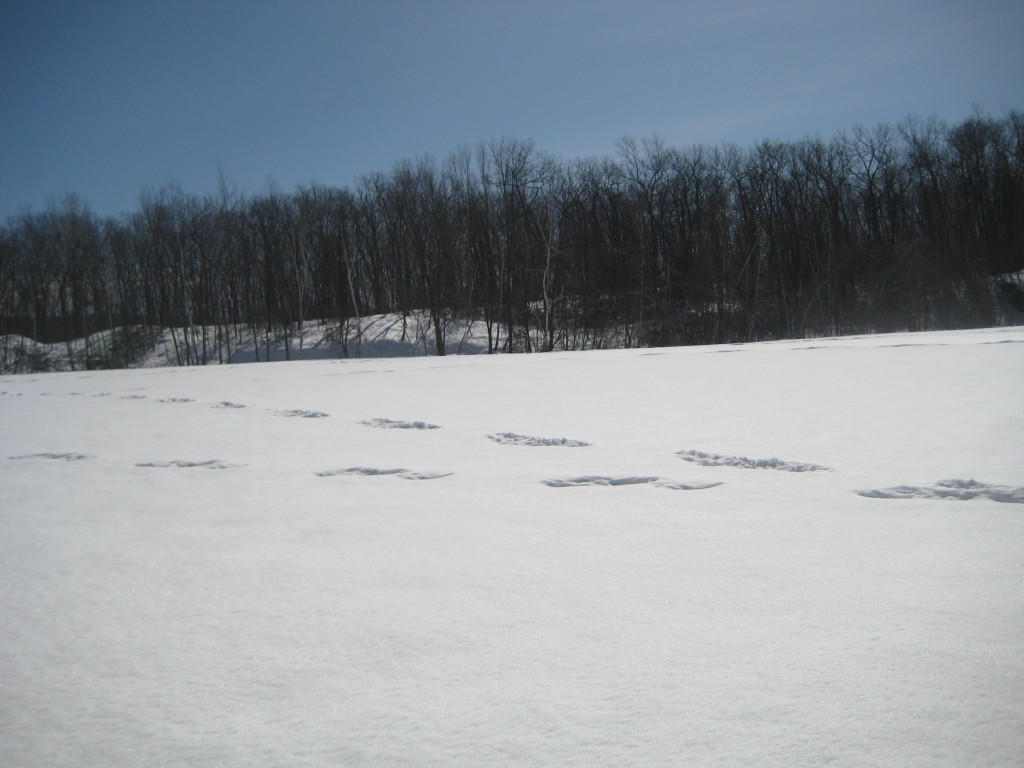 Our field with about a foot of snow on it. (3-10-13)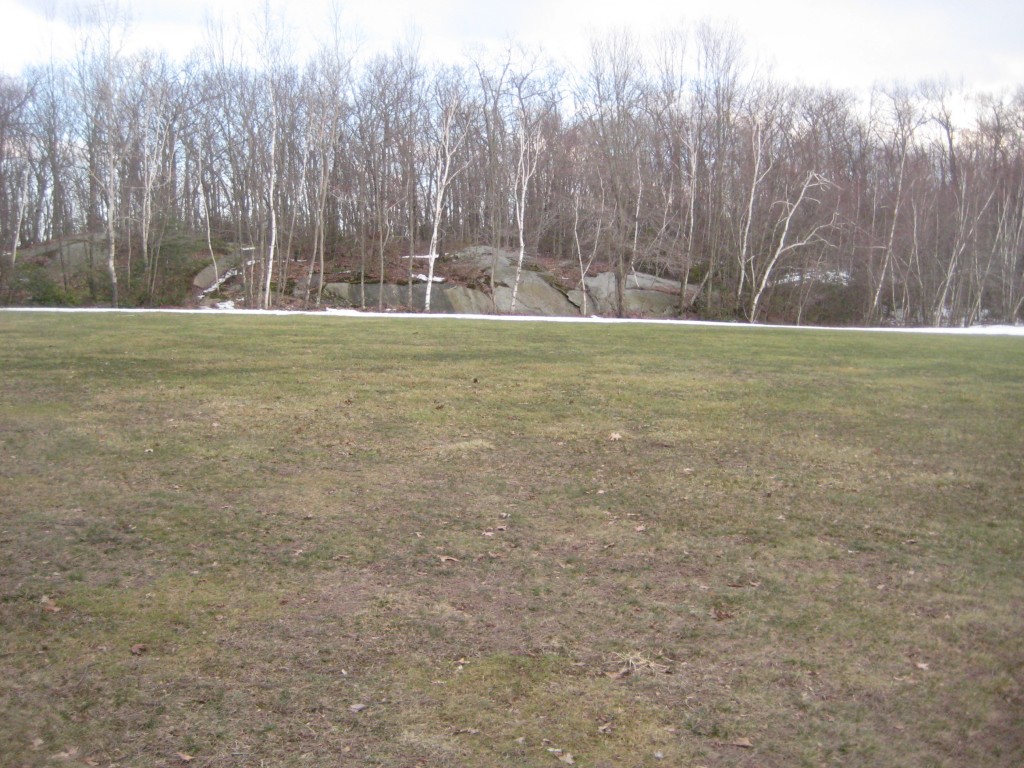 Same field after 2 days of 55 degree weather and one crazy day of rain.  (3-13-13)
Yesterday it got super cold again, I tell you Winter is hanging on tight and trying not to let Spring in, but we know better.  I've actually seen a couple of bugs and you can't tell the birds that Spring isn't here, they are singing her wake up songs first thing in the morning.
Just to be safe, I've started leaving a chair against the cabinet where the garbage can is stored.  Which doesn't mean she can't create mischief, trust me she can.
She drank water from a pot on the stove this week and blew off a recall on Wednesday's walk.  What to do, what to do?
I was going to respond in the comments but decided to I would do it here instead.
While I agree this woman may be protecting her dog from attacking another dog, I'm still not sure it's the best idea to have her muzzled in an unfamiliar area, she is giving her dog no chance to protect herself.
How do I know she is walking in an unfamiliar area?  Because she has no clue that people walk their dogs up there off-leash and don't worry where their dogs are.
I'm one of the good ones!  I keep my dogs close, pick up their poop and leash them when I see other people.
There are at least seven people (that I'm aware of) who do not leash their dogs, and whose dogs run helter skelter all over those woods.  Some of them don't even have collars on to grab if the situation called for it.
She might be protecting other dogs from her dog (who may or may not be acting appropriately) but she is putting her dog at risk to not be able to defend herself should the need arise and if the dog is fearful, she is taking away the dogs only method of coping.
In my opinion she would be better off keeping her dog on leash so she could turn around to avoid a confrontation, in this way she has better control of the situation.
I have the same problem with the invisible fence.  Yes, the fence will keep most dogs in, but it does nothing  to keep something from coming into your yard and hurting your dog.  It happened to my next door neighbor in my old neighborhood.  A dog came into her yard and bit her dog in the face.
I understand those of you with unaltered males, I totally do but I would never take my dog into a situation where they could be hurt and not give them the opportunity to defend themselves.
Yup, here it is Friday and we've yet to practice our scent work at home.  Maybe some time this weekend.  Don't worry I'll take pictures. 🙂
Way Back
Way back in January, we won a contest at Dakota's Den.  We received this really cool sheep toy made by Kyjen.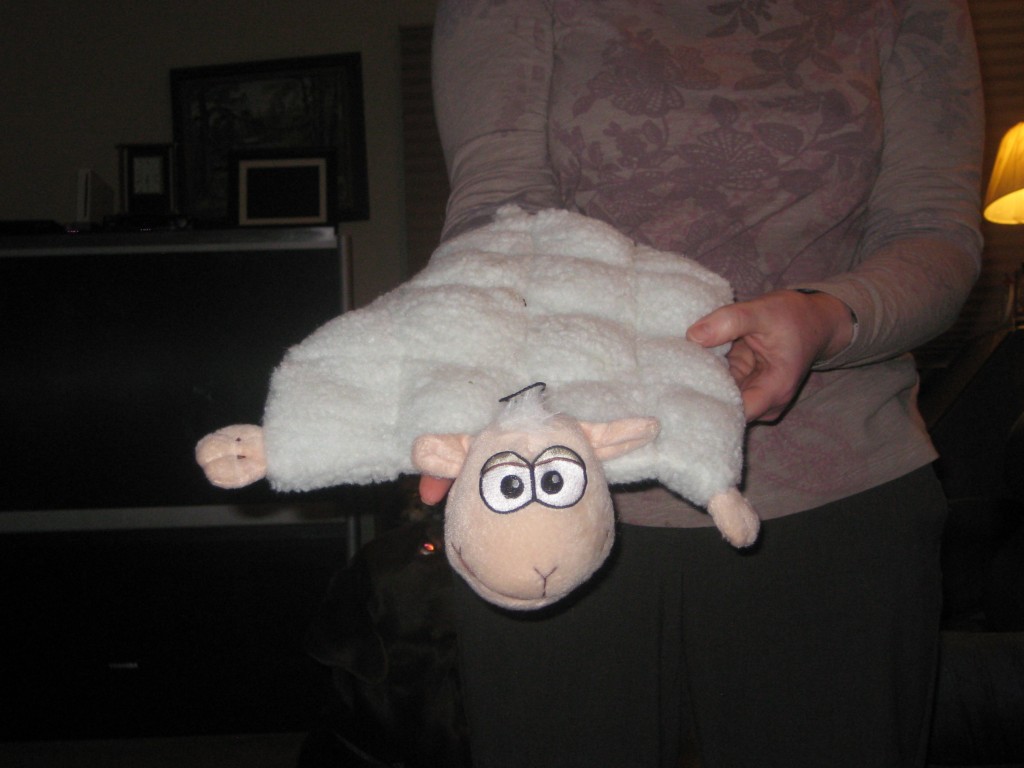 Remember this guy?
The dogs absolutely love this toy.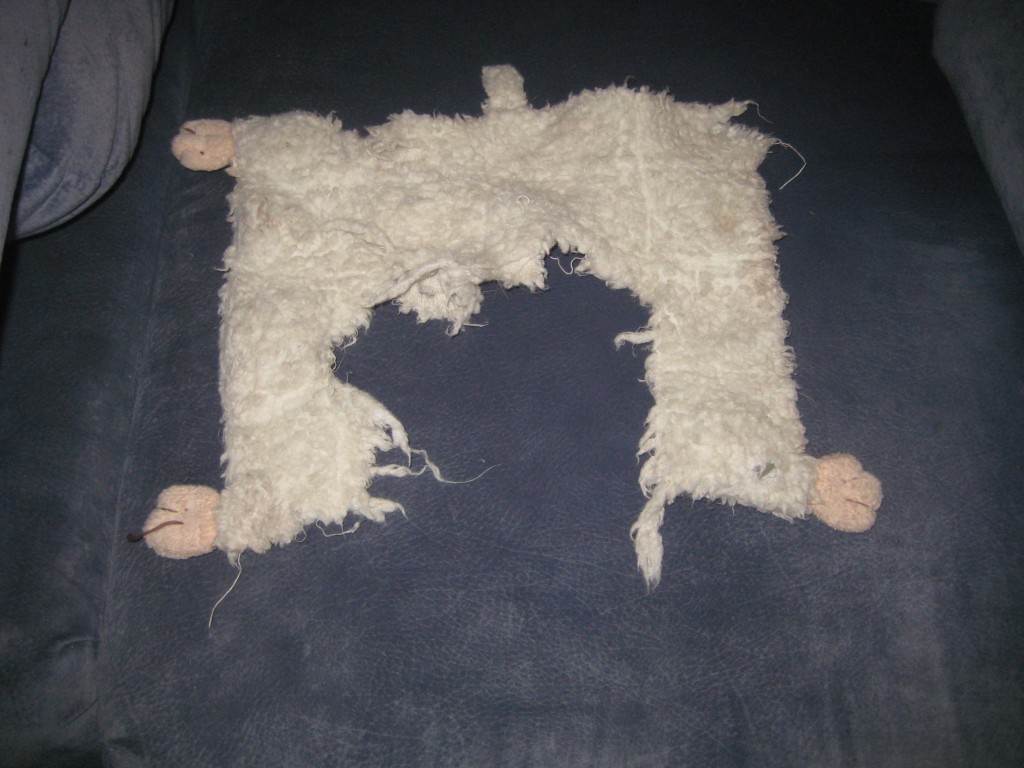 This is what he looks like now.
Almost every day one of the dogs plays with this guy and most days Delilah greets me when I get home with this guy in her mouth.  Can you tell how well-loved he is?
That's it for me, this is the Follow-Up Friday Blog Hop
Comments
comments