Welcome to this week's edition of the Co-Hosted Follow Up Friday Blog hop, the blog hop that let's you wrap up your week and leads you right into the weekend.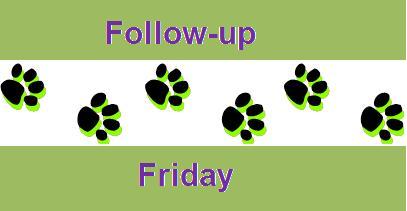 My co-hostess this week has co-hosted many times before, she recently moved her blog to self-hosted, so I'm hoping she has no problem getting the code to work.
Please make sure to stop by and say hello.  It's Gizmo and his Mom from Terrier Torrent.
Welcome, welcome and thanks for co-hosting with me today!
Since Sampson came into my life I've learned a lot about dogs and yet I still learn something all the time.  Truthfully I haven't met a lot of fearful dogs in my life.
But I always make a point to ask the owner if I can approach and pet their dog before I do.  To me it's just common courtesy.
I know from some of you, that people don't always show proper courtesy and even then, some that ask will still approach your dog.  I guess all we can do is keep trying to educate.
I'll tell you, I can leave that Misto can on the counter for months and she never bothers it, then BAM one day all bets are off. 🙂
I was happy to discover that a couple of you have dogs that love oil too, or at the very least lotion.  Both my dogs love body lotion.  If I let them, they'd lick it off faster than I can put it on.
I call that, Licky, licky lotion.
That video cracked me up.  Honestly, while I was filming it, I actually almost reached over and gave her a boost, she was so determined. 🙂
And a super-duper thank you to Snoopy who recommend the Viper Video thingy plug-in, I installed it Wednesday night and it ran like a champ!!
You the dog, Snoopy!!
Wordless Wednesday, Caption the Photo – Update
You guys had some great captions!  I loved this one from Julie, "What did I come in here for?"
Here is mine: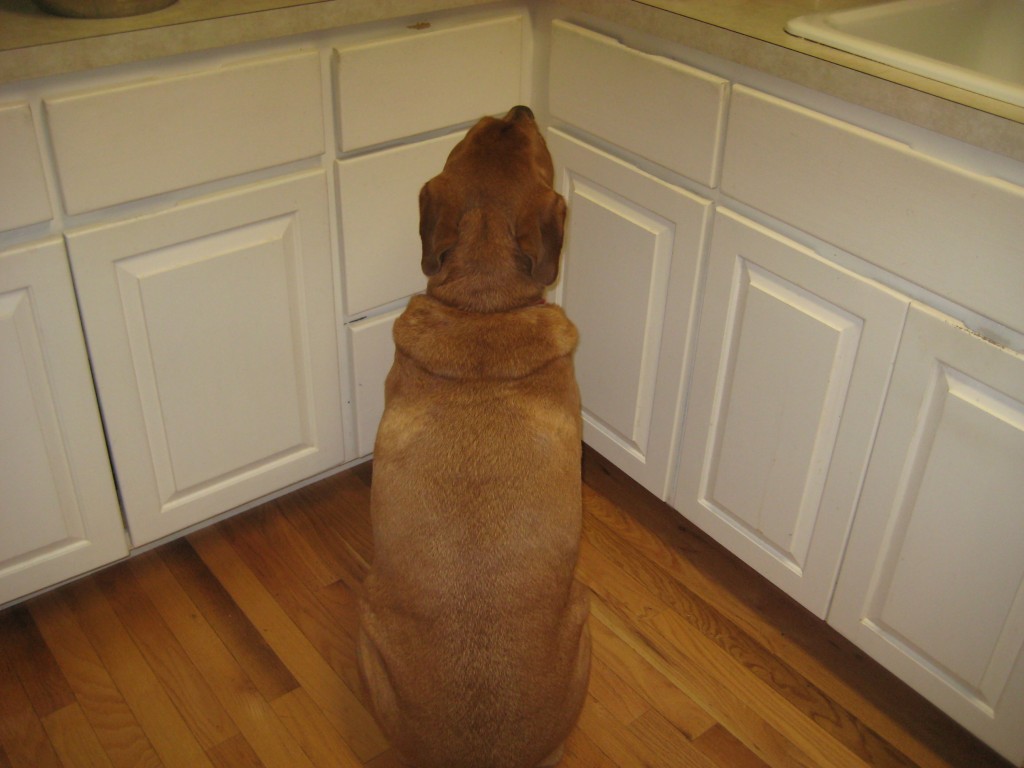 I don't get the whole Blair Witch thing, what's so scary about someone facing a corner?
But those of you who made the food connection….yes he does this after his breakfast.  He sits or stands and stares at the counter as if more food will magically rain down on him.
Poor little underfed dog. NOT.
That was a HORRIBLE Rally Run.  There was at least four times where I totally messed up and had no idea what I was doing.
But Delilah WAS amazing, and she really was looking to me for guidance and that is priceless to me.  Of course the fact I had some yummy chicken treats in my hand didn't hurt!
Ariane says they will be offering the class again and once they've had two classes they will set up some runs so people can really practice.
What I need to do is print off the Rally signs and then work with Delilah on them so we can enter a match.  Of course, we'll have to wean off the food as there is no food allowed in the ring. 🙁
That's it for me, how was your week?
This is the Co-Hosted Follow-Up Friday where the co-hosts rotate. 🙂  Anytime you'd like to join us, just drop me a line or leave me a comment.
This Friday's blog hop is hosted by Terrier Torrent and Heart Like a Dog.  Follow-Up Friday
Comments
comments