Welcome to this week's edition of the Co-Hosted Follow Up Friday Blog hop, the blog hop that let's you wrap up your week and leads you right into the weekend.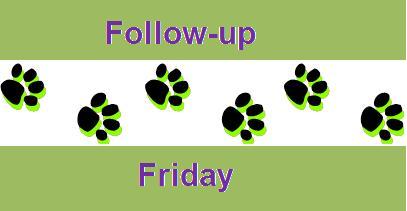 My co-hostess this week is a repeat offender.

  I believe this is her third time hosting.  She's a great hostess to have on board and I love following her blog and all the adventures she has with her dog Gizmo.  Her Travel Thursday posts are making me itch for a Florida vacation.
Please welcome Beth and Gizmo from Terrier Torrent.  Welcome, welcome Beth and Gizmo thank you for co-hosting this week!!
You guys are so kind!  The more I work with the dogs the more I realize I like doing it.  I'm just not very motivated nor do I have a lot of time.
I'm really proud of Delilah, she's highly motivated by food and sometimes it's quite difficult to keep her from chomping your fingers off.  Many is the time I've pulled my hand away because she's gotten more than the treat.
As Donna mentioned in the comments, when you have Labs you can train with lesser food values as sometimes the higher values result in bloody appendages.
Last week's predicted snow was a bust, but I don't think we're getting off so easy this week.  Snow is coming and it's supposed to be another one of those Super Storms.
Currently they are predicting one to two FEET.
Wish us luck. 🙂
Indoor collars are certainly a personal preference. I like having them on as an extra precaution.  I also know my dogs and their activity schedules and feel very comfortable with them wearing them. I'd also note that these collars are not tight at all, so there is no chance of them cutting into Sampson or Delilah.
Wordless Wednesday – Update
I am LOVING this Wordless Wednesday caption the photo!  You guys are all so creative, I giggle as I read them
I actually had two captions.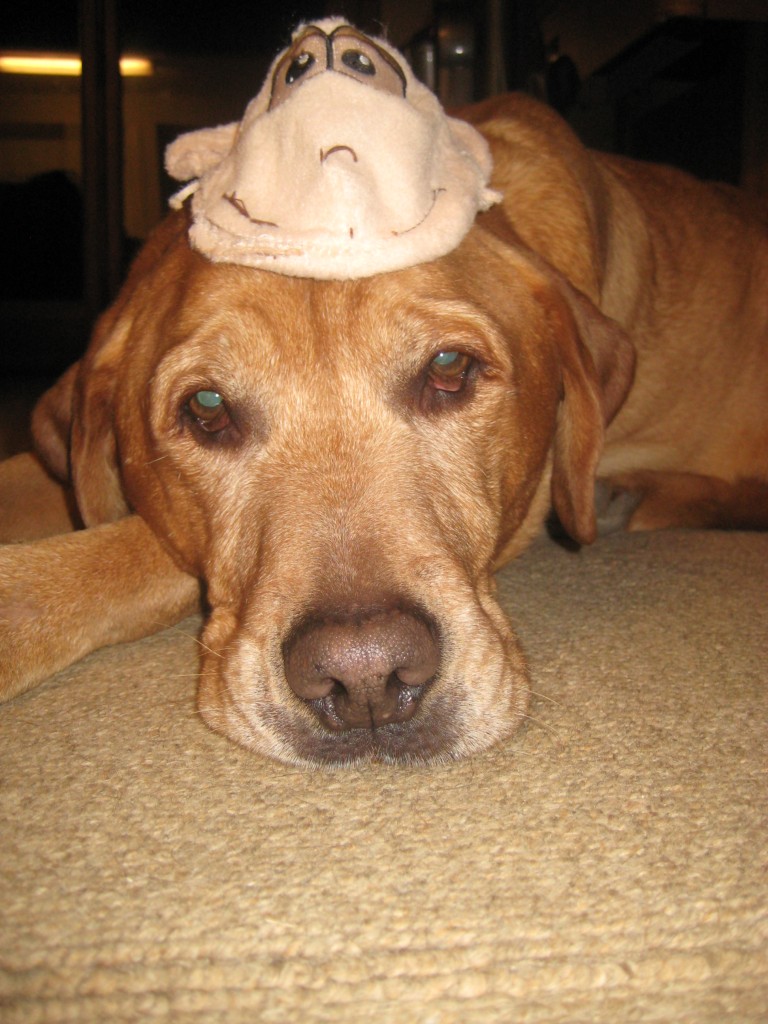 1) Yes I actually am a wolf in sheep's clothing.
2) Is this outfit okay for Jetty's Baaa Mitzvah?
I hope the Trio Animal Foundation keeps us updated with Valentine's progress, I love stories with happy endings.
I laughed myself silly typing that Knock Knock story. The trouble with writing for funny, is just because I find something funny, doesn't mean you will.  And it's not always easy to convey tone in the written form.
I have to tell you, Frankie Furter's comment was so stinking funny, I had to laugh.  His poor MOM! I wouldn't have a cat after that either!!
That's all I have for Follow-Up Friday, we are hunkering down in preparation of Blizzard Charlotte and Storm Nemo.  If you are in their path, please be safe.
This is the Co-hosted Follow-Up Friday blog hop brought to you by Terrier Torrent and Heart Like a Dog.  Follow-Up Friday:
Comments
comments