This post is not about dogs. I hope you can forgive me for that. I am certain Jodi will add pictures of Sampson and Delilah at the transitions to at least up the cuteness factor and let you get some kind of a dog fix.
This post is about writing. It is specifically about writing fiction. I hope that even if you aren't attempting to write a novel yourself, you will find some value in this post.
Back in early November, on a This 'N That Thursday, Jodi wrote about NaNoWriMo and had this to ask:
It seems like I need to write in sequence, at least that's how it's working for me.  The question is, how do you keep track of things.  Do you ever write out out sequence?
I commented then that not only do I write out of order, I also know a few tricks to keeping track of the details and how to make sure you fix most them when you go back to edit. I also mentioned that I would share those tricks with her in December, since NaNoWriMo is not about editing, but getting the all important first draft on paper.
And as I'm writing this, it's almost February, so it's probably time for me to share what I know.
Writing In or Out of Order
With the exception of short stories, the novella I'm currently working on is the first time I've ever written in order. The reason for that is that when I started, I honestly did not know how the story was going to end. Really, no idea what the final resolution was going to be. That forced me to just sit down and write from the beginning to see where things went.
In the past, though, my story ideas have often started in my mind as the final resolution scene. I knew where the story ended, but I didn't necessarily know where it began. In those cases, I wrote the final resolution scene first. I knew very well it would have to be changed at least a little bit by the time I was done, but that was the scene I knew.
Next, I would write the scenes where the reader first met the important characters. That does not mean I started with the opening scene, as the reader meets the narrator character. Often, I started with the scenes that were the first time the reader would see the narrator character interacting with the supporting cast. Sometimes it was the first time the narrator was meeting those characters, and sometimes it wasn't.
To be honest, beginnings are harder for me than endings. By the ending, as an author, you can use all the shortcuts you want. Your readers should know everything they need to know about your characters by that point, so you don't have to worry about explaining anyone's motivation or describing their hair color. In the beginning, as the author, you have to figure out how you are getting all this information that is in your head about the character on the paper in a way that allows the reader to see and understand the character without getting so bored with descriptions and background that they set the story aside.
To be honest, the scenes I have written as opening scenes have often ended up cut. It turned out, the story really began two chapters later. But once I had that original back story written, it made it much easier to go in and edit, and add the details in where they fit.
My advice- write in the way that works best for you. Don't force yourself to write in any particular order. Write the scene that is in your mind. It does not matter where in the book it fits, or even if it will end up in the book in the end. Every word you write is valuable, even if it's just to you.
Keeping Track of the Details
You should be able to guess from the above that I don't outline my stories, at least not in the beginning. I had been working on my novella for over a year before I even attempted an outline. But I do eventually outline, and, at some point, I also create what my writing teacher called scene cards.
What are scene cards? On each one, you write the name of the scene/one line synopsis of the scene- Harry meets Sally. Then you list the characters who are in the scene, any important information that is revealed, and if the scene is dependent on another scene (must take place after Harry meets Dan) or has another scene dependent on it (must take place before Sally meets Joan). If you introduce any weird quirks, put that on the card to- (readers learn favorite tea is earl grey, hot).
The purpose of the cards is to help you keep track of your scenes and your characters.
You can use them when you are editing to go back to every place you mention Harry to make sure that his eyes are brown in all of them (because at some point, you'd written that they were blue).
You can use them to figure out where there are gaps in your story (especially if you write out of order). Put the cards in order from first scene to last scene and see if you're missing anything important, like a necessary transition, or that scene where the reader learns that the treasure map exists.
Scene cards can also be used to play around with your timeline. What if you decide you want to tell part of the story in flashback, or if you're not certain that the flashback is working. You can move your scene cards around until you find the organization that works best for the way you want to tell the story. And then, you also know what scenes you need to edit, and how to edit them, to make the new timeline make sense.
There a number of ways to create scene cards. You can use actual index cards. You can create a database. I had a friend who was amazing with word and created a master document for the scene cards that then had each one link directly to the scene document.
Have a Good Reader
I will never be able to talk up the value of having a good critique group enough. Everything I write is better because of the feedback I get from my group and also because I have a group of people with whom I can talk about the craft of writing. I learn not only from the way they critique but from the way they write. However, a lot of people have only had experience with bad critique groups or don't want critique until after the story/book is completely written. Some people don't ever want critique at all, unless it's coming from an editor or agent.
Regardless of where you stand on the critique angle, you need a reader you can trust. No matter how meticulous your outline and scene cards, no matter how many times you have read through your story yourself, there are little details you are going to miss, because you wrote it, because you know how it should be, and your mind will simply fill that in.
Your reader doesn't know that. Give the finished product to a reader. A good one will find that one scene where the love interest's eyes are still blue, instead of brown, like they are in the rest of the book. If you've left out an important detail, or messed up your timeline, the reader will catch it. And that lets you fix it before you send it out to an agent or editor or before you publish it yourself.
Erin Shanendoah is an author/editor/blogger she lives in the Pacific-Northwest with her husband and three dogs.  She currently writes on four different blogs, 100 Words On, Life by Pets, The Dog Ate My Wallet, and The Prose Passage.  You can reach her at erinshanendoah@erinshanendoah.com or on twitter as @dogatemywallet
Jodi Here – Many thanks to Erin for sharing her knowledge with me as well as my readers, I appreciate the time and effort you put forth for this post and am honored to have you.
And then just because I can, here's a cute picture just to help your dog fix. 🙂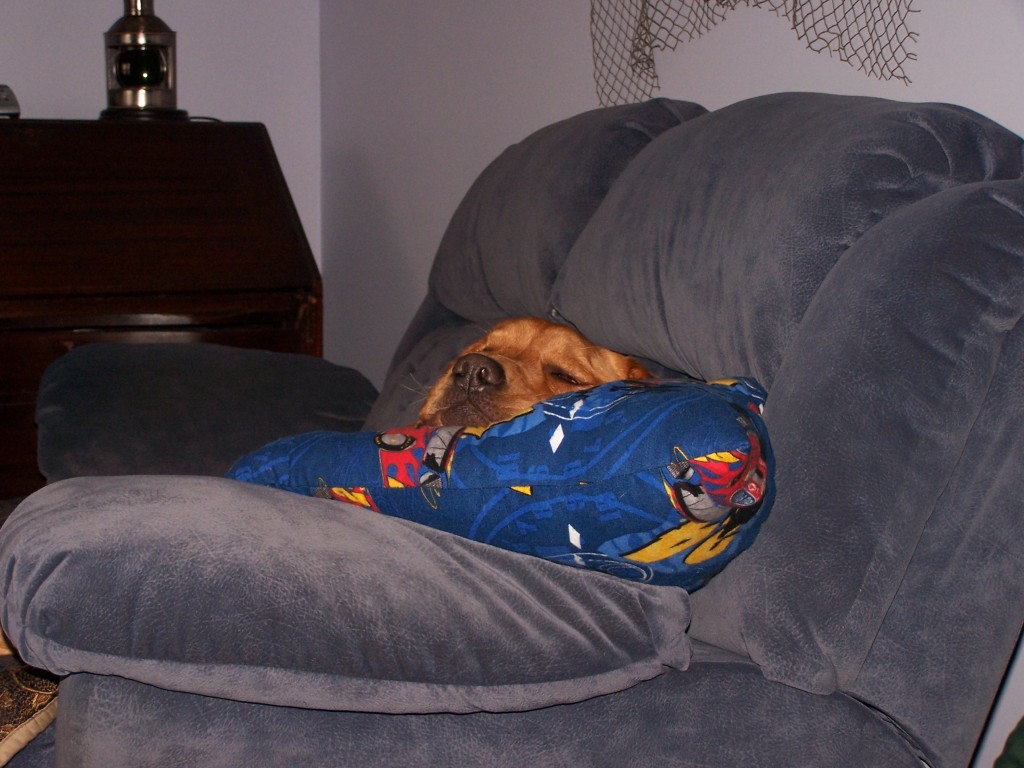 Comments
comments