I've heard a number of times that dogs are not jealous, but I don't believe that for a minute.
I've seen Sampson snap at another dog that approached while he was being pet.  And I've watched Delilah butt and push her way between Sampson and me or Sampson and Hubby when Sampson is getting some lovies.
I'm not really sure what the best way to handle this is (if any of you have any suggestions please let me know) so what I've been doing is pushing her away.
Last week  I was sitting on the floor rubbing Sampson, she pushed her way in and I gently pushed her away.  I tried to get her to lie down next to me, but she's stubborn, that one.  Finally she sat next to me and I continued rubbing Sampson but stroked her as well.
Apparently she got tired of that and decided there was a better spot for her.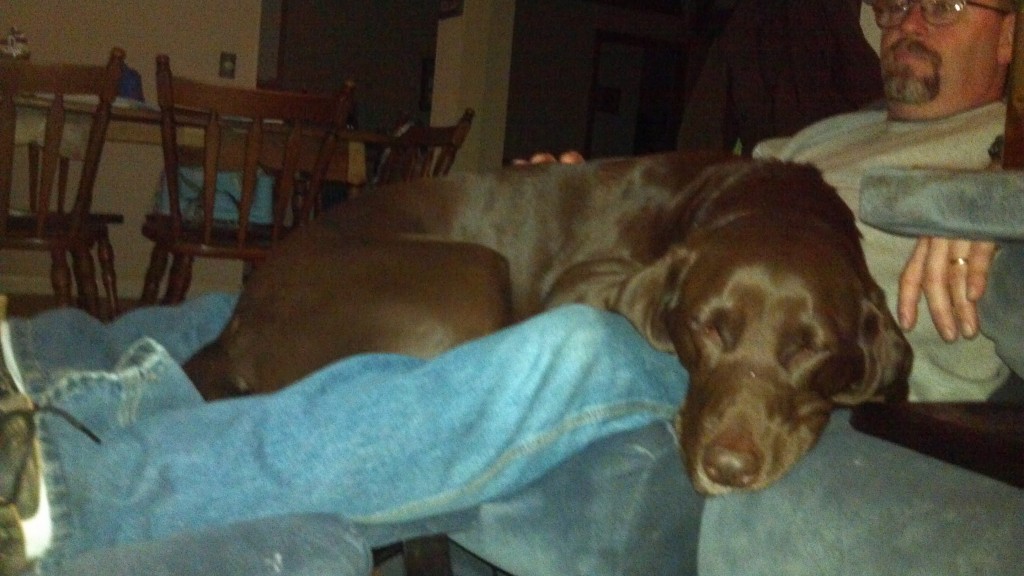 She climbed up in Hubby's lap.
She's worked her way up to this.  It started out with her just putting her front legs up there and standing while she got attention.  Then one night he encouraged her and she climbed into his lap.  I thought it was a one-time thing, but lately she's been doing it more and more frequently.
There you have it folks, one of the world's largest lap dogs.
Well he does like a little something sweet after dinner.  I wonder if I should make him coffee as well?
This is the Monday Mischief Blog Hop hosted by Alfie's Blog, Snoopy's Blog, Luna's Blog and My Brown Newfies.  Many thanks to our hosts.
Hop on and see what other mischief is happening today.
Comments
comments